Big 12 News
Report: College Football Playoff Committee Reviews Expansion Ideas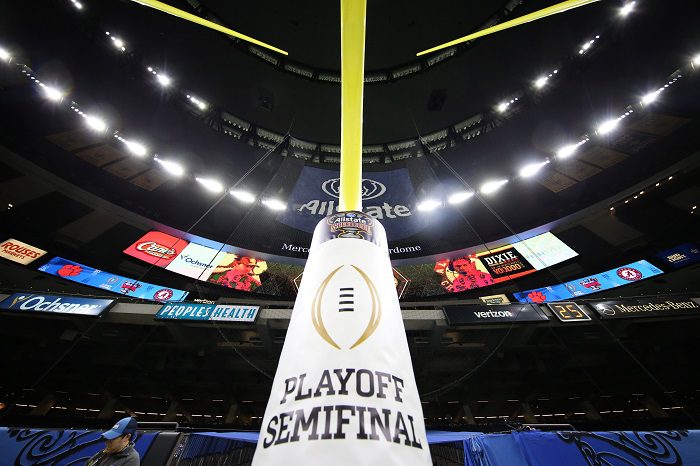 The College Football Playoff has been in place for seven seasons and we're approaching that time where things might be changing. The four-team model has been imperfect, to say the least, and a new report suggests the committee is open to the idea of changing their structure. There are currently five years left on the current format.
According to Stadium's Brett McMurphy, the College Football Playoff committee recently met and explored the idea of expanding the playoff to upwards of 16 teams.
The College Football Playoff was structured to theoretically expand the pool of teams who had a chance at winning the National Championship, however it hasn't appeared to have done that. Alabama and Clemson have each made appearances in six of the seven Playoffs. Also, the two programs have combined to win five of the last six College Football Playoff Titles.
So what exactly does expansion look like? We obviously don't know, but the fact that the committee is already looking into it is the right thing to do.
The system was flawed from the beginning with four spots for five Power 5 teams, with the Group of 5 essentially having no chance. Plus, the lobbying behind the scenes and in the media for things like getting two SEC teams in each year has become comical.
TCU head coach Gary Patterson recently made the case for expanding the Playoff, by saying, "But at the end of the day, one of the biggest reasons I think you need to expand to eight is I think there's a lot of collateral damage that's being done. Bowl games have always been important, but if you look at the Playoff, their guys stayed on their teams. Other guys opted out. Where is the risk-reward of that whole situation?"
Regardless, I'd like to see an on-campus game work its way into the mix, be it in a hypothetical quarterfinal and/or a semifinal game. College football is at its best on campus.
But no matter what, this is now a story to watch in the coming months to see if we learn any more on what the committee is thinking after this current deal is up.
**Want to win a $25 gift card?  Go sign up here and join our conversation! The best poster each week wins a gift card to your favorite establishment!**