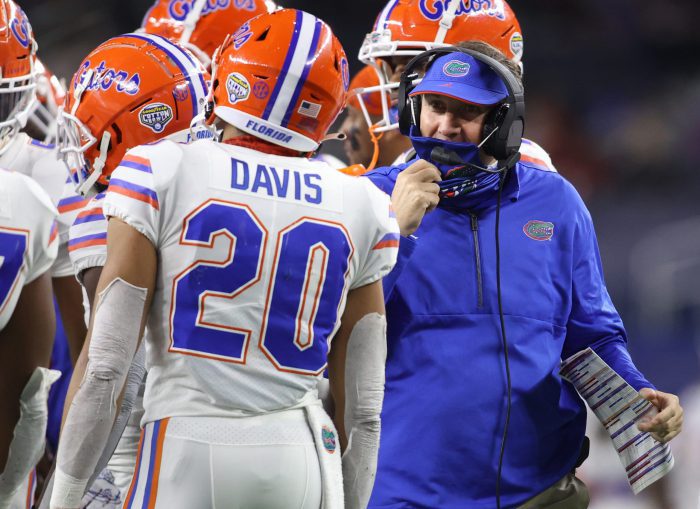 Florida Gators QB Kyle Trask doesn't have any direct ties to the Big 12, but he admitted recently he definitely hates one of the conference's flagship programs: The Texas Longhorns.
Trask is getting ready for this week's NFL Draft, and while he spent his career hundreds of miles from the Big 12, he grew up in Marvel, Texas and comes from a Texas A&M family (both his parents attended).
So naturally, he told ESPN's Kirk Herbstreit during an NFL Draft special that there's no love lost for the Longhorns.
"I was pretty much raised to hate UT," Trask told Herbstreit. "The whole thumbs up deal. The whole nine yards. It extends beyond my mom and dad. Aunts and uncles. I've got cousins that went (to A&M), so (the Texas hate) is pretty deep-rooted in my family."
The Aggies and Longhorns have played more than 100 times, but the two teams haven't met since the Aggies left the Big 12 Conference to join the SEC. The 2021 season will be 10 years since the two teams have met, and there's no indication the programs are going to be playing each other any time soon.
There has been some chatter over the last year or so, with former Texas coach Tom Herman opining on it last summer, saying, "We've reached out to try to play them in the past. It didn't go real well. Maybe this will be the catalyst to make it happen. Desperate times call for desperate measures, right?"
Also, Texas AD Chris Del Conte talked last year about trying to get the two teams to play each other.
Needless to say, we are all likely going to be waiting a while before we see these two in action against each other. The best odds of this might be in a College Football Playoff match up. Boy, now that would be something!
**Want to win a $25 gift card?  Go sign up here and join our conversation! The best poster each week wins a gift card to your favorite establishment!**