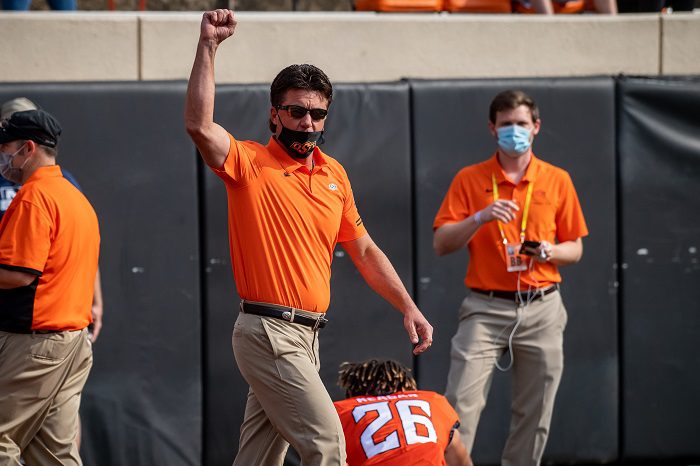 Oklahoma State picked up their first win of 2021 on Saturday, as well as their first loss.
The Black team defeated the Orange team 27-19 in a very defense-heavy spring football game. Six of the ten total scores were field goals, as each team's defense came ready to play. The two teams started the day off with a few minutes of 7-on-7, then moved on to the game itself, which consisted of two 20-minute halves.
I predicted the Black team to win by a score of 31-21 in my preview of the spring game, and for a while it looked like neither team would even crack double digits. Both defenses were on fire in the first half, making punter Tom Hutton the busiest man of the day. The second half was a different story however, as defenses finally started to break down and allow big plays.
Eventually, my prediction started to come to fruition, with both teams falling a few points shy. But what did we learn about Mike Gundy's squad in this game that we didn't know before? Here are some of my thoughts on the game.
Standout players
In these spring games, there are always guys who stand out among the rest. Someone that you could leave the stadium saying their performance was the most memorable. That guy was freshman receiver Jaden Bray, who caught three balls with two of those being touchdowns. The one non-score he had was a 48-yard deep ball after he snuck past cornerback Jordan Reagan. I had high hopes for Bray going into the spring, and it looks like we'll be seeing a lot more of him in the future.
Some other receivers that stood out to me were senior Braydon Johnson and freshman John Paul Richardson. Johnson experimented in the slot Saturday, which yielded favorable results. With how speedy he is, he excels at shallow crossing routes as well as getting open between the hashes. Richardson looks like he'll continue the legacy of white OSU receivers wearing the No. 17, as he was excellent in the Black team's passing game. 
On defense, everyone looked solid. Specifically, senior cornerback Christian Holmes was lockdown on some of OSU's best receivers. Former Wake Forest-transfer Trey Rucker looked scary at the safety position, seeking out big hits like a missile, and redshirt freshman running back Zach Middleton showed some spunk for the Orange team after LD Brown went down with an injury early in the first half.
Also, can't forget each side's kicker. Sophomore Brady Pohl of the Orange team went a perfect four-for-four on field goals, Wendy's style, accounting for 12 of the team's 19 points. For the Black team, freshman Mason Shipley went two-for-three on field goals and did not miss an extra point.
O-line still has a ways to go
After a whole year of watching Spencer Sanders have to evade the pocket because he had pressure on him after two seconds, I was optimistic to see if there was improvement in the offensive line department. After today, I walked away a little worried in that regard.
It could be that the teams were scrambled and the best group of guys weren't out there all the time or that OSU's defense is really good, but I saw a lot of the same from a year ago. Quarterbacks having little to no time to sit in the pocket and make their reads, leading to sacks or instant rollouts. It also leaves little room for running backs to maneuver through, as there weren't many long runs Saturday.
Hopefully line coach Charlie Dickey can sort out his group come fall. If not, I fear we'll see a lot of the same issues this team had last year, offensively.
Defense is just as good or better than last year
Speaking of that really good defense, Cowboy fans had to have liked what they saw from both the Orange and Black teams on that side of the ball Saturday.
Every defender flew around and rarely missed tackles, especially in the first half. Toward the end of the game was when guys eventually started getting beat on deep routes and giving up big runs.
Malcolm Rodriguez remains a pillar for coach Jim Knowles, always in the right spot and wrapping up on tackles. The safety tandem of Tre Sterling and Kolby Harvell-Peel is proving to be one of the best in the country, and the defensive line is chock-full of depth with guys that can make a big impact.
Barring injuries, I think the Cowboys have the potential to be even better on defense than they were a year ago. This team was really fun to watch defensively in 2020 and they were equally, if not more, fun to watch on Saturday, even with the teams split up.
Not much change in the play calling department
From a play calling and route running standpoint, I noticed very little deviation from what we saw a year ago. No new schemes or route combinations, no trick plays except for a failed flea flicker attempt, just a lot of the same.
The majority of pass completions were short curl or out routes, and the occasional deep fifty-fifty ball. Every once in a while, a quarterback would have time to sit in the pocket and make an intermediate throw over the middle, something I would have liked to see more of as it seems to work most every time as long as it's put on target.
Which harkens back to the offensive line issue. If quarterbacks had more time to go through progressions then some of these longer-developing routes would have a chance to get open. Instead they have to settle for dump-off routes because the defense is closing in at top speeds.
Perhaps Mike Gundy was just holding back from exposing his entire playbook, as to not give opposing coaches any hints this upcoming season. I hope that's the case, because the Cowboy defense can stop teams' offenses all day long, but it means jack if we cannot put the ball in the end zone.
**Want to win a $25 gift card?  Go sign up here and join our conversation! The best poster each week wins a gift card to your favorite establishment!**