Big 12 News
Neal Brown Says He's Had Players Tampered With at WVU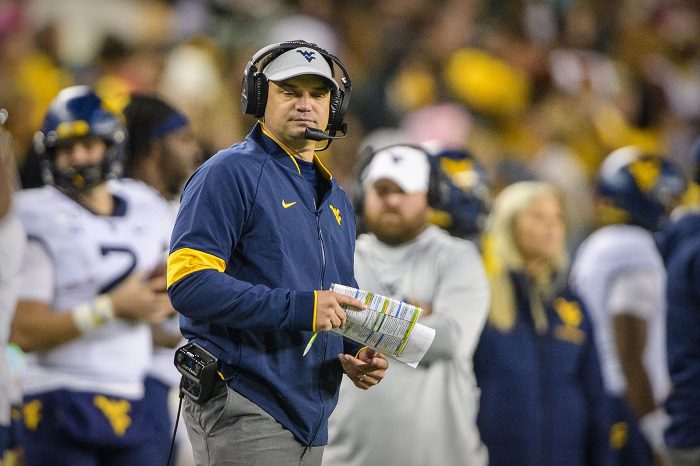 The transfer portal has forever changed college sports. And while there are positive things about that, there are also lots of negativity around it.
One coach who probably isn't feeling the love around the portal is WVU head coach Neal Brown, who recently signed an extension with the Mountaineers through the
In a recent interview on Sirius XM Sports Radio, West Virginia head coach Neal Brown admitted that there have been tampering issues with some of his now former players.
"It's going to be impossible to police this tampering. And so, there's just not going to be a way. We've had guys that have left here that have been tampered with, and I know it but I can't prove it. And I think that's going to happen more and more around college football. Here's what I think we're getting to – for better or worse – is we're looking now where your team is year-to-year. And so, very much a pro mindset where you're never really gonna know exactly who's on your roster until you get into fall camp. Your signals and all that kind of stuff are going to have to – you're going to have to redo year-to-year, just like the pros do. And because in the NFL, free agency, waivers, all that kind of stuff – the roster is continually turned over and you're gonna play multiple people that were on your roster the year before. So it just becomes a year-to-year mindset. And I think that's what's going to happen in Power Five college football as well."
There's likely always been tampering in college football, but is it now on steroids thanks to the transfer portal? Probably.
It's also been a tough offseason for the Mountaineers, who were recently called by 247Sports one of the "losers" of the transfer portal. Most notably, they lost a handful of reserves before losing key starters Tykee Smith and Dreshun Miller.
**Want to win a $25 gift card?  Go sign up here and join our conversation! The best poster each week wins a gift card to your favorite establishment!**