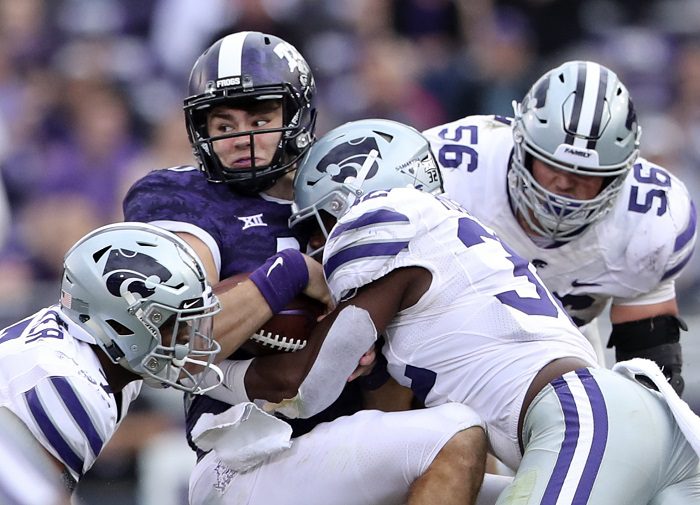 The 2021 NFL draft begins this Thursday and while there is a lot of buzz about the draft nationally, there seems to be little buzz locally. Kansas State had at least one player selected in the NFL draft for 26 straight years from 1993 to 2019, which was the longest streak in the Big 12 conference until it was broken last year when no Wildcat was selected. The Oklahoma Sooners now hold the longest draft streak in the conference.
There was a time in the past when I loved watching the NFL Draft and was especially interested in seeing local players, especially K-State Wildcats, get selected. Somewhere along the line, I lost interest in the draft. Despite my indifference, it's still very popular among the masses. A simple internet search for "NFL Draft" or "Mock NFL Draft" will give you hundreds of websites to visit to peruse their mock drafts and read about prospects.
Can K-State start a new NFL Draft streak in 2021?
Unfortunately, it doesn't look promising. The sheer number of websites and analytics dedicated to the NFL draft makes it kind of difficult to decipher whether or not K-State is going to have a player selected this year. NFL.com seemed to me to have the best information and they list three K-State players in their draft prospects list; Wyatt Hubert, Briley Moore, and Elijah Sullivan.
I didn't find Wyatt Hubert on any mock draft lists but found some sites that have him listed as a possible third-round pick or later. In an interview with FanNation, Hubert said teams have told him he'll get drafted anywhere from round two to round five. Most sites list him as a possible 7th round draft pick or a free agent. At the very least it sounds like he'll sign a free agent contract and get a tryout with a team. His positives, having a high-powered motor and a high football IQ, would indicate that he has a pretty good chance of making an NFL roster this fall. He's kind of a "tweener" defensive end. He's not quite big enough to play defensive end in a 4-3 defensive scheme, which means he'd be a better fit at outside linebacker in a 3-4 scheme. That begs the question about whether or not he has the speed to play the linebacker position. All of this will work itself out in the long run, but there are enough questions about Hubert that might give teams pause to draft him. NFL.com projects him as a 6th or 7th round pick.
Briley Moore has been mentioned as a possible Day Three pick. Chris Simms released his NFL draft position rankings recently and he had Moore rated as the 5th best tight end in the draft. I didn't see Moore on any mock drafts, but a lot of the sites indicate that he may get picked in the late rounds. NFL.com projects him as a 6th or 7th round pick.
I didn't find much on Elijah Sullivan. I didn't see him in any mock drafts and NFL.com lists him as a likely free agent.
K-State has a few other players eligible for the draft. Linebacker Justin Hughes, defensive back AJ Parker, and kicker Blake Lynch all are likely free agents.
One more thing. Every mock draft I looked at has Trevor Lawrence going as the number one pick. I'm not one to normally suggest "can't miss" wagers, but this one appears to be a "can't miss." If you can find a site that allows you to wager that Lawrence is the number one pick, it seems like easy money. You're welcome.
*If you like what you've read from Joe Mathieu, find more on his personal K-State site: https://www.kstatejoe.com/*