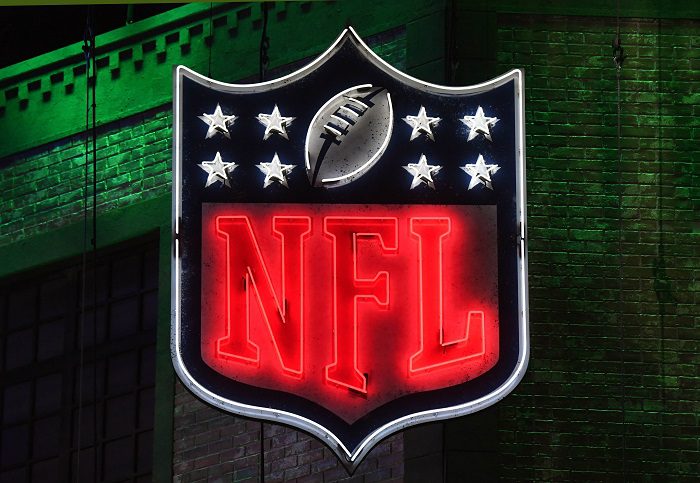 Day One and Day Two of the NFL Draft are in the books. Day Three features Rounds three through seven, where several Big 12 players were selected. While the conference struck out in the first round of the NFL Draft, the second and third rounds were a vast improvement. Oklahoma State offensive lineman Teven Jenkins was the first player off the board. The third round featured players like Ronnie Perkins and Joseph Ossai finding homes as well.
Here's a look at where Big 12 players went on Day Three.
Round 4
Iowa State RB Kene Nwangwu, Minnesota Vikings, No. 119 overall
While Nwangwu was third on the team in rushing yards (339) and rushing touchdowns (4), he was one of the best kick returners in the country in 2020, to the point where he was named a fourth-team All-American at kick returner by Phil Steele. He was a first-team Freshman All-American in 2016 and a second-team All-Big 12 selection in 2018.
Oklahoma RB Rhamondre Stevenson, New England, No. 120 overall
Stevenson missed the first five games of the season due to a suspension. He played in the season's final six games, and still led the Sooners in rushing with 665 yards and seven touchdowns on 101 rushes. He helped the Sooners win the Big 12 title and earn a berth in the Cotton Bowl, where the Sooners destroyed Florida. He was the second Sooner to be selected by the Patriots, as New England took Ronnie Perkins in Round 3.
Texas Tech CB Zech McPhearson, Philadelphia, No. 123 overall
McPhearson rose up draft boards after a 2020 season in which he ranked fifth on the team with 53 tackles, while leading the Red Raiders with four interceptions and two fumble recoveries. He was just the second Red Raider since 2000 to post four interceptions and two fumble recoveries in a season, joining J.J. Gaines. He was one of the most productive defensive backs in the country, in terms of interceptions.
Oklahoma State RB Chuba Hubbard, Carolina, No. 126 overall
The former 2,000-yard rusher wrapped up his OSU career with 3,459 rushing yards and 33 rushing touchdowns on 585 carries, all of which ranked eighth in the OSU career record book. He was the 2019 Big 12 Offensive Player of the Year and a 2019 First-Team All-American, as selected by eight different outlets. In school history, Hubbard is also No. 2 with 136.1 all-purpose yards per game, No. 4 with 5.91 yards per carry, No. 4 with 104.8 rushing yards per game, No. 7 with 4,490 all-purpose yards and No. 9 with 36 total touchdowns scored.
Oklahoma State WR Tylan Wallace, Baltimore, No. 131 overall
The 2018 Biletnikoff Award finalist and First-Team All-American stuck around through 2020, despite being a potential early entry after the 2019 season. The extra time in Stillwater allowed Wallace to become the 14th OSU football player to earn All-America honors in multiple seasons. He was No. 1 in the nation in career receiving average last season at 78.0 yards per game. He finished his OSU career with 3,434 receiving yards, 26 receiving touchdowns, 205 receptions, and 3,469 all-purpose yards, all of which put him among the Top 10 receivers in OSU history.
Oklahoma CB Tre Brown, Seattle, No. 134 overall
Sooners fans will always remember him as the guy that picked off the pass that sealed the 2020 Big 12 Championship game win over Iowa State. But, last season, Brown was a second-team All-Big 12 selection by league's head coaches and media and started all 10 games in which he played. He did not play in Cotton Bowl vs. Florida, but he still ended the season with 31 tackles (25 solo, six assists), one tackle for loss, three interceptions and six pass breakups.
Round 5
Texas DT Ta'Quon Graham, Atlanta Falcons, No. 148 overall
The Falcons are getting a seasoned defensive tackle who played four years at Texas, where he started 24 games and played in 48 games total. The former high school All-American was a Big 12 honorable mention in 2020, as he had 23 tackles (12 solo), seven tackles for loss, two sacks, two quarterback hurries and recovered one fumble.
Texas S Caden Sterns, Denver Broncos, No. 152 overall
Sterns decided to leave Texas early after a 29-game career (28 starts) in which he was the Big 12 Defensive Freshman of the Year and First-Team All-Big 12 in 2018. Last season he had 52 tackles in seven games, and he opted out before the season finale to prepare for the NFL Draft. Like Graham, he was a high school All-American.
West Virginia LB Tony Fields II, Cleveland Browns, No. 153 overall
Fields played just one season at West Virginia after playing three at Arizona, but in his one season in the Big 12 he flashed in every game. He was selected the Big 12 Defensive Newcomer of the Year by three outlets (including Heartland College Sports), an All-Big 12 First-Team selection and was No. 1 in the Big 12 in tackles per game (9.8).
TCU LB Garret Wallow, Houston Texans, No. 170 overall
Wallow, a New Orleans, Louisiana, product, heads back closer to home as he joins the Houston Texans after earning All-Big 12 First-Team honors in 2019 and 2020. Wallow led TCU in tackles for the second straight season with 90 stops, which was also second in the Big 12. He finished his career with 295 tackles to rank fourth in the 20-season tenure of head coach Gary Patterson.
Round 6
Oklahoma State CB Rodarius Williams, New York Giants, No. 201 overall
The former Oklahoma State cornerback brings takes his quality defense to the Big Apple. The 2020 All-Big 12 Second Team selection earned a spot in the Reese's Senior Bowl. Pro Football Focus graded him as the No. 20 FBS cornerback in the 2020 season and as the No. 4 FBS cornerback in tackling. According to PFF, he was the only FBS cornerback to face at least 240 coverage snaps (he faced 255) and allow no more than 10 catches. He had seven pass break-ups to tie for the OSU lead in 2020.
Texas QB Sam Ehlinger, Indianapolis Colts, No. 218 overall
The long-time Texas starter heads to Indy to back up Carson Wentz. In his final season in Austin, he completed 194-of-322 passes for 2,566 yards and 26 touchdowns to five interceptions, and he rushed for 377 yards and eight touchdowns. He ranked sixth in the country with 208 points responsible for. He was also ranked first or second among Big 12 quarterbacks in passing efficiency (150.7), passing touchdowns (26), passing yards per completion (13.23), points responsible for (208), points responsible for per game (20.8) and total offense (294.3)
Round 7
Kansas State DE Wyatt Hubert, Cincinnati Bengals, No. 235 overall
Hubert left K-State a year early to enter the NFL Draft, and he did so tied for eighth in school history with 20 sacks, while his 34.0 tackles for loss was just outside the K-State Top 10 all-time. In 2020, he was seventh in the nation among active players in sacks per game (0.59) and 10th in tackles for loss per game (1.00). He was the 2020 Big 12 Defensive Player of the Year.
Texas Tech OG Jack Anderson, Buffalo Bills, No. 236 overall
A long-time starter for the Red Raiders, he started in all 10 games for Texas Tech in 2020. He played right guard his entire career with Tech, earned 2020 All-Big 12 First-Team honors, and earned a spot in the Reese's Senior Bowl, which probably helped his draft status.
Baylor OLB William Bradley-King, Washington, No. 240 overall
The former All-Sun Belt selection from Arkansas State played one season with the Bears, during which he earned All-Big 12 Honorable Mention honors after registering 31 tackles in nine games, along with a team-leading four pass breakups and four quarterback hurries. He also had 3.5 sacks, tied for best on the team last season.
Oklahoma CB Tre Norwood, Pittsburgh, No. 245 overall
Steelers head coach Mike Tomlin called him a "Swiss Army Knife-Utility Back" when he announced the pick. Sooners fans know that well. He was the Big 12 co-leader and tied for third nationally with five interceptions. He had 23 tackles. He was also named Outstanding Defensive Player of the 2020 Goodyear Cotton Bowl Classic after returning an interception 45 yards for a touchdown.