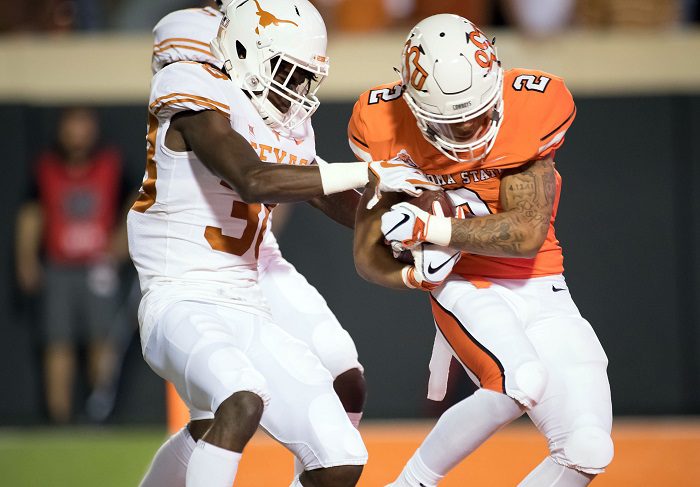 The 2021 NFL Draft is in the books and as Big 12 fans we will now be rooting to watch our guys showcase their talents at the next level. While the Big 12 struck out with NFL Draft picks in the first round, there was plenty of action in Rounds 2 through 7. So now that every pick is done, let's take a look at the Top 5 Big 12 steals of the 2021 NFL Draft.
Ronnie Perkins, Third Round, Patriots
Ronnie Perkins fell to the New England Patriots in the third round of the NFL Draft. While Perkins has had some off-field issues during his time with the Sooners, there's no doubt he had first round talent. Perkins missed the first five games of the 2020 season, but then played in six games and started in five and finished with 24 tackles, 10.5 tackles for loss, 5.5 sacks and 9.0 quarterback hurries. There were plenty of projections in recent months that Perkins could be a Top 50 NFL Draft pick. That didn't happen, but his talent is undeniable. As NFL Network analyst Daniel Jeremiah said in February, "I posted a play with him putting Tevin Jenkins on the ground with a long-arm inside move, and Tevin Jenkins is a talented player from Oklahoma State. He's got power. He's got a real good feel for it off the edge." Teven Jenkins was the first Big 12 player drafted early in the second round by the Bears. If Perkins follows the "Patriot Way", Bill Belichick has himself a star off the edge.
Tylan Wallace, Fourth Round, Ravens
Tylan Wallace was one of the best receivers in college football in 2018 and 2019 before an injury late in the season. He became the latest in a long line of deep threats coming out of Oklahoma State. Justin Blackmon, James Washington and now Tylan Wallace. But Wallace fell. His Pro Day didn't do him any favors. His 40-yard dash time was 4.48. His athletic testing didn't help. His jumps of 33 inches in the vertical and 112 inches in the broad were disappointing. But for those of us who watched him in the Big 12, he was never an athletic freak. He just knows how to go get the damn ball. Wallace tracks the ball well downfield and his ball skills, especially in contested situations, are great. His body control and footwork are top notch too. Plus, the Ravens are getting a great guy who will never get distracted by off-field nonsense. The Ravens got themselves a steal and Wallace will be proving that sooner than later.
Creed Humphrey, Second Round, Chiefs
The rich get richer. Creed Humphrey went from a possible late first or early second round pick to a late second round pick with the Chiefs. Humphrey has been one of the best offensive linemen in the Big 12 the past three seasons, and he was a second-team All-American. He did not allow a sack in 401 pass plays. The Chiefs got their center for the next decade. Oh and don't take our word for it, his former teammate who is now on the Chiefs, Orlando Brown Jr., apparently lobbied for Humphrey to join Kansas City. It may not be the sexiest position on the field, but Creed Humphrey is the kind of guy who will be snapping the ball to Patrick Mahomes for years to come and will be one less piece the Chiefs need to worry about as they chase another Super Bowl ring.
Jack Anderson, Round Seven, Bills
Anderson was a long-time starter for the Red Raiders, as he started in all 10 games for Texas Tech in 2020. He played right guard his entire career with Tech and earned 2020 All-Big 12 First-Team honors. The 6'5" 315-lb lineman is a solidly built prospect with more than enough athleticism for the position, plus he isn't afraid to mix it up in the trenches with defenders. Anderson has met or exceeded expectations dating back to high school, where he won a ton of awards, then became an All-American Freshman in 2017 at Tech, which led to All-Big 12 honors this past season. I'm not saying Anderson is starting this season in the NFL, but if the Bills give him time, he will find his way in the league. For a seventh round pick, that's a steal.
Rodarius Williams, Round Six, Giants
I can't believe Rodarius Williams fell this far. Pro Football Focus graded him as the No. 20 FBS cornerback in the 2020 season and as the No. 4 FBS cornerback in tackling. According to PFF, he was the only FBS cornerback to face at least 240 coverage snaps (he faced 255) and allow no more than 10 catches. In those 255 coverage snaps he allowed zero touchdowns. Williams also ranked fifth amongst draft-eligible defensive backs in forced incompletions (30). He had seven pass break-ups to tie for the OSU lead in 2020. Williams produced on one of the most underrated defenses in America last season and he will surprise a lot of people at the next level, while leaving many wondering why they didn't give him an earlier look.
Bonus: Wyatt Hubert, Round 7, Bengals
Do I think Wyatt Hubert will be an NFL star? No. Do I think he's worth a 7th round pick to potentially overachieve and be a solid NFL pro? Yes. He left K-State a year early to enter the NFL Draft, and he did so tied for eighth in school history with 20 sacks, while his 34.0 tackles for loss was just outside the K-State Top 10 all-time. If given time, Hubert can prove himself to have a surprisingly productive NFL career.
**Want to win a $25 gift card?  Go sign up here and join our conversation! The best poster each week wins a gift card to your favorite establishment!**