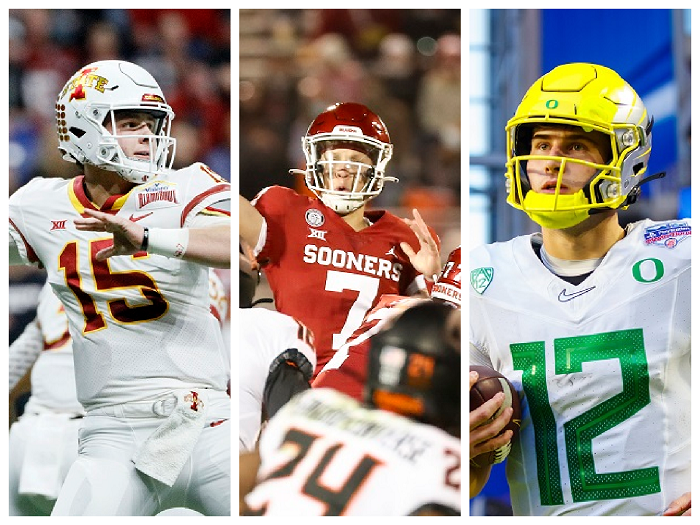 It certainly was not a memorable 2021 NFL Draft this past weekend for the Big 12. While the conference had one more selection this year (22) than it did last year (21), there were zero first round draft selections for the first time since the conference began playing football back in 1996.
Of course, quarterbacks are the focus of any draft. They are the headliners and teams are willing to spend a ton of time and assets to get the guy who they believe can lead their franchise to the promise land. This year, the Big 12 had just one quarterback selected in the draft thanks to Texas quarterback Sam Ehlinger who was taken by the Indianapolis Colts in the sixth round.
Since 2016 the Big 12 has had only three quarterbacks drafted in the first round. Former Texas Tech quarterback Patrick Mahomes was taken with the tenth overall pick by the Kansas City Chiefs in 2017 while Oklahoma's Baker Mayfield and Kyler Murray were first overall picks in 2018 and 2019. Baker went to the Cleveland Browns while Murray went to the Arizona Cardinals. It seems like all those picks turned out well so far.
As great as those selections were, I would sure like to see more of them. Since 2014 the Big 12 has had only seven quarterbacks get drafted. You can thank the Oklahoma Sooners for three out of those seven picks. But what has been shocking is the fact that the conference has only had one quarterback drafted in back-to-back drafts. Oklahoma's Jalen Hurts was a second-round pick in 2020 and of course as I mentioned earlier, Texas quarterback Sam Ehlinger went to the Colts.
But I am here to tell you, better days are ahead. Just look at the potential class of 2022 in the conference. No matter what Mock draft you look up, Oklahoma's Spencer Rattler is a lock to be a top five pick in next year's draft. Depending on the website, most even have him as the number one overall pick for 2022. If that comes true, that means Oklahoma would have produced three number one picks in a five-year span.
However, it is possible that Spencer Rattler is not the only Big 12 quarterback taken in the first round of next year's draft. A lot of people have their eyes set on Iowa State quarterback Brock Purdy. Going into last season, some had him as a first round pick for this year's draft if he decided to forgo his senior year. While he did not have a year like his 2019 season, he still managed to put up some good numbers and with a solid 2021 season, he could climb right into being a potential top ten pick.
Perhaps the biggest mystery of all this is former Oregon transfer Tyler Shough who is now at Texas Tech. Some people think he has the potential to be a first round pick next season. I get that he looks like the quarterback that NFL teams dream up due to his size but to me there is still a whole lot of work to be done with him because the little I have seen of Tyler has not screamed first round pick to me. However, this is the NFL we are talking about here and general managers love to overthink things and change their mind ten times a day.
Now I do not want to completely get too full of myself here, but this year should be an exciting one. If these three quarterbacks can have a big season ahead, it is possible that we could have three quarterbacks from the same conference going in the first round. Oh, and by the way, to my knowledge, the only conference to ever do that was the Big 12 back in 2012 when Robert Griffin III, Ryan Tannehill and Brandon Weeden were all selected in the first round.
**Want to win a $25 gift card? Go sign up here and join our conversation! The best poster each week wins a gift card to your favorite establishment!**