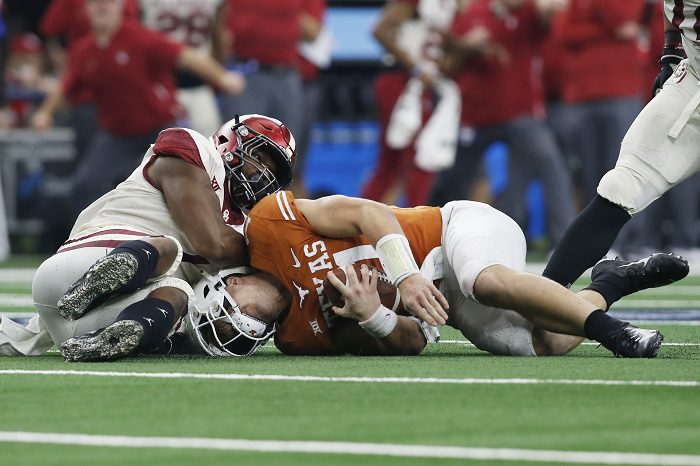 The Big 12 as a Conference had one of the more lackluster showings in the 2021 NFL Draft. None were taken in the first round since the conference's move to 12 teams in 1995, though it could be argued that multiple guys should have gone on Day One.
So, because I'm late and everything about the draft has pretty much already been said, let's have a little bit of fun and speculate what overall ratings the new Big 12 rookies will receive when they are added to the next installment of the Madden video game franchise; Madden NFL 22.
Named after legendary NFL head coach John Madden, the Madden NFL series has put out annual releases for nearly 31 years, starting with John Madden Football in 1988. Over the years, the franchise has become the go-to simulation football game, as its publishing company, Electronic Arts (EA), exclusively owns the NFL license. This means that only EA can publish games with NFL teams and players.
No matter your opinion of the Madden series, you can't deny its relevance in football and NFL culture. The overall rating each player receives is indicative of their performance on the field. With rookies, however, it's not so easy to tell, as no one knows how they will transition from the college game to the NFL. So, as someone who watched most of these guys for a year or more, I'm going to give my insight as to what rating each Big 12 rookie will receive and why.
There were 22 total players drafted from the Big 12, and to keep this article short, I'll only be going over the players that went in rounds one through four. The guys drafted in the fifth and sixth rounds will most likely end up with ratings ranging from a high 50 to a mid 60 at best, based on the Madden franchise's track record in previous entries, anyways.
Chicago Bears OT Teven Jenkins – Rating: 76
Teven Jenkins was the first Big 12 player taken in this year's draft, and after many mock drafts had the Oklahoma State offensive tackle slated for the first round, the Bears picked him up with the 39th pick in the following round.
Even after his slip to the second round, experts applauded the pick and still considered Jenkins to be one of the best offensive linemen in the draft. Due to this and four years of watching him bully defenders at will, I think a 76 overall rating fits him perfectly for his rookie campaign.
Las Vegas Raiders DB Trevon Moehrig – Rating: 74
Another guy that some thought could go in the first round, Trevon Moehrig enjoyed an extremely productive three seasons at TCU, including two first-team All-Big 12 selections in 2019 and 2020 and a first-team All-American selection in 2020.
Moehrig is a technically sound, good sized safety who will make an immediate impact for the Raiders, who picked him No. 43 overall in the second round. I believe 74 is a safe estimate for the former Horned Frog, but I wouldn't be surprised if that rating goes up during his inaugural season.
Washington Football Team OT Sam Cosmi – Rating: 73
Sam Cosmi was a three-year starter at Texas, and shows in his film. He has the size of an NFL tackle at 6-foot-6, 314 pounds, and excels at taking a defender where he wants to go. The Football Team residing in Washington definitely scored themselves a solid offensive lineman with the 51st pick.
Cosmi doesn't jump off the page at you, so I fear he'll be overlooked when it comes to rating him. For this reason, I see him catalogued as a decent 73 overall.
Kansas City Chiefs C Creed Humphrey – Rating: 73
OU's posterboy offensive linemen ends up on one of the best organizations in the NFL. Picked up at No. 63 late in the second round, Creed Humphrey will surely make quick work of nose guards and briskets when he arrives in Kansas City this season. In three years at Norman, he won Big 12 offensive lineman of the year twice, as well as earning two All-America team honors.
Humphrey is everything you want in a center, and I think he can absolutely compete for the starting spot, snapping to Pat Mahomes. I'll go with a 73 for now, but I fully expect it to be higher the more we see of him in KC.
Cincinnati Bengals DE Joseph Ossai – Rating: 71
As we enter the third round selections, we find our second Texas Longhorn draftee. Joseph Ossai was drafted 69th overall by the Bengals in what I consider to be a steal. A true edge rusher with elite explosiveness, the native Nigerian tore up Big 12 offenses on his way to a first-team All-American and first-team All-Big 12 selections in 2020.
Ossai will aid a defensively struggling Cincinnati team with some much needed pass rush help. His third round selection has him at a 71 overall for me, but after seeing what he's capable of against the Big 12's best linemen, I expect to see a splash onto the scene for the former Longhorn.
New England Patriots DE Ronnie Perkins – Rating: 71
Ronnie Perkins could easily have been a first or early second round pick, what with his intimidating size and furious tenacity. I suspect he fell all the way to No. 96 in round three due to some character concerns he showed at Oklahoma, where he was suspended for multiple games over two seasons due to a failed drug test.
Much like Ossai, another defensive end, I see Perkins sitting at a cool 71 overall at the start of the season. I have no doubt he'll be vying for playing time in New England, given he solves his off-the-field issues that have followed him through college.
There were six guys picked in rounds two and three, and six more in round four. I covered the first six, stay tuned for the rest next week!