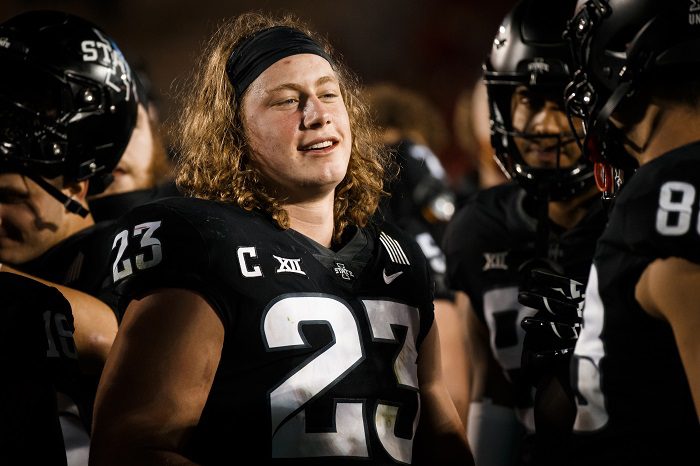 As we wrap up the 2021 NFL Draft stories, there is only one thing on my mind right now. The 2022 NFL Draft! Just like recruiting, once one class is done, it is on to the next. I am not going to lie; the 2021 NFL Draft left a bad taste in my mouth from Big 12 perspective but there are much brighter days ahead. That is thanks to a loaded 2022 Big 12 draft class that is filled with plenty of talented players who will be eligible to move to the next level after this season. So, I decided to rank my top 16 Big 12 pro prospects and where I think they could be drafted. This will be a two-part series as this will feature my final eight pro prospects from the Big 12. You can find the top eight here.
9. Oklahoma OT Wanya Morris
Maybe it is a little high but good offensive tackles are rare and teams put a premium price on guys who can protect at an elite level up front. Wanyaa has all the measurables and played a ton as a young player at Tennessee. Now under offensive line coach Bill Bedenbaugh, I expect Wanya to make a big jump up the big boards and be a day two pick for some lucky team.
10. Iowa State LB Mike Rose
By the time Mike Rose is done with his collegiate career, he could be a guy who walks away with not one but two Big 12 defensive player of the year trophies. He has the attitude and the fearlessness of a hard-nosed linebacker. All this man does is make plays around the football and while he may not post the greatest combine numbers, he will be a gem for some team in the third round or so. It would not shock me to see Mike Rose play in the NFL for a while.
11. TCU CB Noah Daniels
Most people when they talk about TCU, they think Tre'Vius Hodges-Tomlinson and that is fine but do not sleep on Noah Daniels. His has had some injury issues but when he is healthy, he is a lockdown type of corner. The biggest question is, can he stay healthy? If he does, then I think his draft stock goes up after the 2021 season.
12. Texas Tech QB Tyler Shough
I will be honest. I do not feel comfortable with Tyler Shough in terms of production, but NFL people love his size because he looks like what every NFL teams dreams up when they think of a quarterback. He is a big guy standing at 6'5 and shows flashes of potential at times but that is what he was at Oregon, just potential. I am not truly sure what he will look like in Lubbock with less talent around him but since every NFL scout talks about him, I had to save a spot for him on the list.
13. TCU CB Tre'Vius Hodges-Tomlinson
If Tre'Vius was taller, he would for sure be in my top five. He is an All-Big 12 player and is an excellent corner who can take a good receiver out of the game. He is only 5'9 but he plays bigger than his size. He will likely slide down some board because of his size but he would be a great late round steal for someone.
14. Oklahoma State Safety Tre Sterling
This safety is not afraid to get his hands dirty. He is a good tackler in space and led the Cowboys in tackles for loss with 12 of them last season. I am not sure how he will pan out at the next level, but he has had a solid collegiate career so far and I expect a big season ahead for Tre Sterling.
15. Baylor LB Terrel Bernard
Before going down to a season ending injury last season. Terrel Bernard was playing at an elite level at linebacker. He averaged double digit tackles per game when he was healthy last year and has a good nose for the football. In 2019, he finished third in the conference in tackles and would have likely been the conference leader if he stayed healthy in 2020. With him coming back for his senior year, I am sure Terrell will be in the mix for the Big 12 defensive player of the year and he will be a good linebacker in the NFL for any team wanting him.
16. Oklahoma State Safety Kolby Harvell-Peel
He did not have a year like his 2019 season, but he was still a good safety for the Cowboys last season. In 2019, he led the Big 12 in passes defended and was tied for third with five picks that year. Despite the drop off in production in 2020, I think he could have a good year and end his career in Stillwater on a high note enough to be a good late round draft pick.
**Want to win a $25 gift card? Go sign up here and join our conversation! The best poster each week wins a gift card to your favorite establishment!**