Baylor Bears
Nicki Collen's Job at Baylor Not as Easy as it Appears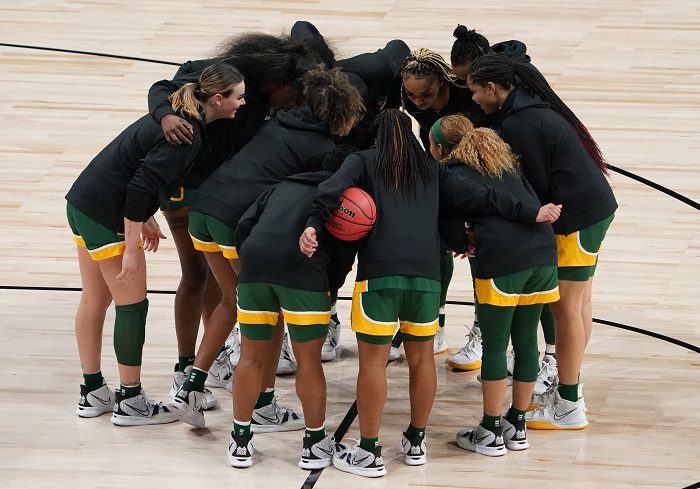 In many ways, Nicki Collen has inherited an ideal situation.
Baylor's new women's basketball coach takes over a winning program that consistently makes deep NCAA tournament runs. Recruits line up hoping the Lady Bears will look their way even for a moment.
The issue?
Collen replaces a living legend.
Former Baylor coach Kim Mulkey accepted LSU's head coaching job last month and left behind an almost untouchable legacy. In 21 years at Baylor, Mulkey compiled a 632-104 (291-61 Big 12) record, won three national titles (2005, 2012, and 2019) and claimed 23 conference championships between the regular season and Big 12 tournament.
Not surprisingly, the expectations remain high.
Collen has collegiate experience as an assistant at Colorado State (2001-03), Ball State (2003), Louisville (2003-2005), Arkansas (2011-2014), and Florida Gulf Coast (2014-15). At every stop except Florida Gulf Coast, she coached under her husband.
An assistant job with the WNBA's Connecticut Sun pulled Cullen away from college in 2015 and then the Atlanta Dream head coaching gig followed three years later. The Dream finished a franchise-best 23-11 and advanced to the playoff semi-finals during Collen's first year.
She earned Coach of the Year Honors, but quickly learned having success and maintaining success were very different things. Atlanta posted a 15-41 record over the next two seasons. Collen built player-coach relationships, though, and showed their personal beliefs mattered as much as basketball.
Last summer, then-Dream co-owner Kelley Loeffler ran for U.S. Senate re-election on a platform many WNBA players felt went against prominent social justice issues, including Black Lives Matter. As players on the Dream vocalized their concerns, Collen backed them publicly.
This outspoken and vocal mindset could work well in college since college athletes want coaches who understand the current social climate and desire change.
However, Collen will need time to fully grasp how college athletics has changed the last six years. It's been a while since academics, recruiting, and fundraising have been among Collen's daily concerns. Her basketball background and association with the Baylor basketball brand can provide a major boost.
But a learning curve still exists.
Recruiting has already started as current Lady Bears look at other opportunities, which include following Mulkey like rising sophomore Hannah Gusters did. Gusters played 30 games, scoring 10 points or more in six games, and earned an invitation to the 2021 FIBA U19 World Cup tryouts this summer.
Still, Collen should have success right away because Baylor is simply more talented than other Big 12 teams and most programs across the country. The Lady Bears return most players from a 28-3, Elite Eight squad, including rising senior forward NaLyssa Smith. Smith ranks No. 1 on ESPN's 2021-22 list of top 25 players.
A year or two from now, it will be clearer if Cullen's recruitment and player development strategies fit, or at least land near, the current standard. Expecting the same results under a new coach is a bit unreasonable, but that doesn't change the weight and pressure each game and decision carries.
If Cullen can fully embrace the challenge and adjust quickly, she just might meet those lofty goals.