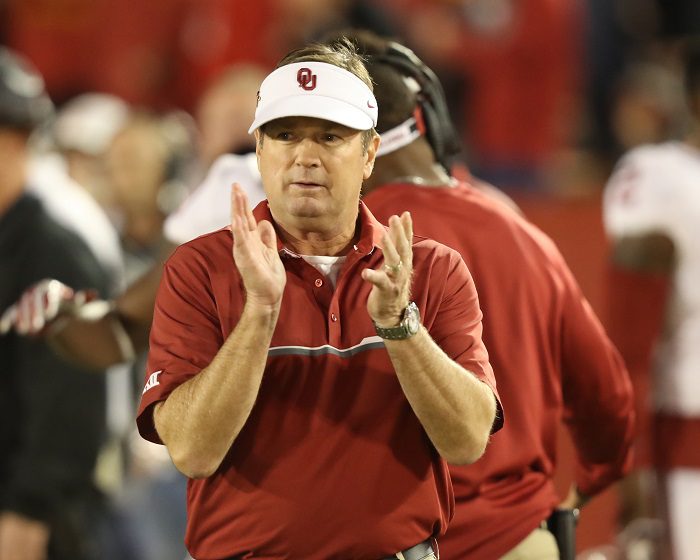 It's been nearly four years since Bob Stoops left the college football coaching world, retiring as the head coach at Oklahoma after 18 seasons. However Stoops admitted on Thursday in a conversation with Colin Cowherd that he still misses the job.
"Nothing in life compares to that," Stoops said. "As a coach you get addicted to the excitement of it, the tensity of it all and the pressure of it, oddly. You love it because you really know you're alive when you're pulling in that stadium or walking down that ramp, getting ready to kick it off, not knowing the outcome. Sure, you miss it. I don't know that you ever get used to it."
Stoops was joining Cowherd as he's now part of the FOX Sports family, replacing Urban Meyer on Big Noon Kickoff after Meyer took the Jacksonville Jaguars head coaching job.
Stoops coached the Sooners from 1999-2016, winning a national championship in 2000. He retired in 2017 and handed off the reins of the program to Lincoln Riley, who has helped the Sooners win six-straight Big 12 Championships. Most recently, Stoops was the head coach of the XFL's Dallas Renegades last spring, but the league was shut down due to the pandemic.
However as much as Stoops admitted to missing coaching he added has no regrets about his decision to step away and it sure didn't sound like Stoops is ready to jump back into the world of coaching.
"In the end, do I miss it?" Stoops said. "Heck yeah. Do I regret it? No. It was just time for me. I felt too after 18 years in one place that I had run my course there. It was the perfect time for me to step away and let the program continue with Lincoln."