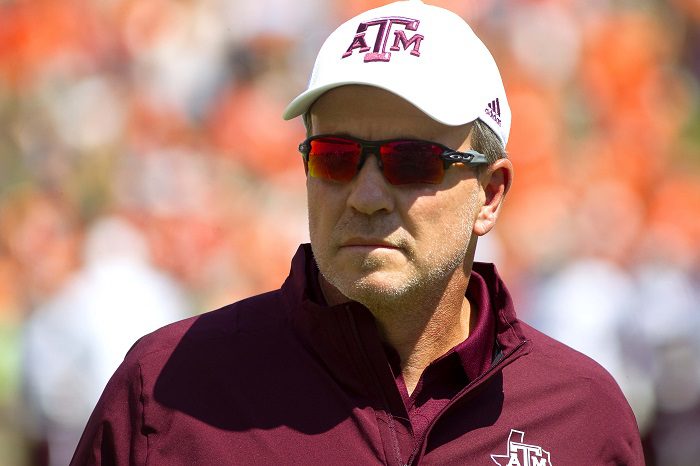 Texas A&M head coach Jimbo Fisher has been a sound byte machine this offseason, most notably commenting on beating Alabama this upcoming season.
Well Fisher was at it again this week, as he he made an appearance on KLBJ Radio in Austin and he doubled down on beating Saban while he's still with the Tide, he was also asked about the possibility of renewing the Texas vs. Texas A&M rivalry, which has not been played in 10 years.
Fisher went on to say, "If it's what's best for Texas A&M (if it's in the Aggies' best interests to be playing the game), I do. We're playing in the SEC and we're playing in a great league. It's a great rivalry and there's a lot of history there and if that's what's best for Texas A&M we'll do it."
However, he admitted that this was way beyond whatever might be of interest to him, adding, "But right now, that decision was made a long time ago and we (the football program) have no control over it. There were some things done there that are water under the bridge and I don't know what all of that was but I know right now there's no way that's going to happen for ten years or so. In that time, if that's what is best for A&M we'll do it. We'll do what's best for A&M."
Lastly, he was asked if his players were at all interested in the rivalry, to which Fisher said, "Nah.. If they're not on our schedule, they're not on our radar."
For those still holding out hope for a renewal of the rivalry, don't hold your breath.
The Longhorns are scheduled out as far as 2033 and already consist of home-and-home match ups with the likes of Alabama, Ohio State, Michigan, Florida and Georgia. Meanwhile, Texas A&M has non-conference match ups with Notre Dame, Miami, Arizona State, and Louisville all on the schedule in the next decade or so.