Big 12 News
Texas Tech QB Tyler Shough is Getting No. 1 NFL Draft Pick Odds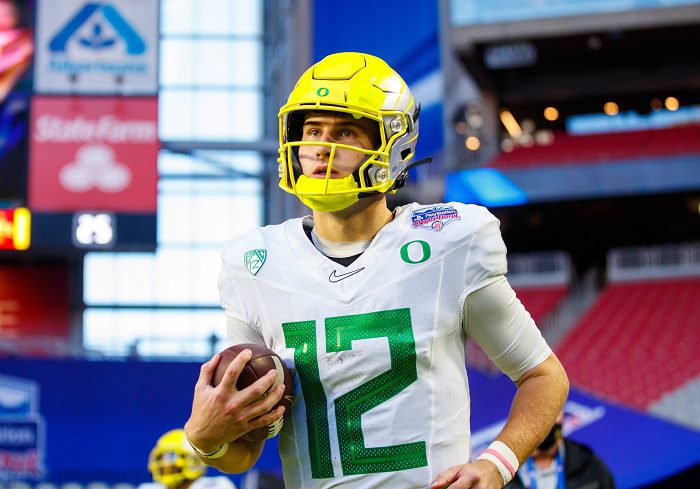 Chalk this one up over things most of us didn't see coming: Former Oregon and current Texas Tech quarterback Tyler Shough is getting odds to be the No. 1 overall pick in the 2022 NFL Draft.
Shough was given 10/1 odds to be the No. 1 overall pick in next year's NFL draft, according to sportsbetting.ag.
The outlet has Oklahoma quarterback Spencer Rattler as the favorite to be the No. 1 pick with odds of 1 to 1, followed by Oregon defensive end Kayvon Thibodeaux at 5 to 2, North Carolina quarterback Sam Howell at 3 to 1 and Liberty quarterback Malik Willis at 9 to 1.
Shough started all seven games Oregon played last season, then transferred to Texas Tech in March, and he's been the favorite to be the starter this fall.
We know that quarterbacks with potential will go quickly in the NFL Draft. Two weeks ago, quarterbacks came off the board quickly with three in the top three slots and five in the first 15.
However, if Shough gets himself into the conversation to be the top pick in next year's NFL Draft, that will, theoretically have meant the Red Raiders will have an even stronger season than anyone will have anticipated in 2021. Matt Wells desperately needs that as he heads into Year 3 in the job in Lubbock.
Wells made a big change for the offense this offseason, firing his longtime OC David Yost and hiring Sonny Cumbie.
In Wells' two seasons at Texas Tech, he's a combined 7-14 in two seasons after going 4-8 last year and 4-6 this season. The Red Raiders finished ninth in the Big 12 last year and eighth in the Big 12 this year. Tech has won a combined five conference games in Wells' two seasons on the job.
But if Tyler Shough gets himself into the No. 1 NFL Draft pick conversation, then the fortunes for the Red Raiders may be about to change very quickly.