Baylor Bears
Top 10 Big 12 Wide Receivers Since Conference Realignment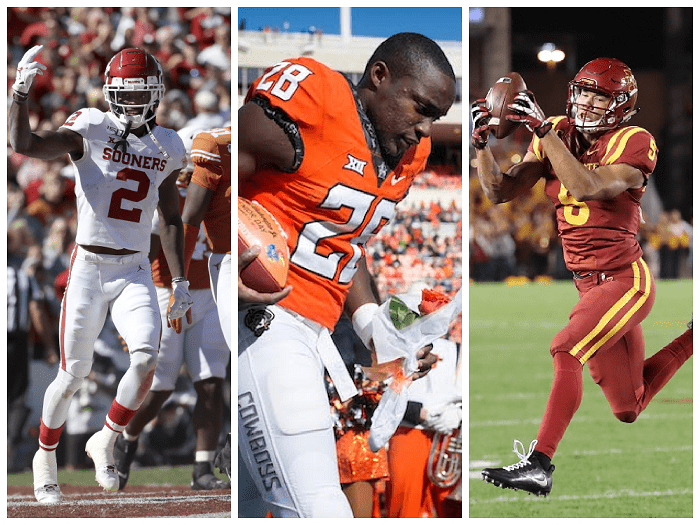 It is hard to believe that the Big 12 has been around since 1996. Of course, since then teams have come and gone but the conference finally settled down in 2012. Since then, the current ten teams have remained intact.
Going into the 2021 football season, marks the tenth season of the current alignment within the conference. So, I figured for ten years, why not rank the ten best Big 12 wide receivers since 2012?
Before I begin, there is no single criteria for my list. It's a combination of stats, talent, and awards. Meaning these are the best Big 12 wide receivers that have played since the 2012 season began in my opinion. Of course, everyone will have their own criteria when it comes to this list so I am sure people will have different views of my list. Keep in mind, while this list goes back to 2012, there were some receivers who played in 2012 and before that so their full career will be counted in the Big 12. And in case you missed it, I already ranked the top ten quarterbacks and running backs since 2012!
1. Oklahoma WR CeeDee Lamb (2017-19)
In terms of pure talent and production at the position, I do not personally think anyone has done it better than CeeDee Lamb. He burst onto the scene as a true freshman back in 2017 with over 800 yards and seven touchdowns before posting a combined 2,485 yards and 25 receiving touchdowns in his final two seasons in Norman. He was nearly unstoppable in his junior season back in 2019 and constantly make defenders look silly when the football was in his hands.
2. Oklahoma State WR James Washington (2014-17)
While I do not think he was more talented that CeeDee Lamb, James Washington was about as productive numbers wise as a receiver could be. Washington is second all time in Big 12 career receiving yards with a total of 4,472 yards and has an absurd 39 career touchdowns. By the way, James is also second all time in the conference averaging a whopping 19.8 yards per reception. He also was a two-time All-Big 12 selection, an All-American and won the Biletnikoff in his senior season back in 2017.
3. Kansas State WR Tyler Lockett (2011-14)
Say what u want about his size but Tyler Lockett played a lot bigger than he looked. He was in a run first offense throughout his career, yet the offense made it a point to get Tyler the football and they did that well in his last two seasons. In his junior season, Lockett went for over 1,200 receiving yards before having a monster senior campaign where he had over 1,500 yards and 11 touchdowns. When it came to speed, this man was tough to beat.
4. Baylor WR Corey Coleman (2013-15)
It seems like people forget just how good Corey Coleman was in the Art Briles offense at Baylor. After a decent freshman season back in 2013, Corey burst onto the scene in 2014 with a 1,100-yard season. But he would top that with a memorable junior season where he won the Biletnikoff Award and had a whopping 20 receiving touchdown catches with over 1,300 yards receiving. He fit the Baylor offense to a "T" back in his day and it seemed like every game the man was catching two or three touchdowns every night. He belongs in the top five.
5. Oklahoma State WR Tylan Wallace (2017-20)
Some may not understand this pick but Tylan Wallace was one heck of a football player and it is unfortunate that he had some injury issues in college. Tylan's best year was as a sophomore back in 2018 where he went for nearly 1,500 receiving yards and had 12 touchdown grabs. Despite having his final two seasons cut short due to injury or a ten game COVID season, he still posted back-to-back 900 plus yard years. The talent was there and if he stayed healthy for his entire career, I think he could have maybe moved up this list and don't forget, his quarterback play was not the greatest either.
6. WVU WR Stedman Bailey (2010-12)
Stedman played only one season in the Big 12 back in the 2012 season but what a season it was. In his final year at WVU, Stedman had an incredible 25 touchdown catches which ranks third all time for a single season. He also had 1,622 yards that season and one could argue that he was better than Tavon Austin was during his time in Morgantown. If Stedman had played the 2011 season in the conference, he would be higher on this list. All this man did was make play after play.
7. Baylor WR Terrance Williams (2009-12)
In the height of the offensive wave in the Big 12, Terrance Williams was a guy who shouldn't get lost in the shuffle. Terrance was a key target for RGIII (2011) and Nick Florence in the 2012 season where he had over 1,800 yards and 12 touchdowns. Plus, I always remember him for his catch in 2011 against Oklahoma for a late victory. Terrence may be remembered more as a Dallas Cowboy football player, but he was one of the first Baylor wide receivers that really became a star during the offensive explosion in Waco.
8. Oklahoma WR Dede Westbrook (2015-16)
Despite playing only two seasons in Norman, Dede Westbrook was an excellent player and had exceptional speed. He teamed up with quarterback Baker Mayfield and in 2016 was a Heisman Finalist along with Baker. Dede finished the 2016 season with 1,524 yards and 17 scores as he won the 2016 Biletnikoff award. Much like some others on this list, if he would have had more time in Norman, who knows how high he would be on this list.
9. WVU WR Tavon Austin (2009-12)
Much like his teammate Stedman Bailey, Tavon only played one season in the Big 12. He may have not been the perfect prototype receiver, but he was deadly when the football was in his hands. He wrapped up his final year in Morgantown with over 1,200 receiving yards and even rushed for 643 yards that season. He was Mr. Do it All for the Mountaineers and perhaps nobody was better in the open field than Tavon Austin.
10. Iowa State WR Allen Lazard (2014-17)
Some people may argue he doesn't belong on this list, but the man had one heck of a career at Iowa State before Iowa State was the Iowa State that we know now. Lazard dealt with bad quarterback play throughout his career in Ames, yet he managed crack the top ten in career receiving yards in the Big 12. The guy could play and if he had played for another team outside of maybe Kansas, people would likely look at him a bit differently. He deserved a place on this list.
Honorable Mentions
Before you get upset and start tweeting and emailing me how bad this list is or how I hate your favorite team, keep in mind there are only ten spots on this list. There have been so many great receivers that have played in the Big 12 over the last decade and everyone in this honorable mention is deserving to be in the top ten. You can certainly make a case for a one or more of these players to be in the top ten and I wouldn't argue much against you. Unfortunately, not everyone can be in my top ten and some players will be left out.
Oklahoma WR Sterling Shepard (2012-15)
Baylor WR K.D. Cannon (2014-16)
TCU WR Josh Doctson (2013-15)
Baylor WR Denzel Mims (2016-19)
Texas Tech WR Jakeem Grant (2012-15)
Oklahoma WR Marquise Brown (2017-18)
West Virginia WR David Sills (2017-18)
**Want to win a $25 gift card?  Go sign up here and join our conversation! The best poster each week wins a gift card to your favorite establishment!**