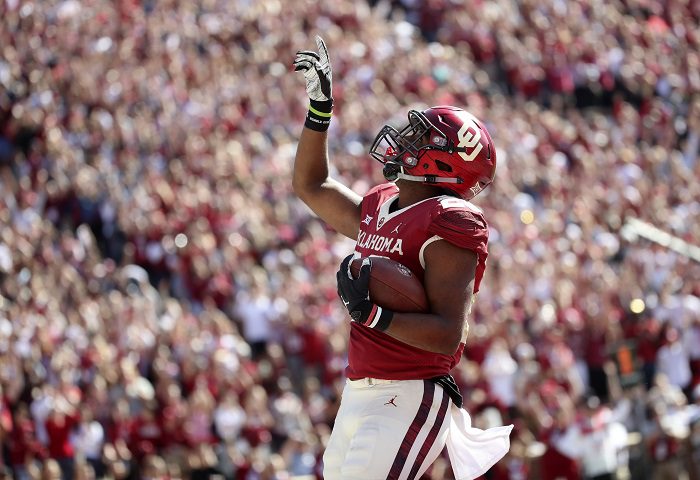 This is the year for Oklahoma. The season fans have been waiting for. The question should be asked: If not now, then when?
This Oklahoma roster is absolutely loaded in a way and may go down as one of the all-time great rosters in OU football history. And as we look ahead to the 2022 NFL draft, the Sooners have a legitimate chance to threaten LSU's record for most players  selected in one draft (14).
Led by QB Spencer Rattler, the favorite to win the Heisman Trophy and likely number one overall pick, the Sooners boast next-level talent at every level on both sides of the ball.
Oklahoma Offense
In addition to Rattler, Eric Gray, Kennedy Brooks, Wanya Morris, Eric Swenson will almost certainly be playing their last or only seasons in Norman. Brooks and Gray should be late Day Two or early Day Three NFL Draft picks in 2o22. Brooks has elite vision and balance, while Gray is a twitchy athlete with tremendous quickness.  Running backs coach DeMarco Murray went as far as to compare Gray to himself earlier in spring camp. Swenson will be on his last year of eligibility and while he is likely the weakest link on the line, he has done enough to likely get taken on Day Three. The interior linemen like Chris Murray, Marquise Hayes, and Tyrese Robinson are also Day Two or Day Three caliber players, if they were to choose to go pro after this year.
Meantime, the receivers in this offense are super talented. Arkansas transfer Mike Woods has early-round talent and will likely be going pro after this year. Jadon Haselwood, Theo Wease and Austin Stogner all have tremendous ability as well. Stogner stands at 6'6′, 250 pounds with nice body control and catch radius. His nickname at OU has been "Baby Gronk", and as he works back from a staph infection, it will be interesting to see if he can get back to full force. Haselwood is the most talented player at the position in the Big 12 Conference and among the most talented in the nation. Haselwood has to live up to lofty expectations, but unfortunately for the former No. 1 overall wide receiver recruit, he missed a majority of last season with an injury. Theo Wease is talented and flashed his potential many times during the 2020 season, but was overall inconsistent. If he can put things together he could be drafted in the first three rounds.
Oklahoma Defense
On the defensive line, Oklahoma has three guaranteed picks, two of which have a great chance to go in round one. Interior defensive lineman Perrion Winfrey, and the two flexible players on the Sooners front who can play both at an All-American level in Jalen Redmond and Isaiah Thomas. The Speed D in Norman has been disruptive and nasty, as OU finished 2020 in the top 10 in sacks and top 15 in tackles for loss.
Redmond missed a year due to COVID-19, but would have likely been their best player on defense in 2020, which included Ronnie Perkins. Thomas, who defensive coordinator Alex Grinch said would have been his pick for Big 12 Defensive Player of the Year last season, is coming off a break-out campaign. The Jamar Cain effect (OLB/De coach) continues there.
As we mention those three, we have to get to another likely first round NFL Draft pick: EDGE player Nik Bonitto. Bonitto was rated the best edge rusher in college football last season, according to Pro Football Focus. Bonnito has elite athleticism, as well as speed. He screams off the tape. Other players on defense who are likely to get drafted next year include sixth-year senior Caleb Kelly, who is coming off an ACL injury and Justin Harrington, who is also coming off an ACL injury. Harrington was the No. 1 ranked JUCO defensive back of the 2020 class, and a guy coaches have raved as a first round NFL Draft prospect who isn't likely to last more than one season in crimson and cream. The linebackers and defensive backs are mostly young guys, some of whom could decide to go pro next year. David Ugwoebu, Brian Asamoah and DaShaun White all have the make up to be NFL linebackers and would likely get selected, if they chose to go (especially Ugwoegbu). Woodi Washington is also a guy to keep a close eye on as well, as he could make a huge leap forward in 2020.      
The Sooners have high expectations next season, and for good reason. This team is loaded with next level talent. This team has the making of being very special.