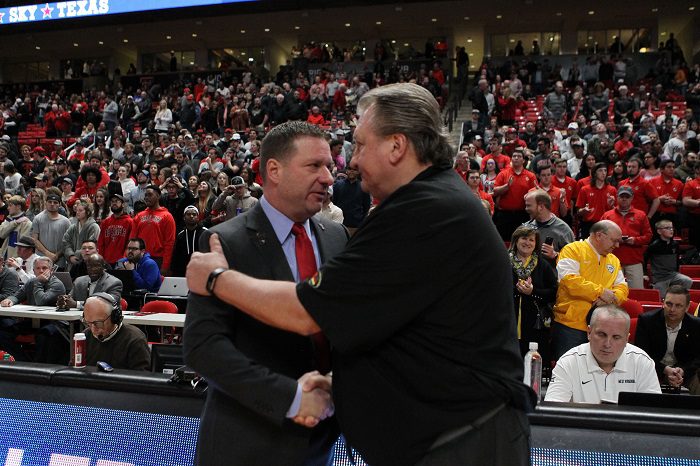 Eddie Sutton became the latest Big 12 men's basketball coach to reach the Naismith Memorial Basketball Hall of Fame on Saturday. Kansas head coach Bill Self, one of Sutton's former assistants, was inducted into the Hall a few years ago.
But the rest of the Big 12 coaches are waiting. And some have a better shot than others. Below we examine which coaches are the closest to induction and which ones have the furthest to go.
1. Bob Huggins, West Virginia
If we're being honest, Huggins should already be in. He's now one of a half-dozen Division I coaches with at least 900 wins. The powers-that-be are going can't hold the fact that Huggins hasn't led a team to a national title. I mean, they JUST inducted Eddie Sutton with fewer wins and no national titles. It's not a matter of if, it's a matter of when. So let's do it at a time when he can enjoy it? Like, next year?
2. Scott Drew, Baylor
The 50-year-old has nearly 400 career wins and his first national championship, which should put him on the radar of the Hall of Fame committee soon. Plus, his rebuild job at Baylor is one of the best in college basketball history. If Drew can average 20 or more wins the next decade, he will be at nearly 600 career wins by age 60. That, plus the national title ring (and the opportunity for more), makes him a likely inductee.
3. Chris Beard, Texas
Beard has all the ingredients to be a Hall of Fame coach one day. The 48-year-old already has 200 career wins (142 at the Division I level) and now has the plum basketball job in the state of Texas. He's a talented recruiter, as you've seen him mine the transfer portal this offseason. He's already led one program to a national championship game. If Chris Beard can get Texas over that hump and help it claim its first NCAA Tournament title, well, Beard might have a place in Springfield one day.
4. Mike Boynton Jr., Oklahoma State
A little high for a coach that is only 72-58 in just four seasons? Maybe. But Boynton showed this past season that his coaching, player development and recruiting ability is on the ascent. He also has something few others on this list has — plenty of time to build that resume. At 39, he remains the youngest head coach in the Big 12, and he's at a program that has produced multiple Hall of Fame coaches.
READ MORE: Big 12 Basketball Transfer Tracker
READ MORE: Big 12 Basketball Recruiting Tracker
5. Porter Moser, Oklahoma
At 52 years old, Porter Moser still has time to add to his 293 coaching victories. His time at Loyola of Chicago led to one of the greatest runs in NCAA Tournament history, the Ramblers' run to the 2018 Final Four. But, now Moser has to show he can do it in one of the game's toughest conferences. If can take OU to places that Lon Kruger and Billy Tubbs could not (a national title), that could do the trick.
6. Jamie Dixon, TCU
Dixon compiled a remarkable run at Pitt in one of college basketball's toughest conferences (the Big East). He then returned to his alma mater to try and take the Horned Frogs to another level. That hasn't happened yet. But he has more than 400 career wins and, at 55, still has time ahead to do things that the Horned Frogs have never done before. But, he probably needs to get off the 'hot seat' first.
7. Bruce Weber, Kansas State
Weber's time may be behind him, as far as the Hall of Fame is concerned. He's 64, and while he's won nearly 500 career games, he's taken just one team to a Final Four — Illinois back in 2005, when the Fighting Illini won 37 games, but couldn't take the title. Weber has gotten the Wildcats as far as the Elite Eight back in 2018. But he's rebuilding the Wildcats (again) and he probably needs a national championship at this point for consideration.
8. Mark Adams, Texas Tech
Adams will make his bow as a Division I head coach this season. But his resume is intriguing. He's won 544 games, won at every level, won an NJCAA national title at Howard Junior College and is a member of the NJCAA Hall of Fame. There are plenty of coaches in the Hall with unique resumes. But Adams is fighting Father Time (he's 65) and he doesn't have any Division I skins on the wall. Let's see if he can change that.
9. T.J. Otzelberger, Iowa State
One of the Big 12's newest coaches does have 99 career wins and a solid resume at South Dakota State. But those Jackrabbit teams didn't even get back the first round of the NCAA Tournament. The 43-year-old has a long way to go to move up this ladder. Good news is he has plenty of time and opportunity ahead.
You can find Matthew Postins on Twitter @PostinsPostcard.
**Want to win a $20 gift card?  Go sign up here and join our conversation! The best poster each week wins a gift card to your favorite establishment!**