Big 12 News
Report: Matt Campbell Turned Down $68.5 Million From Detroit Lions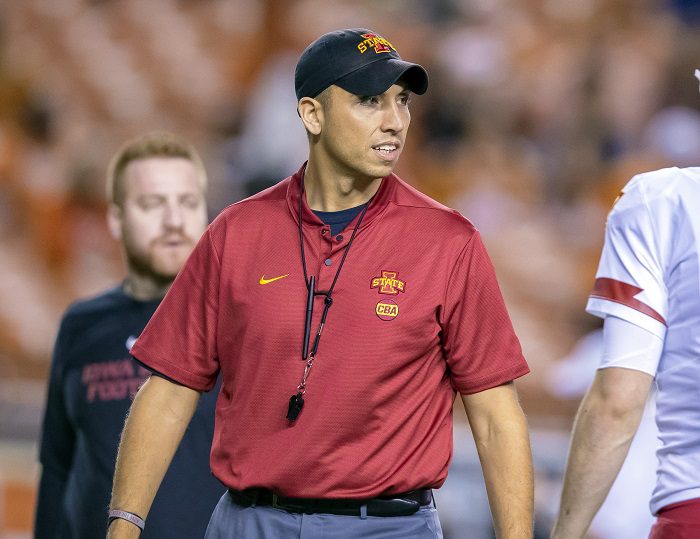 If you ever questioned Matt Campbell's commitment to Iowa State, this story should put an end to that. That's because Campbell turned down an 8-year, $68.5 million contract to coach the Detroit Lions to remain at Iowa State, according to CBS Sports' Dennis Dodd.
The comment came during a roundtable converstion with the CBS Sports staff when Dodd said, "Interesting note for Matt Campbell. In the offseason, he turned down an 8-year, $68.5 million offer from the Lions, apparently with full control — I haven't confirmed that — to stay at Iowa State. If I'm Matt Campbell's wife, I'm having some questions. He sees his upward arc better at Iowa State than the Lions, (who) are annually in disarray."
Here's the video to see for yourself.
Matt Campbell comes in at #9 in our ranking of the top Power 5 coaches in CFB. @dennisdoddcbs thinks he should've taken the 8-year $68.5m offered by the Lions@TomFornelli didn't even have Campbell in his top 15

Ferentz is #17 btw

Full rankings here:https://t.co/1yG8irPKpd pic.twitter.com/pfkKWuUHuk

— Chris Hassel (@Hassel_Chris) May 19, 2021
The Lions would eventually hire Dan Campbell (close enough, right?), while Matt Campbell agreed to another contract extension with the Cyclones.
But to think that Campbell is so highly regarded in NFL circles a team was willing to give him nearly $70 million with zero NFL experience as a player or a coach is a reminder of just how impressive this run in Ames has been. It's also why Iowa State fans need to enjoy the Matt Campbell ride for as long as it lasts.
Yes, Campbell has continued to prove the pundits wrong. "Experts" have though Campbell was jumping ship for basically the past four offseasons. He hasn't and has remained incredibly committed to this program.
But in the coaching world, things can change quickly.
All that being said, if you told an Iowa State football fan five years ago that their head coach would be offered a head coaching job in the NFL, they'd probably laugh at you. If you told them that their head coach would be offered a head coaching job in the NFL for $70 million and the coach would turn it down, they'd wonder what you were smoking (and subsequently ask for a puff of that good stuff).
It really is amazing what Campbell has done in a relatively short period of time and now we wait to see if the Cyclones can meet the lofty expectations of a likely preseason Top 10 ranking for the 2021 college football season.