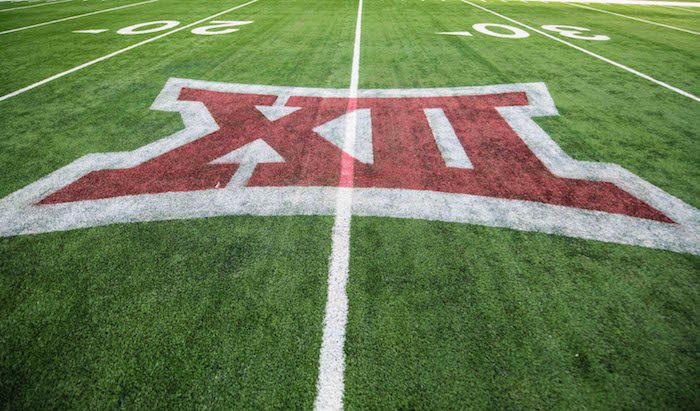 The Big 12 produced some classic football games from 2005 to 2009. Texas, Missouri, Kansas, Texas Tech, and Oklahoma were all ranked in the top five in the country at some point during those five years.  We were entertained with some great games as the league started to transition from a running league to a passing league and yardage records started to fall. Here are some of the top games of the Big 12 from 2005 to 2009.
Also if you missed it, we have already ranked the following Big 12 games:
The best Big 12 games of the 1990's.
The best Big 12 games from 2000 to 2004.
Texas Tech 39 Texas 33, November 1, 2008
The number one ranked and undefeated Texas Longhorns visited the Texas Tech Red Raiders in this "instant classic" game.  Texas Tech prevailed and handed Texas its only loss of the season.
Texas Tech got out to a 19-0 lead, but Texas slowly got back in the game and scored a touchdown with 1:29 left to take a 33-32 lead.  Harrell then drove Texas Tech down to the Texas 28 yard line.  On first down, Texas dropped a sure interception on a deflection.  At this point, there were eight seconds left in the game and Tech had one timeout left.  Instead of going for the field goal, Harrell threw to Michael Crabtree in double coverage for a 28-yard touchdown to get the win.
The fans stormed the field, but there was one second left on the clock so everyone had to clear the field.  The referees reviewed the touchdown and when they announced the play stood as a touchdown, the fans stormed the field again, so the field had to be cleared again. Texas Tech was given numerous penalties due to the field stormings and as a result, the Red Raiders kicked off from their seven-yard line on the last play of the game.  It made for an interesting ending and I'm not sure I've ever seen a team forced to kickoff that deep in their territory before.
Texas quarterback Colt McCoy threw for 294 yards and two touchdowns and Texas Tech quarterback Graham Harrell threw for 474 yards and two touchdowns.  Texas receiver Malcolm Williams had 182 yards receiving and two touchdowns.  Texas Tech had two receivers with big games.  Edward Britton had 139 yards receiving and Michael Crabtree had 127 yards and a touchdown.
You can watch the game on YouTube here. It's worth watching at least the last few minutes.
Texas 13 Nebraska 12, December 5, 2009
It's very interesting to look back at these games of the past to see not only some of the great games but some of the biggest controversies in Big 12 history.  Texas and Nebraska played a lot of close games during these years and some of those games, such as this one, ended in controversy that led to some animosity between the programs.
This game was a defensive battle and was close throughout.  Nebraska kicked a field goal with 1:33 left to take a 12-10 lead.  Texas drove down to the Nebraska 29 yard line and, despite having one timeout left, Texas quarterback Colt McCoy ran a play on 3rd and 13 with eight seconds left and was forced to scramble and throw the ball away.  It appeared that the clock ran out and Nebraska won. Nebraska players and coach Bo Pelini ran onto the field celebrating their apparent victory.  The officials reviewed the play and put one second on the clock and Texas kicker Hunter Lawrence kicked a 46-yard field goal to win it.  Pelini was caught on camera after the game yelling "BCS! That's why they made that call."
Texas 45 Oklahoma 35, October 11, 2008
At the time, this game was considered one of the best games in the history of the Red River Rivalry. Texas entered the game ranked number five in the country and Oklahoma was ranked number one.
Texas quarterback Colt McCoy had 277 yards passing and a touchdown and Oklahoma quarterback Sam Bradford had 387 yards passing and five touchdowns in the game  Oklahoma had a 35-30 lead with 11:42 left, but Texas scored two unanswered touchdowns for the final margin of victory.
Missouri 36 Kansas 28, November 24, 2007
Missouri and Kansas played three classic games in a row starting in 2007.  KU won the 2008 game 40-37 and Missouri won the 2009 game 41-39.  While it could be argued that those games were better, the 2007 game between the two rivals gets priority because of what was on the line.  Missouri came into the game ranked number three in the country and undefeated Kansas was ranked number two in the country.  The winner would win the Big 12 north and face Oklahoma in the Big 12 championship game.  For either team, winning their final two games would mean a trip to the national championship game.
Missouri built a 21-0 lead early, but Kansas fought back and were within six points of the Tigers and had one last possession with 17 seconds left down 34-28 but Reesing was sacked in the end zone and Missouri sealed the victory with the safety.  The image of Reesing with a clump of sod hanging from his face mask after the tackle in the end zone is now a popular internet meme.
Missouri quarterback Chase Daniel threw for 361 yards and three touchdowns and Kansas quarterback Todd Reesing threw for 349 yards and two touchdowns but also had two interceptions.
Oklahoma State 49 Texas Tech 45, September 22, 2007
While neither team was ranked going into this game, it was a back-and-forth high-scoring classic.  Texas Tech quarterback Graham Harrell passed for 646 yards and five touchdowns.  The 646 yards were the fourth most passing yardage in a college game at the time.  Oklahoma State countered Harrell by rushing for 366 yards in the game.  Michael Crabtree had 237 yards receiving and Danny Amendola added 233 yards.
Oklahoma State scored a touchdown with 1:37 remaining to take a 49-45 lead and Texas Tech had a chance to win it on the last play of the game, but Harrell's pass to Crabtree in the end zone fell incomplete.
Honorable Mention
Texas 28 Nebraska 25, October 27, 2007
Texas running back Jamaal Charles ran for 290 yards as Texas came back from a 17-3 deficit in the third quarter to win.
Texas Tech 31 Texas A&M 27, September 30, 2006
Graham Harrell threw for 392 yards and four touchdowns, including the game-winner with 26 seconds left, to beat Texas A&M in front of 85,979 fans in College Station.
Nebraska 27 Iowa State 20, October 1, 2005
Iowa State entered the game in Lincoln ranked number 23 in the country.  Nebraska won the game but needed double overtime to do it.
Kansas State 45 Texas 42 November 11, 2006
A late fourth-down conversion from Josh Freeman to Jordy Nelson allowed Kansas State to run out the clock and upset number four Texas in Manhattan.
Texas A&M 34 Oklahoma State 33, October 21, 2006
Texas A&M scored a touchdown with three seconds left in regulation to force overtime and then blocked an extra point attempt by Oklahoma State in overtime to get the victory.