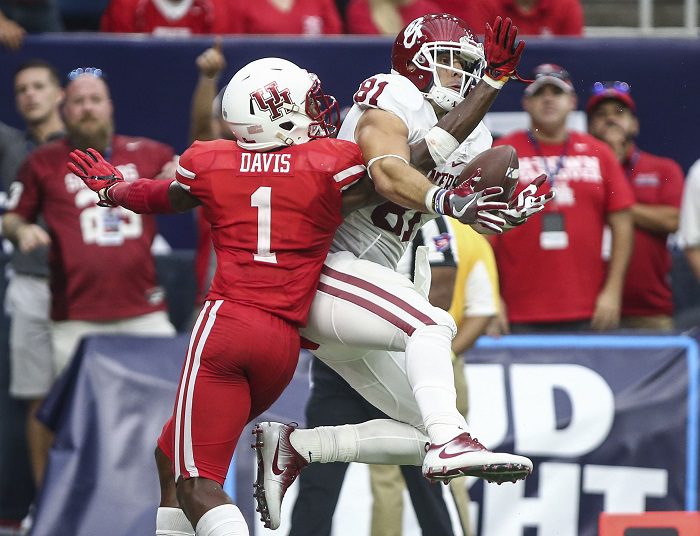 Losses can affect a team as much as, if not more than, a win. Some Big 12 teams have accumulated more defeats than others since conference realignment, but each program has had at least one unexpected, disappointing, or season-altering loss (even if the impact wasn't immediately obvious at the time).  This feature comes on the heels of our list for best Big 12 non-conference wins since conference realignment. However this list is worst losses is not just in the non-conference, but does stick to just the regular season.
Baylor 
2014: West Virginia 41-27 
With six games left in the 2014 season, Baylor became a favorite to make the inaugural College Football Playoffs. The Bears had just beaten then-No. 9 TCU on a 21-point, fourth quarter comeback and boasted the nation's top offense. A slight hangover from the previous week remained against West Virginia, though. Baylor lacked discipline as it racked up 18 penalties and a school-record 215 penalty yards. The Mountaineers' defense recorded four sacks and held the Bears' offense to a season-low 318 yards and 27 points. Baylor regrouped, finished 11-1 (8-1 Big 12) and shared the Big 12 title with TCU, but the loss ended any playoff hopes.     
Honorable Mention: 2017 Liberty, 48-45 
Iowa State 
2020: Louisiana, 31-14 
Iowa State entered 2020 as a Top 25 program and a potential Big 12 title contender. Those expectations were questioned after a poor performance against the eventual Sun Belt Conference champion, Louisiana. The No. 23-ranked Cyclones played without their starting tight end and starting right guard, but still had more depth and talent than the Ragin' Cajuns. Iowa State came out flat and scored a season-low 14 points. Quarterback Brock Purdy completed 16-of-35 passes for 145 yards and an interception. Louisiana outscored Iowa State 21-0 in the second half and earned its first win over a ranked opponent since 1996. The Cyclones recovered and made the Big 12 title game, but the loss made getting into the playoff conversation much more difficult.  
Honorable Mention: 2014 North Dakota State, 34-14 
Kansas 
2015: South Dakota State, 41-38 
Kansas' recent football struggles are well-documented. The Jayhawks have five Big 12 wins and 16 total victories since conference realignment. A 2015 loss against South Dakota State, however, stands out among the losses. Kansas never held a lead against the FCS program and fell behind 31-7 in the second quarter. The Jayhawks put together a furious rally and almost completed the comeback. Quarterback Montell Cozart found wide receiver Derrick Neal at the South Dakota State 33-yard line with seven seconds left. Cozart tried spiking the ball on the next play but had to fall on it as the clock ran out. Kansas lost a little bit more than money that Saturday.  
Honorable Mention: 2018 Nicholls, 26-23   
Kansas State
2013: North Dakota State, 24-21 
Kansas State had every reason to celebrate before playing North Dakota State in the 2013 season-opener. The school unveiled an 8-foot-bronze statue of head coach Bill Snyder during a stadium dedication ceremony. The defending Big 12 champion then took a 21-7 lead over the Bison in the third quarter. North Dakota State responded with 21 unanswered points. 
Kansas State posted 41 rushing yards and 280 passing yards against the two-time FCS national champion. A crowd of 53,351, then the second-largest at Bill Snyder Family Stadium, fell silent and watched as visiting fans partied on the field.  
Honorable Mention: 2020, Arkansas State, 35-31 
nbsp;
Oklahoma
2016: Houston, 33-23 
Oklahoma put together a strong non-conference slate in 2016, hoping it would lead to a College Football Playoff berth. The Sooners faltered against Houston, which disrupted those plans. Oklahoma trailed by two points when its kicker, Austin Seibert, missed a 54-yard field goal about midway through the third quarter. The Cougars returned the kick 100 yards for a touchdown. Houston scored again before Oklahoma quarterback Baker Mayfield threw a 25-yard touchdown with 2:05 left. By then, Houston had complete control. Oklahoma's playoff dreams disappeared entirely two weeks later after a 21-point defeat at Ohio State.  
Honorable Mention: 2014, Clemson, 40-6 
Oklahoma State 
2016: Central Michigan, 30-27 
After a 10-win season in 2015 and key starters returning on both offense and defense, Oklahoma State had Big 12 championship and playoff hopes for 2016. The Cowboys' playoff dreams took a hit against Central Michigan only two games into the season. Oklahoma State led 27-24 when quarterback Mason Rudolph threw the ball away on fourth down as the game clock expired. It looked like the Cowboys would escape until the referees called an intentional grounding penalty. The Chippewas were given an untimed down and threw a Hail Mary from midfield. A Central Michigan receiver caught the ball at the 12-yard line, lateraled it, and his teammate found the end zone.   
Honorable mention: 2013, Oklahoma, 33-24 
Texas
2016: Kansas, 24-21 Overtime 
Former Texas head coach Charlie Strong never won a marquee game. Instead, he oversaw, arguably, the program's worst loss. The Longhorns needed one victory in the final two games of 2016 season to reach bowl eligibility. A victory against one-win Kansas seemed like a guarantee. The Jayhawks had other plans and beat the Longhorns for the first time since 1938. Kansas' offense put up 403 yards, while the defense recovered three fumbles and intercepted three passes. Texas running back D'Onta Foreman emerged as a bright spot. He accumulated 250 yards on a school-record 51 carries. The Longhorns lost again the following week, missed a bowl game, and ultimately fired Strong.  
Honorable Mention: 2015, Iowa State, 24-0 
TCU
2014: Baylor, 61-58 
Like Baylor, TCU slipped up once during the 2014 season and it proved costly. The Horned Frogs' fall happened to come against their biggest rival, Baylor, in an embarrassing way. A 49-yard interception return for a touchdown gave the Horned Frogs a 58-37 lead with 11:38 left. A TCU win seemed inevitable, especially since the defense had forced three turnovers and was holding a high-scoring offense below its 51-point average. Suddenly, the Horned Frogs could not stop the Bears. Baylor erased the deficit in less than six minutes and left TCU stunned. The Horned Frogs and Bears eventually shared the Big 12 title, but the co-champion label became a sticking point and TCU missed the College Football Playoffs.  
Honorable Mention: 2018 Kansas, 27-26 
Texas Tech
2016: Iowa State, 66-10 
Since the 2014 season, Texas Tech has been trending the wrong direction. The Red Raiders made a bowl game in 2015, but only won four conference games. A 2016 loss at Iowa State, then 2-8, punctuated the slide and kept Texas Tech on a downward spiral. The Red Raiders fell behind 45-3 at half time after giving up five straight touchdowns. Texas Tech produced 84 rushing yards and quarterback Patrick Mahomes completed 18-of-36 passes for 219 yards, a touchdown, and two interceptions. Texas Tech ended the 2016 season 5-7 and followed that up with four consecutive sub .500 years.   
Honorable Mention: 2019 Kansas, 37-34 
West Virginia
2013: Kansas, 31-19 
West Virginia struggled getting conference wins its first couple years as a Big 12 team, and the most noticeable stumble came at Kansas during the 2013 season. The Mountaineers started the game strong when quarterback Paul Millard threw a 12-yard touchdown on the opening drive. The Jayhawks then went on a 31-0 run and posted 315 rushing yards. West Virginia finally broke the scoring drought with 4:54 left in the game. Millard finished with 242 yards, two touchdowns, and two interceptions, and running back Charles Sims posted 99 rushing yards and a touchdown on 16 carries. Kansas snapped a 27-game conference losing streak while West Virginia missed a bowl game for the first time in 11 seasons.    
Honorable Mention: 2018, Oklahoma State, 45-41