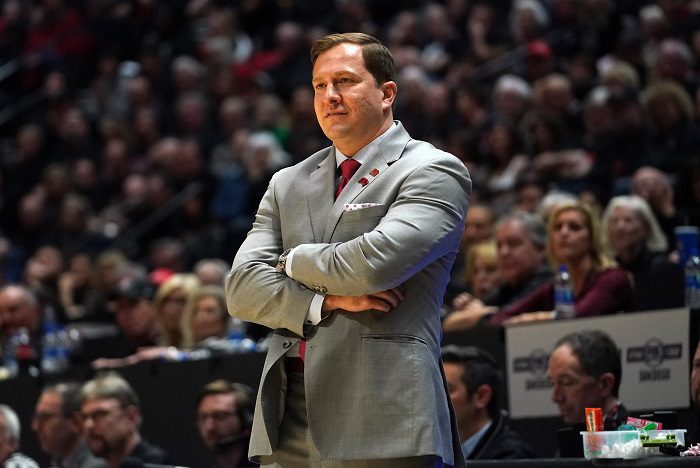 Iowa State athletic director Jamie Pollard warned us that Cyclones men's basketball would be a "multi-year rebuild" when he hired T.J. Otzelberger as head coach in March.
While Otzelberger has done his best to put together a team that could be competitive in the Big 12 next season, it's hard to see a path for this group to take a quantum leap into the Big 12's top tier after last year's two-win debacle.
But that wasn't the point, right? The point was to just BE better than last year, right?
So how much better CAN these Cyclones get better when their top two scorers transfer away?
Otzelberger, who earned his bones as an assistant at Iowa State in recruiting prep players, mined the transfer portal as much as possible once he arrived in Ames. In order to be competitive now, that was necessary. Former head coach Steve Prohm had just one recruit in the Class of 2021 when Otzelberger arrived (and we'll get to that in a minute).
So a half-dozen new Cyclones will have college experience come next fall, with the centerpiece being former Penn State guard Izaiah Brockington, who averaged 12.6 points and 4.9 rebounds per game last season. Consider him the replacement for another former Nittany Lion, Rasir Bolton, who spent a year at Penn State, then two with Iowa State, before transferring to Gonzaga earlier this spring.
While Brockington is the only double-digit scorer among the transfers, two others came awfully close last season — Minnesota guard Gabe Kalcheur (9.2 ppg) and Denver center Robert Jones (9.1 ppg). With Jalen Coleman-Lands either headed for the NBA or headed for Kansas as a transfer, Kalcheur provides some replacement offense in the backcourt. Jones seems like he could help replace the production of Solomon Young, who opted not to use his COVID-19 year.
READ MORE: Big 12 Basketball Transfer Tracker
READ MORE: Big 12 Basketball Recruiting Tracker
The other transfers — forward Tristan Enaruna (Kansas), guard Caleb Grill (UNLV, but before that Iowa State) and forward Aljaž Kunc (Washington State) all have some level of player development ahead of them, but one shouldn't rule out a contribution. Most notably, Kansas was disheartened to see Enaruna leave the program, as the Jayhawks had hoped he would be, at the least, a Top-8 rotation player next season. Grill returns to Ames with the coach that took him in out in Las Vegas.
With the transfer-happy world of college basketball, it's almost easy to forget the Cyclones DO have a Top 40 recruit on the hook and have seven other players returning from last season.
Tyrese Hunter, that Top 40 recruit, honored his letter-of-intent with Iowa State after the Cyclones fired Prohm. Otzelberger pursued Hunter via Zoom after his arrival (there was no in-person recruiting at the time) and convinced Hunter to remain a Cyclone. Given that level of 'customer service,' plus Hunter's obvious talent, count on Otzelberger to give Hunter a chance to play immediately. Certainly, it will be more of a chance than Prohm gave another highly-coveted recruit last year in center Xavier Foster.
Hunter will probably fall into a rotation with Brockington and Kalcheur, with Grill likely serving as a back-up point guard.
But there are a couple of returning Cyclones that could influence how much playing time these new guards get. First is Blake Hinson, who didn't play last year due to a medical redshirt. At Ole Miss, Hinson averaged 10.1 points and 4.6 rebounds per game. Prohm said last season that the Cyclones would miss the 6-foot-7 guard, and he was right. Assuming he's healthy, there isn't a player at the guard position that he isn't talented enough to push.
The other is Javan Johnson, who at 6-foot-6 is listed as a forward but plays like a guard. That flexibility in size and skill means Johnson is a likely starter. He averaged 9.7 points per game last season and is team's leading returning scorer.
But it's the center position that, for now, is the most intriguing from a competition standpoint. Jones enters the summer and fall seeking to prove he can play at a high-major program. Foster, who missed most of last season with a foot injury, needs to prove he's healthy and is ready for extended playing time (he played just eight minutes per game before the injury). The pair could prove to be a solid combination from the beginning of the season, depending upon how Otzelberger wants to use them.
So, how did Otzelberger do in his first offseason? Given the program defections and the fact that he was recruiting off a two-win season, bringing in three transfers with a combined 33 points per game last season is a solid get. Keeping Hunter in house was his biggest win. His team has rare combo height inside with Jones and Foster.
Next season is still going to be rough, if we're being honest. But I see a ceiling of 10 to 12 wins, with most of those coming in non-conference. Big 12 play will be tough. But if Otzelberger can keep this group together and continue to work the recruiting trail (he's already secured commitments for the 2022 class), the rebuild appears to be headed in a positive direction.
You can find Matthew Postins on Twitter @PostinsPostcard.
**Want to win a $20 gift card?  Go sign up here and join our conversation! The best poster each week wins a gift card to your favorite establishment!**