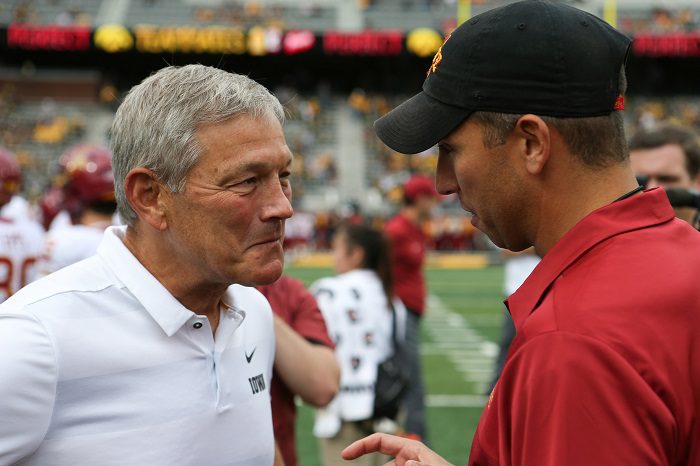 The 2021 Big 12 football season gets underway in early September with a great slate of non-conference games. One of the best will be Cy-Hawk with Iowa State taking on Iowa in Ames.
This is one game that Matt Campbell has yet to win during his time with the Cyclones. He's beaten every Big 12 program, has reached the Big 12 Championship Game, but he has yet to beat the Iowa Hawkeyes.
However, if there is a year to do it, this is the year. Iowa State returns lots of its key players from the 2020 team and will likely be a preseason Top 10 team.
So we've received the early lines for some of the biggest games this fall and for Cy-Hawk, Iowa State opens up as a seven-point favorite, according to South Point Las Vegas.
Opening lines from @southpointlv:
Ohio St -13 Ore
Bama -13 Miami
Clem -3.5 UGA
Penn St -3.5 Aub
OU -9 Texas
Bama -11 at UF
NDame -1 USC
OU -19 Neb
Iowa St -7 Iowa
Wis -4 Notre Dame
Ore -4 at Wash
NDame E UNC
Ohio St -13 at Mich
Army -6 Navy pic.twitter.com/7L2cVMf3BI

— Brett McMurphy (@Brett_McMurphy) May 24, 2021
Last year might have been the year for Iowa State to take down Iowa, but that game was cancelled due to the non-conference season getting whacked due to COVID-19. The last time the Cyclones beat the Hawkeyes was in 2014 under Paul Rhoads, when Iowa State won 20-17. The Cyclones actually beat the Hawkeyes for three of four seasons from 2011 to 2014.
But the problem for Paul Rhoads was he couldn't beat anyone else. Trust me, no one is, or would trade Matt Campbell for Paul Rhoads, but the reason there is more pressure this season for Campbell is that if Iowa State wants to get to a College Football Playoff, they can't afford to lose this game. If they were to, they would have to go undefeated the rest of the way, meaning likely beating Oklahoma twice.
That would be no easy task.
But regardless, Cy-Hawk is one of those games already circled on my calendar and now that we have a spread for the action, it feels like we're getting that much closer.