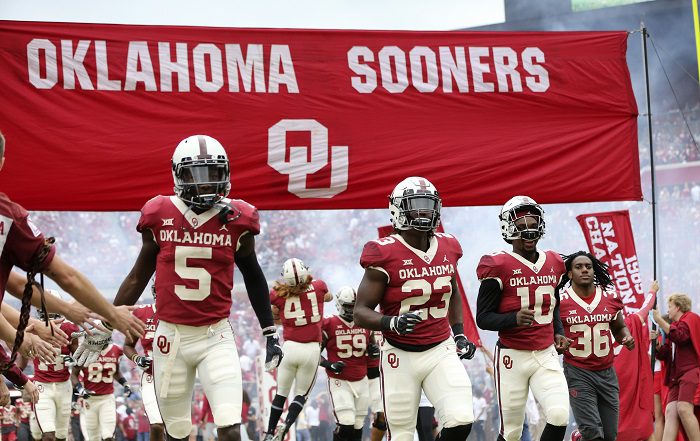 It's the offseason and the TV contracts around college football are approaching the home stretch, which means the conference realignment chatter is picking up in some corners. And of course, that includes the Big 12 Conference.
For the Oklahoma Sooners, there always intrigue. Are they happy in the Big 12? Do they still feel like they're in Texas' shadows? Is the Pac-12 calling? Big Ten? SEC?
Without Oklahoma, there is no Big 12. The conference needs Texas and Oklahoma as its anchors to continue to exist in its current form as a Power 5 conference.
And while there's no evidence OU has any plans to go anywhere, for those in corners of OU nation longing for the days of another conference, you might want to listen to this advice from former Florida State coach Bobby Bowden.
Bowden talked to 247Sports in an interview about whether or not he wishes the Seminoles had joined the SEC instead of the ACC. Here was the back and forth.
247Sports: FSU was an independent until joining the ACC in 1991. It's common knowledge the SEC was also interested in the Seminoles, but what did you want at the time?
Bowden: "They did want us, they did invite us to join the SEC. Everybody thought we would join. In fact, I thought we would but our administration — the president and others — wanted the ACC, which really was better for us. It would have been hard wading through that SEC. Too many good teams in there, boy. Oh, gosh. Oh, that would have been some great ball."
I'm never one to toot the SEC's horn. As you likely know, I think they're overrated.
But for OU fans sitting around thinking the grass would be greener in the SEC, why? Based on what?
The Oklahoma Sooners continue to be the class of the Big 12 until proven otherwise. They run the conference. Why give that up? The reason OU hasn't gotten over the hump in the College Football Playoff has nothing to do with the conference. It has to do with the fact that they simply haven't had the horses on defense. By the way, that might be different this year. It's entirely possible that a couple of the OU teams that reached the CFB Playoff in recent years would not have gotten there had that team been in the SEC.
So once again, I ask why?
Take the advice of Bobby Bowden, appreciate what you've got, which is pretty damn good, and go win a National Championship in 2021 and all will be well in Norman and across the Big 12 Conference.