Baylor Bears
Five Thoughts From Day One Of The Big 12 Conference Baseball Tournament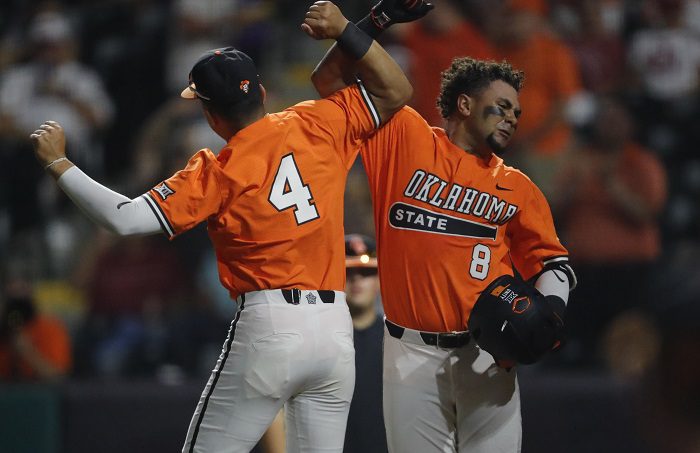 What an opening day it was at Oklahoma City's Bricktown Ballpark for the Big 12 Conference Baseball Tournament. We saw a total of four Big 12 games on Wednesday and it was non-stop jam-packed action from morning until the late-night hours.
As we continue to make our way through the tourney, I have a few thoughts from the first full day of Big 12 baseball action. Here were the final scores from yesterday's games.
#3 Texas Tech defeats #6 Baylor 11-4
#2 TCU defeats #7 Kansas State 7-6
#8 West Virginia defeats #1 Texas 5-1
#4 Oklahoma State defeats #5 Oklahoma 9-5
1. Texas Tech dominates as Baylor postseason hopes hang on by a thread
This was a huge game for Baylor. According to D1 Baseball, Baylor was one of their last five in for the field of 64. That means Baylor needs to make some noise to continue those postseason hopes and yesterday was not ideal for the Bears. Baylor pitcher Cam Caley walked four Tech batters in the first inning as Tech jumped out to an early 3-0 lead and never looked backed. The Red Raiders were able to stretch their lead to 8-0 before the Bears finally got on the board. Texas Tech starting pitcher Mason Montgomery pitched just five innings but had 11 strikeouts.
Baylor will face Kansas State at 9 a.m. on Thursday in an elimination game. Meanwhile Texas Tech will take on TCU at 4 p.m.
2. Kansas State blows Early Lead
Much like Baylor, Kansas State needed to get off to a good start in the tournament to get a shot in the postseason. While the Cats got off to a quick 4-0 start thanks to a Dylan Phillips three run blast, TCU answered quickly with two runs in the bottom of the first inning. Kansas State would eventually find themselves up 6-3 going into the bottom of the sixth but TCU's Porter Brown had an RBI single before Zach Humphreys hit a game tying RBI triple. The score remained in a 6-6 tie before TCU's Phillip Sikes hit a walk-off single to give TCU the 7-6 victory.
TCU will play Texas Tech at 4 p.m. on Thursday while Kansas State has an elimination game against Baylor at 9 a.m.
3. West Virginia Gets Huge Upset Win
Coming in as the eighth seed, the Mountaineers need to win the tournament to get a chance to make it to the postseason. Well thanks to starting pitcher Jackson Wolf, the Mountaineers were able to cruise to a big 5-1 win over the number one overall seed in Texas. Wolf pitched a complete game striking out seven batters and allowing just one run on a whopping 138 pitches. He was big time for West Virginia and Texas had no answers offensively against him. Also, give credit to the WVU bats who were solid against Big 12 pitcher of the year Ty Madden.
West Virginia stays in the winner bracket taking on Oklahoma State on Thursday at 7:30 p.m. As for the Sooners, they will play Texas in an elimination game at 12:30 p.m.
4. Bedlam Blowout
Normally when Oklahoma and Oklahoma State meet up, anything can happen. Unfortunately, nothing good happened when it came to a good baseball game unless of course you are an Oklahoma State fan. Caeden Trenkle started the game with a solo jack in the first and that was all the scoring until teammate Matt Golda did the same in the fourth to give the Cowboys a 2-0 lead. Then the Pokes had a big fifth inning to score four more before adding another three runs in the seventh to give themselves a huge 9-0 lead over the Sooners. Oklahoma would rally a bit in the ninth thanks to some OSU pitching issues but the Cowboys prevailed with a 9-5 win.
Oklahoma State will face West Virginia at 7:30 p.m. on Thursday and Texas will take on Oklahoma at 12:30 p.m.
5. Time
I understand baseball takes time to play but when the final out of the crazy Wednesday happened, it was already early Thursday morning because it was 12:51 a.m. central time. If the conference wants to play four games in a day, let's start at 7:30 a.m. please. This is going to be one long week folks.
Thursday Slate
Elimination Games
#6 Baylor vs #7 Kansas State (9 a.m. CT)
#1 Texas vs #5 Oklahoma (12:30 p.m. CT)
Non-Elimination Games
#2 TCU vs #3 Texas Tech (4:00 p.m. CT)
#4 Oklahoma State vs #8 West Virginia (7:30 p.m. CT)
**Want to win a $25 gift card?  Go sign up here and join our conversation! The best poster each week wins a gift card to your favorite establishment!**