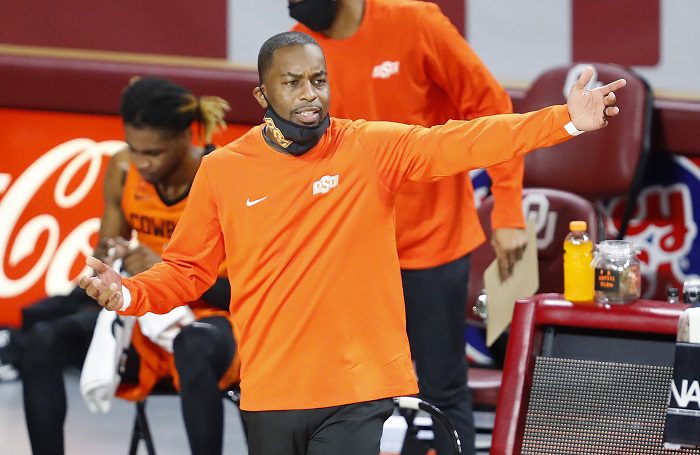 With the addition of transfers and the return of multiple veterans this offseason, Mike Boynton's Oklahoma State team is looking to establish themselves as a contender in the loaded Big 12 conference for a second straight year. 
Ever since the 2018-2019 season when a chunk of the team's roster was dismissed due to team violations, OSU has seriously lacked depth and it has shown historically. When the Cowboys have had injuries or foul trouble was when they struggled the most during Boynton's tenure as head coach. But that is beginning to turn around thanks to Boynton's stellar recruiting efforts and also, in part, to the transfer portal.
Not only did Oklahoma State manage to land consensus No. 1 pick Cade Cunningham, but they are also attracting the attention of many other five-star hoopers across the country. Lewisville, Texas, guard Keyonte George recently included OSU in his top five schools, and blue chip guys such as forward Mark Mitchell and guard Anthony Hill are heavily considering the Pokes.
Safe to say, Mike Boynton is becoming one of the better recruiters in the country, and if he keeps catching the attention of top tier players consistently like he is now, he'll turn Oklahoma State into a premier college basketball destination for recruits to come play for.
Coach Mike has also been hard at work in the portal. Transfer portal arrivals like Kansas' Bryce Thompson, Texas Tech's Tyreek Smith and Syracuse's Woody Newton will shape next year's team in a big way, providing much needed depth and scoring options with Cunningham off to the NBA.
Thompson is a former five-star guard out of Tulsa who became one of the most sought after players in the portal when he announced his decision to depart from Kansas after a year of injuries. Smith arrived as a 6-foot-8 three-star forward at Texas Tech, where he put up 2.6 points per game on eight minutes. Newton averaged 3.5 points and shot just under 39% from three on eight minutes per game during his freshman season at Syracuse.
Looking at Oklahoma State's current roster projection for next season leads me to believe that they will again compete for the top of the Big 12. Teams like Baylor and Texas are losing most of their core to the NBA or graduation, and Kansas is still struggling to find their identity after a nightmare season for the Jayhawks.
Oklahoma State 2021-2022 Roster Projection
Isaac Likekele – Sr.
Bryce Williams – Sr.
Avery Anderson – Jr.
Kalib Boone – Jr.
Keylan Boone – Jr.
Chris Harris – Jr.
Bernard Kouma – Jr.
Matthew-Alexander Moncrieffe – Soph.
Rondel Walker – Soph.
Bryce Thompson – Soph.
Woody Newton – Soph.
Tyreek Smith – Soph.
Donovan Williams – Soph.
Dee Mitchell – Sr.
Weston Church – Soph.
Carson Sager – Soph.
Given that Bryce Williams returns for one last hoorah and the Cowboys can stay injury free, we're looking at a 13 man rotation of guys that have logged quality minutes at the Power 5 level.


Talk about depth, and then some.
And the crazy part is, Mike Boynton still isn't done recruiting for this year's cycle. Three-star guard Jalen Ricks is down to five schools, OSU included, and four-star guard Trey Alexander out of Oklahoma City is considering the Cowboys after recently decommitting from Auburn.
Oklahoma State will be back loaded for the first time in quite a while, and depending on if they can land the rest of the guys they want, it'll be interesting to see who will crack rotation minutes come next season. One thing is for sure, the program's future is brighter than ever with Boynton at the helm.