Big 12 News
Oklahoma State Launches 'OSU Elite' to Help Student-Athletes Make Money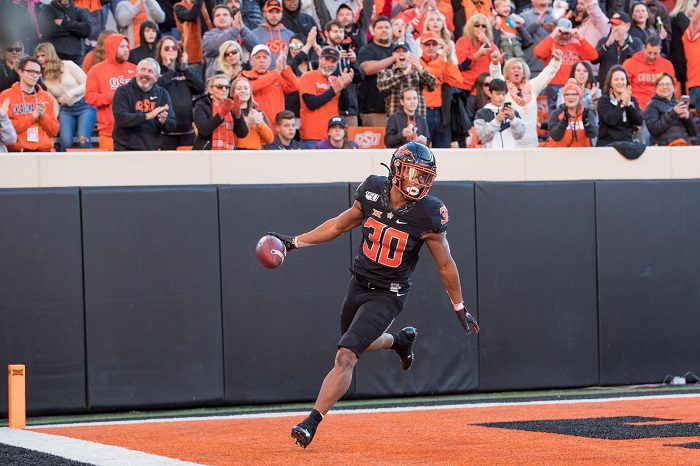 Oklahoma State announced its plans to help student-athletes capitalize off name, image and likeness (NIL) opportunities, along with education and technology. The University released the news on Saturday morning, with the program called OSU Elite powered by INFLCR, which is "a comprehensive program to help the Cowboys and Cowgirls elevate and capitalize on their brands."
This news comes less than 24 hours after Oklahoma Governor Kevin Stitt signed the state's NIL bill on Friday, May 28, which made Oklahoma the 17th state to allow college athletes to make money off their name, image and likeness.
OSU Deputy Director of Athletics Chad Weiberg said on a statement, "Here at Oklahoma State, there's nothing more important to us than the student-athlete experience. This expanded partnership with INFCLR and the OSU Spears School of Business will bring the best tools in the fields of brand building and entrepreneurship to Oklahoma State student-athletes so they can remain on the cutting edge both on and off the field of play. I'd like to thank the Oklahoma legislature and Governor Kevin Stitt for making this legislation a priority for our state and for all current and future Oklahoma State student-athletes."
These plans include an app platform to help OSU student-athletes make money off their brands, most likely through their social media channels like Instagram, Twitter and Facebook.
Also, Oklahoma State will weave in opportunities for student-athletes to learn more about how to best capitalize on these opportunities through the OSU Spears School of Business, which offered the first master's program in entrepreneurship, and that will now focus on OSU Athletics. There will be two new courses for student-athletes interested in this titled Personal Finance and Managing Your Personal Brand: Name, Image & Likeness, as well as NIL lectures to OSU teams.
This is the 800-pound gorilla in the room for college sports and thus far it's being done on a state-by-state basis, which will leave states that don't pass bills like Oklahoma and 16 other states behind the 8-ball in recruiting.  Congress is looking at passing something at the national level on a bipartisan basis, but nothing has been agreed to.
So in the meantime, Oklahoma State is at the forefront of this issue and appears to be in a great position to capitalize off of it.