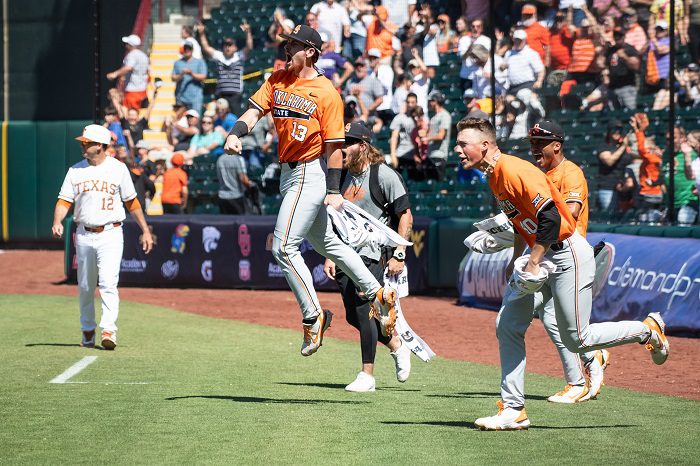 It was quite the day at Oklahoma City's Bricktown Ballpark for the Big 12 Conference Baseball Tournament. We had three good games on Saturday after having a full slate on Friday. Despite their being one less game from the day prior, the stakes were still high in OKC.   
As we continue to make our way through the tourney, I have a few thoughts from the fourth day of Big 12 baseball action. Here were the final scores from Saturday's games.  
Game 1: #7 Kansas State Defeats #2 TCU 5-2 
Game 2: #2 TCU Defeats Kansas State 17-7 
#4 Oklahoma State defeats #1 Texas 5-4 
TCU Advances and Kansas State Waits
In game one, Kansas State once again got off to a hot start putting up four runs in the first inning. TCU would answer with two runs of their own. With a total of six runs scored in the first inning, the bats went cold on both sides for the rest of the game. Kansas State's Cameron Thompson would hit an RBI single in the fourth inning to give the Cats a 5-2 lead and pitcher Eric Torres struck out eight batters in just a little over four innings of work. The Wildcats would get a 5-2 win and a shot at getting to a Big 12 title match later in the day.  
Unfortunately for Kansas State, game two was not nearly as sweet as game one against TCU. While the Wildcats would go up 1-0, they woke up the sleeping giant which was the TCU bats. The Horned Frogs scored a whopping seven runs in the bottom of the first inning. Kansas State would get a couple more runs but TCU scored a run in the fourth, fifth and six innings as they held a 10-3 lead going into the seventh inning. Kansas State's Terrence Spurlin and Zach Kokoska would each drive in two runs in the top of the seventh to pull the Wildcats within three. However, TCU would pull away in the eight adding seven big insurance runs to seal the deal for a 17-7 win.  
With the win, TCU advances to the championship game on Sunday at 5 p.m. They will take on Oklahoma State in a winner take all matchup. As for Kansas State, they are still labeled as a fringe postseason team, but they did themselves good in this tournament. They won a couple games and after this tournament they now have six wins over top five teams. Kansas State Head Coach Pete Hughes made the case for his team to make the field of 64 despite not making it to the championship game. Hughes said, "I have been the coach of at-large teams before. This baseball team is an at-large team. The only thing that is missing is the historical brand name across our chest in college baseball. If we had a historical brand name across our chest there wouldn't even be a conversation or a doubt of getting in." 
2. Oklahoma State Stays Hot and Texas Gets Ready for Regional
As of now, the Cowboys are the only Big 12 team to not lose a game in the tournament. They won two games going into this game against Texas and they took care of business once again on Saturday. Max Hewitt put the Pokes on top early with a 1-0 lead, but Texas would respond in the fourth inning thanks to a Douglas Hodo III RBI and a wild pitch to go up 2-1. But the Texas lead didn't last long because in the very next inning, a wild pitch tied the game up and a Jake Thompson two-run RBI single gave the Cowboys a 4-2 lead.  
Another OSU error would help Texas score a run and then Silas Ardoin brought a run in to tie the game at four in the bottom of the fifth. From there, both offenses struggled but Texas made a crucial error when pitcher Aaron Nixon walked a batter with the bases loaded to give Oklahoma State a one run lead in the ninth inning. That would be the final score of the game as Oklahoma State beat Texas in a 5-4 ballgame.  
I'll be honest with you, while it is nice for Oklahoma State to advance to the championship round, they will not gain much from it outside of bragging rights and having a tee shirt made. Ok, sure they will get a trophy too but even if they win the tournament, they will not be hosting a regional and still will have to travel. As for Texas, they did not have much to prove this week. They are already a lock to host a regional and sometimes having fresh arms is key for the postseason.  
3. Championship Sunday
This is what it all comes down to. TCU and Oklahoma State facing off at 5 p.m. on Sunday for the Big 12 tournament championship. TCU had to fight off elimination on Saturday to get here, while Oklahoma State won three straight games and made it look easy. It should be a fun matchup and both teams are more than deserving to be playing on Sunday. No matter what happens, both teams will be playing in the postseason, so the loser of this game doesn't have anything to worry about outside of bragging rights.