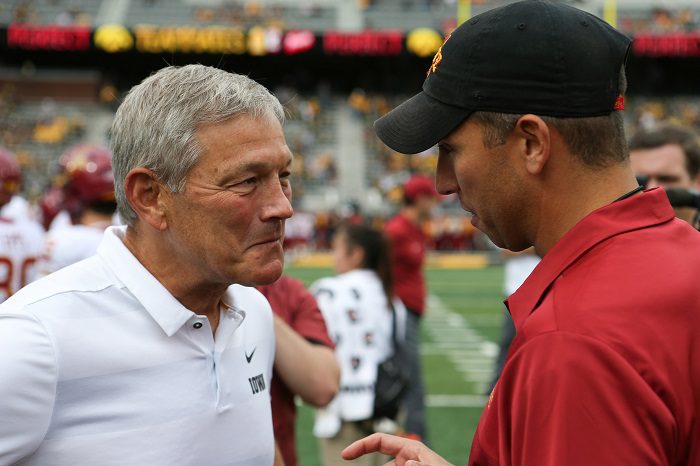 The 2021 college football season is less than 100 days away. But before teams can focus on conference titles or playoff runs, they must battle non-conference opponents. Every Big 12 team will play three non-conference games. Among those games, one stands out as the most challenging, and possibly meaningful, for each program. Some are more obvious than others. Non-conference games might not determine which team wins a conference title, but they can still impact a season in other ways.  
Baylor
Bears
Non-Conference Schedule: Sept. 4 at Texas State, Sept. 11 v. Texas Southern, and Oct. 16 v. BYU 
Toughest: BYU 
A mid-October game against a rebuilding BYU team should be a good check point as Baylor rebounds from a 2-7 season. BYU garnered national attention last year with an 11-1 record, the nation's No. 3 scoring offense (43.5 points per game) and a stout defense (15.3 points). Quarterback Zach Wilson and 12 other Cougars were taken in the NFL draft, which might make duplicating that success a little tougher. Offensive coordinator Jeff Grimes also left BYU for Baylor. Still, the Cougars always reload and remain a good mid-major program. BYU recorded wins over Tennessee, USC, Wisconsin, and Arizona during the 2018 and 2019 seasons. Baylor will need a sharp performance to stay off that list.  
Iowa State
Cyclones
Non-Conference Schedule: Sept. 4 v. UNI, Sept. 11 v. Iowa, Sept. 18 at UNLV 
Toughest: Iowa 
Preseason hype increases every day for No. 9 Iowa State and a perfect start would validate those expectations. The Cyclones should beat Northern Iowa and UNLV easily. The yearly rivalry game against Iowa, however, always causes problems. Iowa State has not beaten Iowa since 2014. The Hawkeyes finished second in the Big Ten West Division last year and return the conference's No. 1 red zone offense. The defense returns eight of the top 11 tacklers from the nation's No. 8 overall defense (318 yards per game) and No. 6 scoring defense (16 points). A win over Iowa would keep Iowa State firmly in the playoff conversation and return the Cy-Hawk Trophy to Ames.  
Kansas
Jayhawks
Non-Conference Schedule: Sept. 3 v. South Dakota, Sept. 10 at Costal Carolina, Sept. 25 at Duke 
Toughest: Coastal Carolina 
Non-conference games might be Kansas' best opportunity for a win. Likely, that will not happen against Coastal Carolina. The Chanticleers beat the Jayhawks the last two seasons by a combined 20 points. Coastal Carolina took off after the 2020 win and ended the year ranked No. 14. The Chanticleers return nine of 11 starters on offense including quarterback Grayson McCall. McCall, the 2020 Sun Belt Player of the Year, threw for 2,488 yards, 26 touchdowns and three interceptions and tacked on 569 rushing yards and seven touchdowns. Coastal Carolina also brings back every starter except one from a top-20 scoring defense (20.25 points per game). If Kansas can keep the game close, it could be a step in the right direction under new coach Lance Leipold. 
Kansas State
Wildcats
Non-Conference Schedule: Sept. 4 v. Stanford (AT&T Stadium, Arlington, TX), Sept. 11 v. Southern Illinois, Sept. 18 v. Nevada 
Toughest: Stanford 
A win against a solid Pac-12 team at a neutral site should give Kansas State the boost it needs after ending last year on a five-game losing streak. Stanford went 4-2 in 2020, winning the last four games. The Cardinal will start a new quarterback, either senior Jack West or sophomore Tanner McKee and returns key playmakers from a top-50 total offense (420 yards per game). All-Pac 12 Third-Team junior running back Austin Jones averaged 91.67 yards per game while first-team honoree senior wide receiver Simi Fehoko racked up 574 receiving yards over six games. Stanford's defense struggled, giving up 31.67 points and 438 yards per game. Kansas State should have a slight advantage on offense with senior quarterback Skylar Thompson returning from injury. Getting a season-opening victory would make the daunting 2021 schedule easier to navigate.  
Oklahoma
Sooners
Non-Conference Schedule: Sept. 4 at Tulane, Sept. 11 v. Western Carolina, Sept. 18 v. Nebraska 
Toughest: Nebraska 
Oklahoma tried putting together a solid non-conference slate. However, when the lone Power 5 opponent has posted four consecutive sub -.500 seasons and enters the matchup as a 19-point underdog, its hard calling that a tough non-conference game. Nebraska even tried cancelling the game that marks the 50th anniversary of the "Game of the Century".  The Cornhuskers, in theory, recruit better players than Tulane and Western Carolina and provide a tougher matchup. Perhaps that's wrong and Tulane will be the right measuring stick. Regardless, the Sooners have bigger concerns than which non-conference opponent can cause the most problems. Oklahoma should blow out all three teams and come into conference play undefeated with a "playoff win or bust" attitude.   
Oklahoma State
Cowboys
Non-Conference Schedule: Sept. 4 v. Missouri State, Sept. 11 v. Tulsa, Sept. 18 at Boise State 
Toughest: Boise State 
Oklahoma State can finish non-conference undefeated, but winning at Boise State might prove tricky. The Broncos have lost just 10 home games since 1999. Boise State made the 2020 Mountain West Conference championship game, finished 5-2 and lacked its typical dominance. Changes at offensive coordinator, defensive coordinator, various position coaches, and head coach will give the Broncos a new look. The defense must replace two all-conference cornerbacks. Junior quarterback Hank Bachmeier should retain the starting role. He accumulated 1,150 passing yards, six touchdowns, and two interceptions over five games last season. The Broncos usually reload quickly and find a place in the top 25. Boise State, however, is a little off from their usual standard, which gives Oklahoma State the rare opportunity to win on the blue turf.  
TCU
Horned Frogs
Non-Conference Schedule: Sept. 4 v. Duquesne, Sept. 11 v. California, Sept. 25 v. SMU 
Toughest: California 
TCU needs to test its passing attack and overall offensive flow before Big 12 play takes off. California presents a good opportunity with 11 of 12 starters back from the Pac-12's third best defense (367 yards per game). The Bears also recorded 1.75 sacks per game, which could cause problems for a Horned Frogs offensive line that gave up 2.3 sacks per game. The Pac-12's worst offense returns senior quarterback Chase Garbers along with six of the seven leading pass catchers from last year. Garbers threw for 771 yards, six touchdowns and three interceptions in four games. TCU's typically stout defense should disrupt a struggling offense. The Horned Frogs must turn those stops into points as a sign that three straight average seasons are behind them.   
Texas
Longhorns
Non-Conference: Sept. 4 v. Louisiana, Sept. 11 at Arkansas, Sept. 18 v. Rice 
Toughest: Louisiana 
With a new head coach and quarterback, Texas is a prime candidate for an opening weekend upset, especially since the opponent has beaten a Big 12 team before. Louisiana topped Iowa State last season and returns almost every starter from a top-25, Sun Belt Conference champion squad. Senior quarterback Levi Lewis completed 177-of-297 passes for 2,274 yards, 19 touchdowns and seven interceptions. Lewis has a 24-4 record as a starter and a career 54:14 touchdown to interception ratio. The Ragin' Cajun defense ranked sixth nationally in passing yards allowed (170.6) and second in passing efficiency (100.82). If Texas can get past Louisiana unscathed, that should build up positive momentum heading into an ESPN, primetime game at Arkansas the following week.  
Texas Tech
Red Raiders
Non-conference: Sept. 4 v. Houston (NRG Stadium, Houston), Sept. 11 v. Stephen F. Austin, Sept. 18 v. Florida International 
Toughest: Houston 
The last time Texas Tech made a bowl game in 2017, it entered conference play 3-0. The 2021 non-conference schedule could become a springboard for similar success as long as the Red Raiders get things rolling against Houston. The Cougars scored 30 points per game last season, but inconsistent play led to a 3-5 record. Junior quarterback Clayton Tune threw 15 touchdowns and 10 interceptions with a 59.6 completion rate. Tune should settle down and be more comfortable this fall under third-year head coach Dana Holgorsen. The defense returns nine starters but lost its leading tackler and best past rusher. Houston allowed 32 points per game and ranked fourth in the American Athletic Conference fourth in total defense (398.5). Texas Tech must play well against Houston and take advantage of an ideal non-conference slate for a rebuilding team.  
West Virginia Mountaineers
Non-Conference:  Sept. 4 @ Maryland, Sept. 11 v. Long Island, Sept. 18 v. Virginia Tech 
Toughest: Virginia Tech 
West Virginia has slowly improved under head coach Neal Brown and wins over two Power 5 programs would punctuate that growth. Maryland went 2-3 in 2020 with inconsistent play on offense and defense. The Mountaineers will need to be careful at Annapolis, but they should come away with a win. Virginia Tech posted a 5-6 record and nearly took out then-No. 9 Miami.    
The Hokies' offense relied on the ACC's best rushing attack (240 yards per game) last season. With the top two rushers gone, Virginia Tech will need more production from junior running backs Raheem Blackshear and Jalen Holston. The defense gave up 448 yards and 32 points per game, forced 17 total turnovers and recorded 36 sacks. West Virginia can take a giant step forward during non-conference and set the stage for a solid Big 12 run.