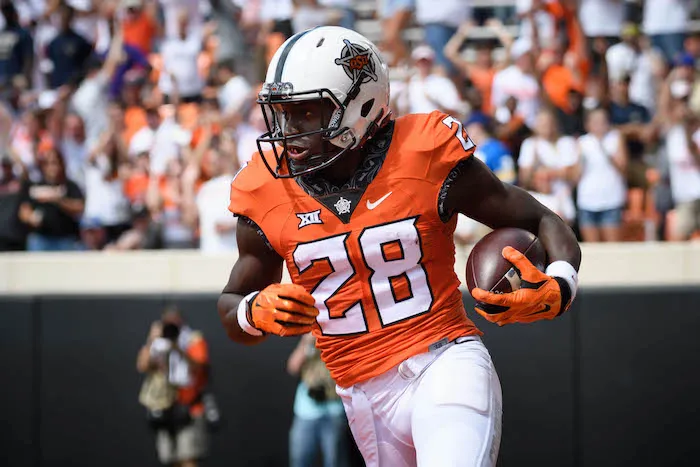 One of my favorite what-if scenarios in sports is the activity of putting amalgamations of past and present athletes on a theoretical All-Time team, a Dream Team, if you will. Then pitting this fictional squad against another and arguing endlessly and pointlessly over who would win were they to play each other.
Which is exactly what I'll be doing today as I put together my personal Oklahoma State All-Time football team. This team will include all eras of Cowboy football and will be determined, simply, by who I believe the best player is at every position.
I'll be focusing on the offense today, stay tuned for my defensive team next week!
Quarterback: Brandon Weeden
The quarterback position was harder to appoint than what I had originally thought. When you think of all of the great QB's to come through Stillwater, all of them would be well suited to lead this team. Mike Gundy, Mason Rudolph, Josh Fields and Zac Robinson are some of the names I racked through my brain when choosing, but I ultimately went with the guy who led Oklahoma State to its most successful season in school history, Brandon Weeden.
In the Cowboys' storied 2011 season, Weeden led the Big 12 in passing yards and finished second nationally behind Case Keenum. He ended his illustrious career at Oklahoma State with 9,260 passing yards and 75 touchdowns while becoming one of the most decorated quarterbacks in the history of the Big 12.
Running Backs: Barry Sanders & Thurman Thomas
It's still wild to me that these guys were on the same team at a point in time. Arguably two of the all-time great running backs in college football history, Barry Sanders and Thurman Thomas are no-brainers when it comes to this position. 
The two consensus All-Americans shared a running backs room for two seasons in 1986 and 1987, both of which saw Thomas as the primary back. Thurman totaled 4,847 yards and 43 touchdowns in four years under coach Pat Jones. Those nearly 5,000 yards made him the career rushing leader in Big 8 history.
1988 was Sanders' turn to break out, and break out he did. One Heisman trophy and countless rushing records later, Sanders topped off one of the best single seasons in college football history, finishing with 2,628 yards and 37 touchdowns while also serving as an elite kick returner.
There's a reason these two will be the first names on OSU's ring of honor inside Boone Pickens Stadium soon. They are some of the best to suit up for the Cowboys as well as some of the best running backs in NFL history.
Fullback: Bob Fenimore
So Bob Fenimore wasn't technically a fullback as a member of the Oklahoma A&M Aggies from 1943 to 1946, as he played just about every position the coaching staff would let him, including half back, quarterback, defensive back and punter. I just couldn't leave him off the team, so he'll make a fine fullback. I'm sure he would have been up for it.
The "Blonde Bomber" finished third in the Heisman voting in 1945, which was also the program's only undefeated season. He holds the school record for interceptions in a season with 18 and held the total career yards record with 4,627 for over 40 years until it was broken by quarterback Mike Gundy. 
Fenimore died on July 28, 2010, in Stillwater and is remembered as one of the first stars of college football as we know them today. He was inducted into the college football hall of fame in 1972 and is the only Oklahoma A&M/State player to be drafted first overall to the NFL.
Receivers: Justin Blackmon, Dez Bryant, James Washington
Fulfilling the Z, X and slot positions, these guys are some of the best pass catchers OSU has produced. Between the three of them, they have combined for three Biletnikoff awards and four combined consensus All-America honors.
Blackmon took home two Biletnikoff trophies in 2010 and 2011, only the second time it's been done since Michael Crabtree in 2007 and 2008. He led the Big 12 in receiving yards and receiving touchdowns in 2010, as well as receiving touchdowns in 2011. His career totals of 3,564 receiving yards and 40 touchdowns are good for third and second in school history, respectively.
Bryant may be the most universally recognized Oklahoma State Cowboys football player outside of Barry Sanders, what with his college and NFL success. He strangely never won a Biletnikoff award during his time in Stillwater from 2007 to 2009, but regardless it's not hard to see why he is on this All-Time team. He finished with 2,425 career yards and 29 touchdowns despite injuries and a bogus NCAA suspension his senior year.
James Washington is OSU's most recent Biletnikoff winner, and by far the most productive. His 4,472 career receiving yards from 2014 to 2017 are the most in school history, he had three 1,000-yard seasons and he finished with the third most receiving touchdowns in school history with 39. He'll be a serious deep threat in this all-star cast of Cowboys.
So many others could be considered, Hart Lee Dykes, Rashaun Woods, Tylan Wallace, but the star-studded lineup of Blackmon, Bryant and Washington can't be denied.
Tight End: Brandon Pettigrew
It was between Pettigrew and Alonzo Mayes for the starting tight end spot, but I gave the edge to the school receiving yards leader among tight ends. Pettigrew carved out a spectacular career in Stillwater as well as with the Detroit Lions in the NFL, where he served as the starting tight end for seven seasons.
Pettigrew caught 112 balls at Oklahoma State from 2005 to 2008 for 1,450 yards and nine touchdowns. He went 20th overall in the 2009 Draft and his 6-foot-5, 260 pound frame will do well for blocking as well as splitting out for a pass.
Offensive Line: Russell Okung, Derrel Gofourth, John Ward, Levy Adcock, Teven Jenkins
All the guys I chose were unanimous All-Americans except Jenkins, who went in the second round to the Chicago Bears in this year's draft. There aren't many stats to look at with offensive linemen, but the fact that all five made it onto an NFL roster is telling. Okung, Gofourth and Ward had pro careers spanning multiple seasons.
Russell Okung played in Stillwater from 2007 to 2009 and was drafted sixth overall by the Seattle Seahawks. Gofourth was taken in the seventh round by the Green Bay Packers after spending three years at OSU from 1974 to 1976. Ward played both offensive and defensive line when he was taken with the 25th pick in 1969 by the Minnesota Vikings. Adcock signed with the Dallas Cowboys as an undrafted free agent after three years in Stillwater from 2009 to 2011. Teven Jenkins just finished up his fourth year in college and is on his way to becoming a Bear.
Oklahoma State All-Time Team Depth Chart
QB: Brandon Weeden    Backup: Mason Rudolph
RB: Barry Sanders        Backup: Terry Miller
RB: Thurman Thomas    Backup: Kendal Hunter
WR: Justin Blackmon        Backup: Rashaun Woods
WR: Dez Bryant        Backup: Hart Lee Dykes
WR: James Washington    Backup: Tylan Wallace
TE: Brandon Pettigrew    Backup: Alonzo Mayes
OL: Russell Okung        Backup: Lane Taylor
OL: Derrel Gofourth        Backup: Jon Kolb
OL: John Ward        Backup: Brad Lundblade
OL: Levy Adcock        Backup: Zachary Crabtree
OL: Teven Jenkins        Backup: Grant Garner