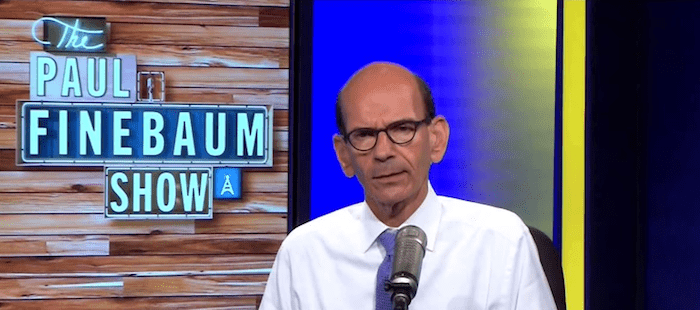 Is there a worse pairing in college football than ESPN and the SEC? ESPN will not shut about the conference and even has their own SEC Network if you enjoy watching garbage on your television. Me? I'd rather poke a fork in my eyeballs than have to watch ten minutes of some cheesy analyst talk about this being the year of Texas A&M or have to listen to a caller from the Paul Finebaum Show who can count their IQ on one hand. 
Normally, ESPN fills their time slots with endless talking heads who raise their voice from time to time to get a reaction on a topic that makes as much sense as the Longhorn Network contract their employer gave to Texas. Yet, somehow yesterday, their morning show "Get Up" decided to do a quick hit piece on the Texas Longhorns and who else better to talk about a Big 12 school than mister SEC himself, Paul Finebaum.  
Finebaum had some choice words for Texas fans saying "Texas is no big deal other than to Texas fans. This is no longer a relevant program." He also went on to say "Texas can't even win its own state anymore. They lost their best two players to Alabama, and they are pathetically behind Jimbo Fisher at Texas A&M and way, way behind their biggest rival in Norman, Oklahoma." 
You know what the funny part about all this is? It is the fact that on national television, ESPN uses their lead station to talk about an irrelevant program. Makes sense, right? I am just surprised that Heather Dinich on the other side wasn't counting out the Big 12 when it comes to the College Football Playoff picture before the season even starts.  
If ESPN want to bash Texas, that's fine and rightfully so. Texas hasn't hardly done anything in the last ten years to brag about and has not won a Big 12 title since 2009. Yet, as bad as they have been at times, they always seem to find the spotlight for better or for worse. Is Texas back? No. Is Texas a relevant program in college football? Absolutely and there are ratings that will back that up. The very network Texas has is owned by the company who is talking about them being irrelevant.
What's it going to be next week, ESPN? Shall we get Jim Mora Jr. to break down the Big 12 after not watching any games? Oh yeah, they do that already.