Big 12 News
Stanford Head Coach David Shaw is Pissed Over Kansas State Kick Off Time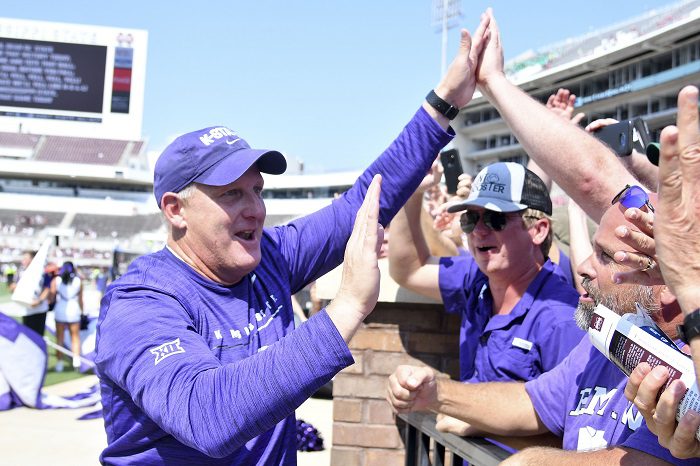 The Kansas State Wildcats and Stanford Cardinal open the college football season at AT&T Stadium on Saturday, September 4th at 11:00 a.m. CST. And while K-State fans likely don't have much of a problem with that, as they'll be nationally televised on FOX and are plenty used to 11:00 a.m. start times, Stanford head coach David Shaw was not pleased.
That's because for Shaw and his players, it will feel like a 9:00 a.m. kick off time.
"That, to me, is something that is egregious, and I don't care who I piss off," Shaw said, per The Athletic's Stewart Mandel.
Shaw went on to say he is also concerned about Oregon having to play a 12:00 ET/9:00 PT game at Ohio State in Week 2, adding, "We have to start sticking up for ourselves as West Coast teams, because we're going to get judged the same."
This comes just days after the University of Oklahoma put out a formal statement upset with the fact that their game against Nebraska this September would kick off at 11:00 a.m. CST.
OU's statement read: "We are bitterly disappointed that the great Oklahoma-Nebraska rivalry, on the 50th anniversary of the Game of the Century, will kick off at 11:00 a.m. We tried every possible avenue to proactively make our case. The Big 12 Conference also supported our strenuous efforts to secure a more traditional time that would honor this game and our fans. However, in the end, our TV partner chose to exercise its full contractual rights and denied our request."  
Like OU, Shaw understands that the reason these programs make tens of millions of dollars is because of the TV contracts they sign with ESPN and FOX. However, whenever programs or coaches from the Big 12 or Pac-12 speak out against the obvious SEC and Big Ten bias that exists with these networks and their scheduling plans, we're here to cheer them on.