Big 12 News
Three Thoughts on Texas Tech's Win Over UCLA in the NCAA Regionals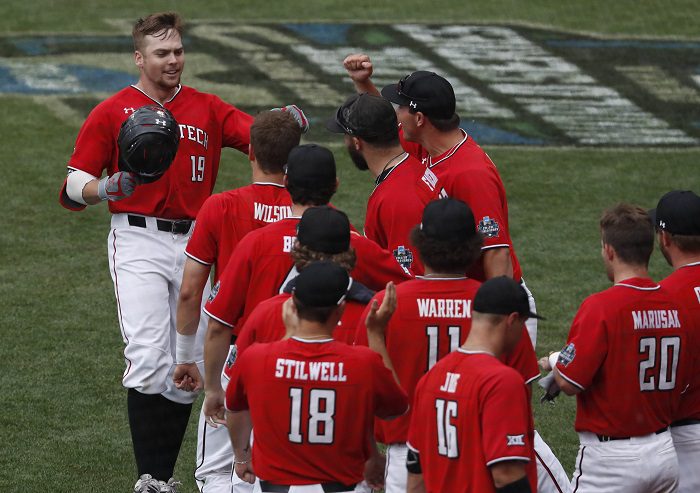 The Texas Tech Red Raiders capped off their NCAA baseball regional with an 8-2 win over UCLA on Sunday night in Lubbock. Here are three takeaways from the game as the Red Raiders are headed to the Super Regionals next weekend after finishing the weekend at 3-0.
1. Great Pitching Continues
Once again, the pitching from the Red Raiders was excellent on Sunday night. Left-handed pitcher Mason Montgomery took the mound against UCLA and had a solid five innings of work. He struck out eight UCLA batters and allowed just one earned run. Tech would have three more pitchers close out the game and only allowed one more run for the rest of the ballgame. Throughout this regional, Tech only allowed a total of seven runs in their three games. If they can continue to pitch like this, watch out because this team is hot.
2. Hot Bats
Much like their first two games of the weekend, Texas Tech put up a bunch of runs and Sunday was no different. The Red Raiders have a powerful offense and it showed against UCLA. Going into the fifth inning, Tech was up 4-2 and then were able to add a few more runs to extend their lead. Easton Murrell had an RBI-single to start off the fifth inning before Nate Rombach had an RBI-triple to give Tech a 6-2 lead. Kurt Wilson would add another run thanks to his RBI-single in the inning and just like that Texas Tech was up 7-2 going into the bottom of the fifth.
3. On to The Super Regionals
After going undefeated this past weekend, Texas Tech is now one step close to getting to Omaha. With their win on Sunday night, the Red Raiders are on to the Super Regionals to take on either Stanford or UC Irvine. With the way this team is pitching along with the high-powered offense, someone will have their hands full trying to eliminate this team. As of now, there are just two Big 12 teams still standing after this weekend and Texas Tech is one of them.