Big 12 News
Oklahoma State Football Announces Home-and-Home with Alabama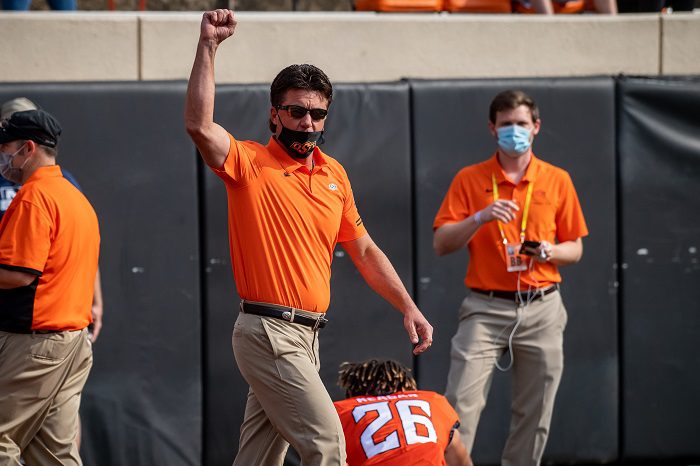 The Oklahoma State football program announced on Tuesday morning that it would be competing in a home-and-home with the Alabama Crimson Tide in 2028 and 2029. The Cowboys will host the Crimson Tide on Sept. 23, 2028 before heading to Tuscaloosa on Sept. 15, 2029.
The news came down via Twitter.
Anyone. Any place. Any time.#LetsRide I #GoPokes

📝 https://t.co/felfqRG8qw pic.twitter.com/6bMGJy6ble

— OSU Cowboy Football (@CowboyFB) June 8, 2021
OSU and Alabama have played just once to this point, coming in the Independence Bowl in 2006. OSU won that game. Bobby Reid threw for 212 yards and a touchdown to Adarius Bowman. Dantrell Savage also ran for 112 yards and a score.
This match up took place prior to Nick Saban's arrival at Alabama. The question now? Will the Pokes catch Saban in 2028? Well he just signed an extension on Monday through the 2028, which would take him to 77 years old. So at least as of now, all indications are Saban will be on the sidelines. Saban said in a press release about the match up, "We are very excited to add another excellent opponent to our future non-conference schedule with the addition of Oklahoma State."
This year's non-conference doesn't include a Power 5 program, with Missouri State, Tulsa and Boise State on the schedule. But after that, it's 13-straight years of Power 5 non-conference opponents for the Cowboys:
2022 — Arizona State (Stillwater)
2023 — Arizona State (Tempe)
2024 — Arkansas (Stillwater)
2025 — Oregon (Eugene)
2026 — Oregon (Stillwater)
2027 — Arkansas (Fayetteville)
2028 — Alabama (Stillwater)
2029 — Alabama (Tuscaloosa)
2032 — Arkansas (Stillwater)
2033 — Arkansas (Fayetteville)
2034 — Nebraska (Lincoln)
2035 — Nebraska (Stillwater)