Big 12 News
Report: 12-Team College Football Playoff is Early Frontrunner on Expansion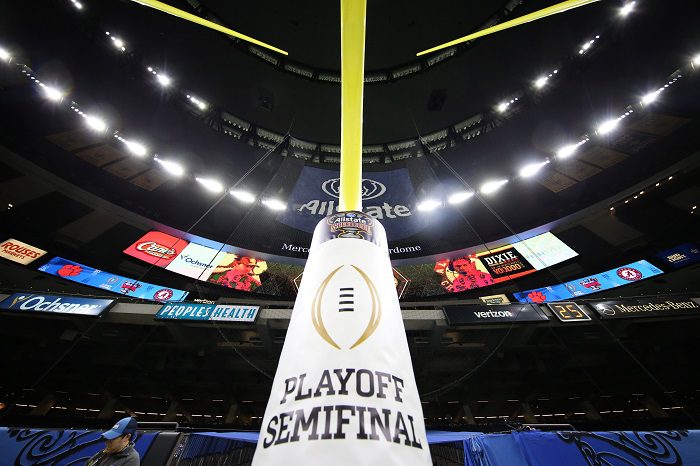 On the same day a report came out from ESPN that a committee will be pitching the possibility of expansion of the College Football Playoff, a new report says that a 12-team College Football Playoff is the early favorite to replace the current four-team model.
The report from Yahoo Sports' Pete Thamel cites that while nothing is set in stone, and there's still a lot of debating and discussions to be had, the 12-team model is getting the most attention.
The report notes in part, "Amid those conversations, a surprise emerged — officials on campuses, in conference offices and in the television world have expressed an openness toward a 12-team playoff as the most likely result.
While it's unfair to say momentum has built toward a 12-team playoff before models have been presented to the commissioners or presidents, the 12-team model has emerged as the favored outcome over the eight-team playoff within the industry.
"The reason that you go to 12 is because you can develop the road of least resistance toward a good result," said a high-ranking college official with knowledge of the process."
So now there's even more attention on the presentation to the College Football Playoff committee next week. The in-person conversations will take place on June 17-18 in Chicago and are the result of two years of exploring possibilities that could alter the format in the future.
However, CFP executive director Bill Hancock added that the earliest any changes would come would be the 2023 season.
Why 12 Over 8?
According to Thamel, "Let's start with at-large bids. In the current four-team College Football Playoff model, all four teams are at-large. In a majority of the eight-team models that have been projected, there'd likely be either five or six automatic bids. That means a decrease in at-large bids, which would not be of much interest to the SEC — or even Notre Dame — which could perceive the expanded playoff as having less access. (The Pac-12 and entire Group of Five, to counter, would likely not be interested in expansion without some type of automatic bids).
Another snag that makes some uncomfortable with eight teams is who'd get left out. If there are six automatic bids, for example, a team ranked No. 4 or No. 5 could theoretically be left out and a team ranked No. 18, for example, makes the field. That scenario makes some uncomfortable."
How would 12 Teams Work?
Thamel adds, "The basic thought is automatic bids for the five major conferences — which also juices up their league title games as play-in games — and one for the highest ranked Group of Five champion. The other six spots would be at-large bids. That gives automatic bids to some of the have-nots and more potential spots for the more powerful leagues, and compromise is important in a vote where consensus is needed.
The details of how those 11 games in a 12-team system would unfold will still need to be worked out in upcoming months. But the thought is that the first four teams would get a bye and teams No. 5 to No. 8 would host teams No. 9 through 12 at home sites. (This could, of course, irk teams that finished higher and don't get the big gate, memorable experience and home-field advantage of a playoff game.)" 
Needless to say, this story is just getting started and it seems to be that College Football Playoff expansion is a guarantee, it's just a matter of how many teams and when.