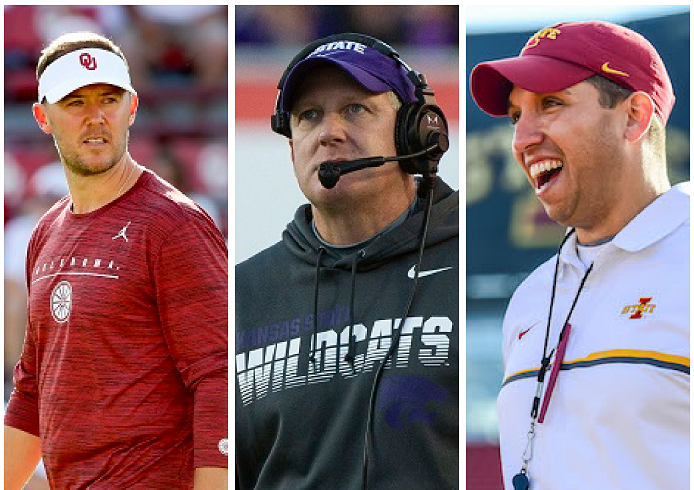 Since I started covering the Big 12 Conference back in 2016, there have been plenty of coaches coming and going over the last few years. In fact, we have seen head coaching changes at every school in the conference outside of TCU and Oklahoma State. However, not every school has a Gary Patterson or a Mike Gundy type of head coach. Sometimes change at the top is needed and with today's win now or be fired attitude, picking the right man to lead your program is more crucial than ever. A good hire can set your program up not only for current success but success in the future for the next man. On the flipside, a bad hire can wind up costing a program year of misery with each misstep that is taken.  
I wanted to have some fun and rank the top five Big 12 football head coaching hires since 2016. Keep in mind, schools typically hire new coaches in late December, so the rules are, if 2016 was your first year as a head coach at a Big 12 school, you are eligible.  
1. Lincoln Riley (Oklahoma HC 2017-Present)
We have had some great coaches in the conference and some excellent offensive minds, but Lincoln Riley is right up there when it comes to being an offensive guru. The man is arguably the best young coach in all of college football and perhaps the best offensive mind in the sport we all love. Of course, winning four Big 12 titles has been impressive too as well as three trips to the College Football Playoff. While he is still searching for that playoff win and a national championship, it would be hard for me to put any other coach ahead of him. Sure, he has all the tools he needs to succeed at a place like Oklahoma but don't let that take away from him being a great head coach.  
2. Matt Campbell (Iowa State HC 2016-Present)
Speaking of great young head coaches, Matt Campbell is another man who is nationally recognized as being one of the best head coaches in college football. Before he arrived at Iowa State, the Cyclones had a conference record of 7-29 from 2012 to 2015. After just two years on the job, Matt Campbell has had a conference record of 19-9 over the last three seasons. He has been a huge boost to a program that quite honestly was dead when it came to football. Sure, the fans were there but winning wasn't. Matt Campbell changed that and turned Iowa State from a cellar dweller to a conference title contender for years to come. It is highly likely that after this season, he will have made back-to-back trips to a Big 12 title game which is something that no other Big 12 school has done outside of Oklahoma. Also, Iowa State has now been to four straight bowl games which is something that has never been done in program history.  
3. Matt Rhule (Baylor HC 2017-2019)
Much like Matt Campbell, Matt Rhule took over a program that was in shambles, but it went beyond the football field. Matt Rhule not only needed to change the results on the field but had to do a complete culture change at Baylor in the way they do things. Year one was rough as they went 1-11 in 2017 but they improved in 2018 making and winning a bowl game finishing the season at 7-6. Then came they year nobody saw coming as Baylor made a Big 12 title game appearance in 2019 and made the Sugar Bowl. Despite losing both games, the Bears still had an impressive 11-3 record which was quite the turn around from 1-11 just two years prior.  
4. Chris Klieman (Kansas State HC 2019-Present)
I know last season wasn't ideal with a 4-6 record but when your starting senior quarterback goes down, so can your season in a hurry. On his first year on the job, Klieman went 8-5 and despite last year's injury bug, he is the only head coach to beat Oklahoma in back-to-back seasons since Art Briles did it at Baylor back in 2013 and 2014. Chris Klieman is a great fit for Kansas State and while I wasn't sure of the hire at first, I think Athletic Director Gene Taylor hit a home run with getting Klieman. I look forward to seeing what more he can do at Kansas State after replacing a legend like Bill Snyder.  
5. Neal Brown (West Virginia HC 2019-Present)
While this may not be a flashy pick, I could not think of another coach to put at number five. I wouldn't put Matt Wells here or Les Miles or Lance Leipold from Kansas. I also wouldn't put Tom Herman here or even Steve Sarkisian because he has yet to do anything at Texas. Neal Brown who was asked to do a big turnaround perhaps bigger than what people expect. This program was loaded with talent back in 2018 and had huge turnover going into 2019 as they had to replace nearly every key contributor from that 2018 team. Neal Brown went 5-7 in year one but last season his team showed some promise going 6-4. His 2021 team has some good pieces around the quarterback position and if Neal Brown can find an upgrade at quarterback, I think it could be a game changer for him and the program going forward.