Big 12 News
Three Thoughts on Texas Tech's Elimination Loss To Stanford in the Super Regionals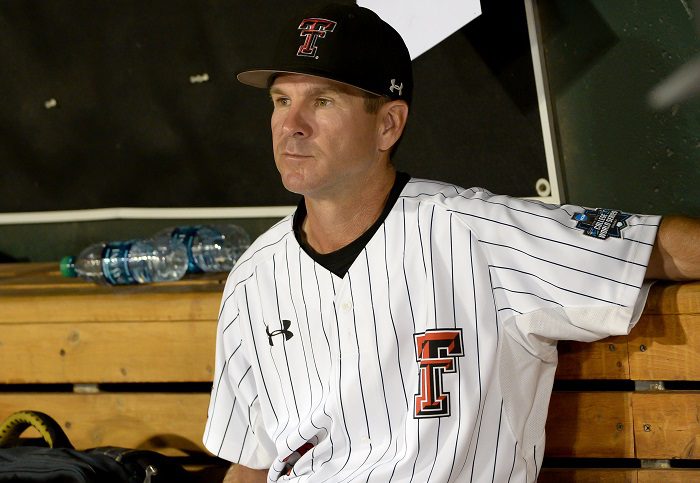 The Texas Tech Red Raiders lost its NCAA baseball super regional with a 9-0 Game 2 loss against Stanford on Saturday in Lubbock, Texas. Here are three takeaways from the game.
1. The Pivotal Moment
It came in the top of the fifth inning, with Texas Tech down 3-0 to Stanford. At that point, the Red Raiders hadn't generated much offense off Cardinal starter Alex Williams, and the Red Raiders had pulled their starting pitcher, Patrick Monteverde. But, an opportunity developed in this frame that might have allowed the Red Raiders to change the game.
Williams hit Cole Stillwell with an 0-2 pitch. Williams followed that by walking Easton Murrell on a 3-2 pitch. It gave the Red Raiders runners at first and second with no one out. That was enough to prompt head coach Tim Tadlock to bring in Cal Conley as a pinch hitter. Tadlock didn't start Conley on Saturday due to a non-COVID illness. But, desperate times put Conley in the on-deck circle behind Nate Rombach, who had a chance to get Texas Tech back in the game.
But Williams pitched out of the jam. He struck Rombach out swinging. Then, Conley popped out to Stanford catcher Kody Huff, who had to battle swirling winds and avoid the home plate umpire to make the catch. Then, Kurt Wilson struck out looking on a 1-2 pitch and Williams fist-pumped his way back to the Stanford dugout.
And that, frankly, was the ball game. In the bottom of the sixth, Stanford opened up an 8-0 lead.
READ MORE: Big 12 Basketball Transfer Tracker
READ MORE: Big 12 NBA Draft Tracker
2. The Pitching Question
The book on Stanford coming into the Super Regional was quality starting pitching and questionable bullpen depth. Texas Tech, many felt, had better overall pitching depth. Get past the Cardinal starters, one though, and the Red Raiders might have had a chance to rack up some runs.
It hardly mattered. Williams, like his teammate, Game 1 starter Brendan Beck, flat out dominated Texas Tech. Williams threw a complete-game shutout, giving up two hits and striking out 10. He excelled on critical counts and used an array of pitches to continually stymie Texas Tech's aggressive hitters.
That followed Beck's Game 1, in which he threw 7 1/3rd innings, giving up six hits and two runs while striking out 13.
Meanwhile, Texas Tech's starters — Chase Hampton in Game 1 and Monteverde in Game 2 — failed to get out of the fourth inning.
Depth doesn't matter in a best-of-three series when one team's starting pitching is as sharp as Stanford's was on Friday and Saturday.
3. What Happened? 
Stanford, quite simply, outplayed Texas Tech in every facet. Along with the starting pitching, the Cardinal had two huge games at the plate, led by Brock Jones, who had three home runs, including a grand slam on Saturday, as he went 3-for-5 and had 6 RBI. That built on Christian Robinson's 2-for-4 game on Friday, during which he drove in four runs. By the end of the two games, the Cardinal had 24 runs and seven home runs. In other words, they did to Tech what Tech usually does to others.
Meanwhile, the Red Raiders had nine hits, three runs and five errors in two games, perhaps the worst two-game stretch of the season for the Red Raiders. Saturday's loss brought an end to the Red Raiders' spotless record in Super Regionals  — 4-0 — and put an end to a season that the Red Raiders thought would lead to another trip to Omaha and the College World Series.
You can find Matthew Postins on Twitter @PostinsPostcard.
**Want to win a $20 gift card?  Go sign up here and join our conversation! The best poster each week wins a gift card to your favorite establishment!**