Big 12 News
Bob Bowlsby Cites 'Postseason Participation' as Big Issue Solved by Playoff Expansion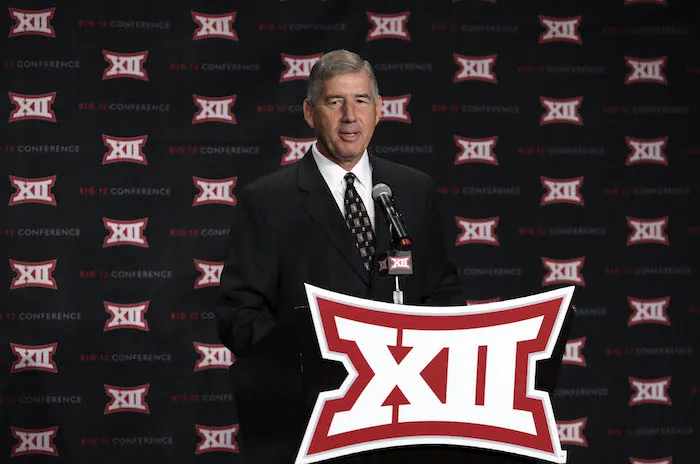 Big 12 commissioner Bob Bowlsby has been on the front lines of College Football Playoff expansion in recent weeks and months, as a major power player in crafting and delivering what might be next for the sport.
And now that the 12-team College Football Playoff idea is officially on the table, there's another big problem that Bowlsby believes this would solve: player participation. 
"You know, as we start to see some young people opt out of their postseason experiences, you wonder if there will be as much of that among a larger number of teams that have a dog in the fight for a national championship," Bowlsby said during the CFP working group's teleconference this week.
The most notable example of this in the last round of bowl games was the Sugar Bowl where Oklahoma dominated Florida 55-20. However after the game, Florida head coach Dan Mullen went on to make every excuse in the book for his team's performance, including the fact that some of their top players opted out.
This would certainly increase player participation if now 12 teams qualified for a chance to win a College Football Playoff, but at what cost to the quality of the regular season?
Under this 12-team proposal, the four highest-ranked conference champions would be seeded 1-4 and receive a first-round bye. Teams 5-12 would play each other in the first round on the home field of the higher-ranked team. The quarterfinals and semifinals would be played in bowl games, and the national championship game would remain at a neutral site.
If the group of 10 FBS commissioners and Notre Dame AD Jack Swarbrick agrees on this plan, the next step would be to present it to the 11 presidents and chancellors who make up the CFP's board of managers at a meeting in Dallas on June 22nd. If the board approves that plan, the commissioners and Swarbrick will spend the summer on the details such as when and where the implementation would take place.
Another meeting is scheduled for September, and any changes to the format would ultimately be made by the presidents and chancellors.
The earliest expansion is expected is for the 2023 college football season.