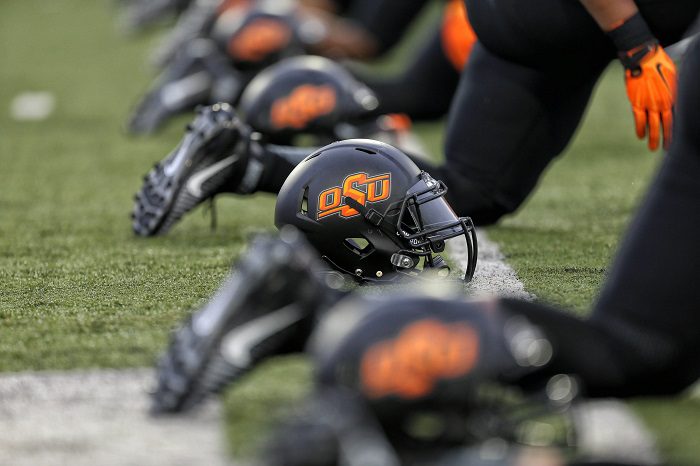 Oklahoma State football player Trey Rucker was arrested on June 2 and hit with multiple charges, including assaulting an officer and DUI.
According to a police report, the Stillwater Police Department (SPD) responded just before 3:30 a.m. on June 2 in response to a reported hit and run.
As an officer approached the car, Rucker and a female passenger began to walk away. Yet after police attempted to speak to Rucker about the incident, hhe told them repeatedly he was heading home. The Oklahoma State player is accused of slurring his speech, while having red and watery eyes. The police report states that Rucker continued to move closer and closer to the officer as they were speaking. That was followed by a verbal warning, which Rucker did not heed to.
The officer then grabbed Rucker's arm and told him he was under arrest. Rucker then pulled his arm away from the officer and began yelling that he was with OSU and he was with OSU football, adding "Call Dundy". The resisting of arrest continued after multiple attempts, before eventually Rucker was tazed and placed under arrest.
A video of the interaction has surfaced which you can view here.
OSU Football Junior Trey Rucker was arrested and tazed in Stillwater after allegedly running into parked cars while under the influence. Rucker is heard saying "I am OSU Football" and "call Dundy." He's charged with leaving the scene, DUI, assault on an officer, resisting arrest. pic.twitter.com/bBFSkGbpoc

— Storme Jones (@StormeJones) June 15, 2021
Oklahoma State had just picked up Rucker this offseason after he transferred in from Wake Forest. Rucker had a fantastic year as a freshman in 2019, recording 65 tackles, one interception, and one pass defended. The 6-foot-1 safety appeared in just five of Wake Forest's nine games in 2020 while dealing with a foot injury.