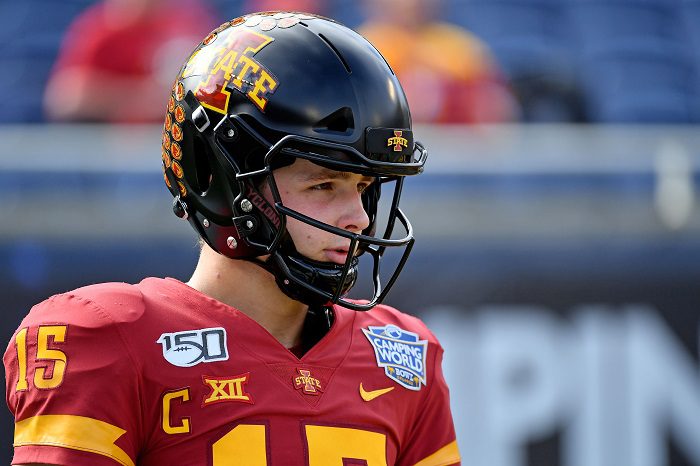 Iowa State quarterback Brock Purdy will appear on the cover of the 2021 College Football America Yearbook, a national publication that covers all of college football.
The Yearbook staff made the announcement on Wednesday evening on its social media channels and its collegefootballamericapr.com site. This is the first time that an Iowa State player has appeared on the cover of the Yearbook.
Purdy led the Cyclones to one of their best seasons in school history in 2020. He completed 243-of-365 passes for 2,750 yards and threw for 19 touchdowns, tying for third on ISU's single-season list. He earned All-Big 12 First Team honors at quarterback, the first Cyclone to do that since John Quinn did it in the Big 8 Conference in 1981. Purdy led the Cyclones to their first Big 12 Championship game appearance and was the Offensive Most Valuable Player in the Cyclones' Fiesta Bowl victory over Oregon.
The 2021 #CollegeFootballAmerica Yearbook is one step closer to release, and we have a cover selection — #CyclONEnation QB Brock Purdy. #Ames #ISU #Cyclones https://t.co/9oxPzbfx34 pic.twitter.com/IXvjQaLFFf

— Matthew Postins (@PostinsPostcard) June 17, 2021
READ MORE: Big 12 Basketball Transfer Tracker
READ MORE: Big 12 NBA Draft Tracker
Purdy eschewed the possibility of going to the NFL to return to Ames this fall to help the Cyclones try and finish the job of winning their first Big 12 championship. That played a big rule on the Yearbook staff choosing Purdy for the cover. The staff includes Heartland College Sports contributor Matthew Postins.
"Our College Football America Yearbook staff is working hard to complete our 2021 Yearbook this summer," Postins said. "Naturally, the 2020 season was challenging, and our staff was shooting photos for the Yearbook as late as the FCS national championship game in May. But the goal has always been the same — to provide as complete a picture of college football going into the next season.
"By putting Purdy on this year's cover, we're not only acknowledging his and the Cyclones' tremendous season in 2020, we are also looking ahead to 2021, where the Cyclones could be one of the best teams in the country."
The Yearbook should be complete and released in early July. It will be available for purchase online at sites like Amazon.com and BarnesandNoble.com. Last year's Yearbook featured former North Dakota State quarterback Trey Lance on the cover.
The 2021 College Football America Yearbook features more than 900 college football teams from the United States and Canada in more than 250 striking, full-color pages. That includes every team from the NCAA (FBS, FCS, Division II and Division III), NAIA, NJCAA, CCCAA and U Sports (Canada). It also includes dozens of action shots and stadium photos taken by the CFA staff.
You can find Matthew Postins on Twitter @PostinsPostcard.
**Want to win a $20 gift card?  Go sign up here and join our conversation! The best poster each week wins a gift card to your favorite establishment!**