Big 12 News
Report: Big 12 AD Bob Bowlsby Had Secretive Role in Playoff Proposal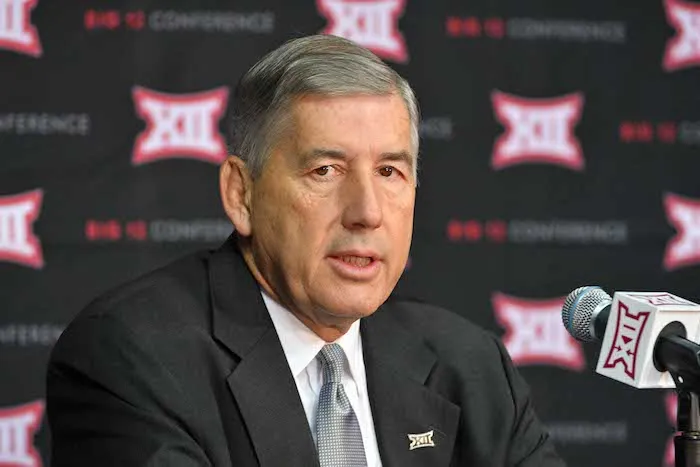 Big 12 Commissioner Bob Bowlsby played an outsized, and secretive role, in the potential expansion of the College Football Playoff, according to Sports Illustrated.
In an article published on Thursday, Ross Dellenger outlined the near-two year process that four men underwent, largely in secret, to determine the Playoff's new direction.
Bowlsby was one of them. He, along with SEC commissioner Greg Sankey, Notre Dame athletic director Jack Swarbrick and Mountain West commissioner Craig Thompson, undertook this 'secret mission,' which was actually about as clandestine as it sounds.
College Football Playoff president Bill Hancock asked the quartet to undertake the task. He also asked them to keep it to themselves. And, they did, for nearly two years.
Swarbrick told Dellenger that "People didn't even know what was going on. We all swore ourselves to secrecy."
READ MORE: Big 12 Basketball Transfer Tracker
READ MORE: Big 12 NBA Draft Tracker
Among the interesting nuggets in Dellenger's piece:
The quartet went through about 100 different formats, which included considering keeping the playoff at four teams and expanding it to as many as 24 teams. Bowlsby said that the group actually had a general consensus around the 12-team format before the COVID-19 pandemic began.
The only other people at the quartet's in-person meetings pre- and post-pandemic were Hancock and CFP chief financial officer Dave Marmion, and they kept all of the brackets and notes the group created, which ended up covering conference room walls at various points.
The quartet had an early goal of expanding access to the Group of 5 conferences, and not just by expanding the field. That's why the six highest-ranked conference champions would receive playoff berths in the proposed format, and not the Power 5 conference champions, along with the top Group of 5 conference champion.
Had they recommended a four-team playoff, they would have also recommended that the playoff field be set AFTER the major bowls were played.
The only time the quartet's work came close to being disclosed was when Swarbrick ran into a Notre Dame fan at Dallas-Fort Worth International Airport in April of this year and had to make up a story on the fly.
Ari Fleisher, the former press secretary to former President George W. Bush, advised the CFP on the rollout of the proposed expansion plan.
And, when the model was introduced last week to the CFP management committee, it was impromptu, so much so that Bowlsby, Sankey and Thompson were all in different places in the country preparing for a family wedding.
You can find Matthew Postins on Twitter @PostinsPostcard.
**Want to win a $20 gift card?  Go sign up here and join our conversation! The best poster each week wins a gift card to your favorite establishment!**