Big 12 News
The Top-Rated Big 12 Games of the 2020 College Football Season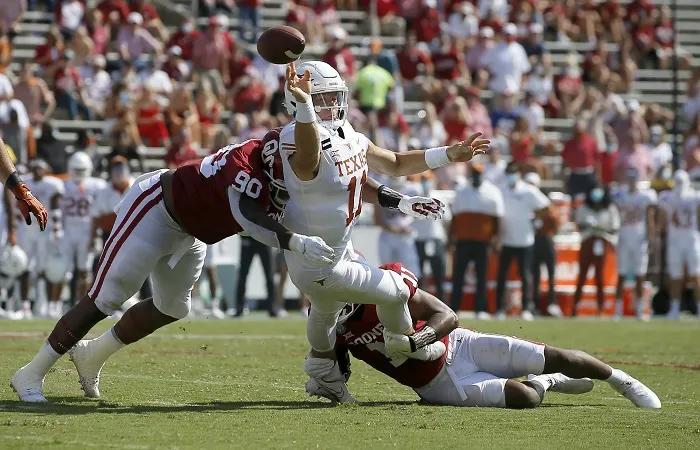 The 2020 college football season is a distant memory and the 2021 season is on the horizon, but getting a chance to look back at the prior season and see which games received the highest ratings can be telling to get a behind-the-scenes look at what decisions are made by TV networks. Plus, it gives some insight into what the future holds for the college football world.
There is a common theme with these games that you will notice: every single game, other than Iowa State vs. Oklahoma State, features Texas or Oklahoma, hence why we wrote recently the importance of the Big 12 keeping their two blue blood programs happy.
Highest-Rated Big 12 Football Games
Oklahoma vs. Texas: 4.81 million
Oklahoma vs. Oklahoma State: 4.10 million
Texas vs Oklahoma State: 4.04 million
Oklahoma vs Iowa State: 3.71 million
Texas vs Iowa State: 3.57 million
Big 12 Championship Game (Oklahoma vs. Iowa State): 2.99 million
Iowa State vs Oklahoma State: 2.81 million
Texas vs Texas Tech: 2.72 million
It's no shocker to anyone that OU and Texas drive most of the ratings in the conference, but to put this in perspective, Iowa State vs. TCU had 346,000 viewers. That's why every Big 12 fan not named Oklahoma and Texas should root for these two to get along. Without them, it's highly unlikely the rest of the Big 12 would be cashing nearly $40 million checks.
That's why for the 2021 season, we already have three games in primetime for the Big 12, and each of the three involves either Oklahoma or Texas.
For those of us diehard Big 12 football fans, we find a reason to watch every game that we can. But to get the casual fan involved, it often takes the blue blood to get them to flip on the game in an era when there is nonstop competition for content.