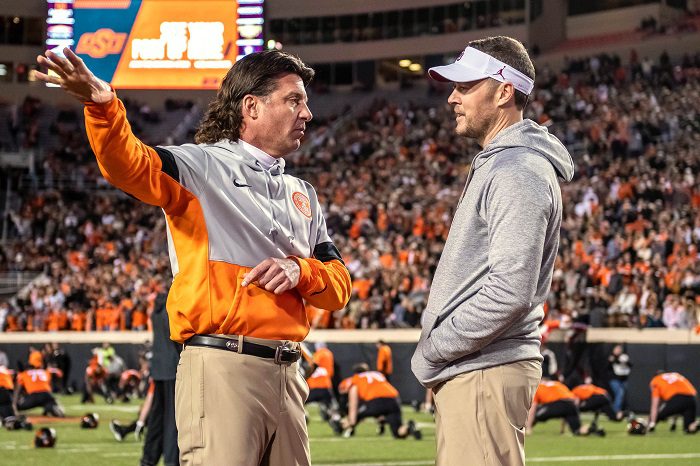 Welcome to the HCS Big 12 mailbag! This mailbag is for all you football junkies out there who root for a Big 12 school who not only have questions about your team, but other teams in the conference as well. So, join me, grab your favorite drink, and relax as I answer all your Big 12 questions. For those interested, I will send out a tweet (@Derekduke25) every Monday until last call (No, not 2 AM) at 8 PM CT for you to send in your questions to be answered every Tuesday right here at Heartland College Sports.  
I want to thank each one of you who submitted a question this week and for those reading, I am glad you could join me. I am doing this on late Monday evening and of course this mailbag wouldn't be nearly as fun without a beverage right next to me. Tonight's drink of choice? A Shiner Light Blonde. Cheers! 
The mailbag was pretty full this week so l will try to knock out as much I can in one article.  
@JjjjKaw asks: Will the 12-team playoff format (6 champs & 6 at large) increase or decrease the chances of 16 team super conferences in the future? 
Duke: Personally, I believe it would decrease the chance of a 16-team super conference because why would we need it? If six spots are guaranteed to conference champions, then wouldn't you want a smaller conference? Just about every conference outside of the Big 12 doesn't do a round robin schedule so if those big conferences add even more teams, then there will be matchups we don't see for long periods of time. That's already a problem and of course, there are one sided divisions right now. I just don't see the need for a super conference.  
@herdHater asks: Do you take Oklahoma or the field to win the Big 12 this year? 
Duke: Every year since I have had a preseason Big 12 ballot vote, I have done two things right off the bat. I put Kansas at number ten and Oklahoma at the very top. I have been doing that since 2016 and it has seemed to work out well for me the last five years so why change? Until someone knocks off the Sooners from their throne, I will continue to pick Oklahoma to win the Big 12.  
@Philo_Beddeaux asks: Since the Big 12 will never be able to match Big Ten money, should the Big 12 consider allowing Prop-48 athletes in an effort to entice Nebraska out of the Big Ten? 
Duke: I don't think the Big 12 is really actually looking at trying to convince the Huskers to move back to the Big 12. Now would I be for it? Sure, and let's throw in Colorado too while we are at it because I wouldn't mind a trip to Boulder every now and then. With that said, I am not really into allowing guys who don't qualify grade wise into college. That's what JUCO is for. It gives players time to get up to speed and catch up. There is no reason the Big 12 schools should lower their standards to let a few players in. I mean, it is still "college" football despite football being the reason players are there in the first place.  
@drakectoll asks: Which school has been the biggest surprise recruiting wise for 2022 and why is it Baylor? 
Duke: Well, Drake it seems like you already answered your own question here because my answer is Baylor. The Bears have had like four commitments over the last couple days and are currently ranked third in the Big 12 behind only Oklahoma and Texas. In fact, 247 Sports has Baylor ranked in the top 20 overall for the 2022 class. What Dave Aranda has been doing is impressive and I will be interested to see where this class finishes come December and February. Also, when is the show coming back Drake? Texas has been back like five times already since you left the airwaves.  
@bob66668047 asks: Does today's Supreme Court decision ultimately end in college player compensation contracts? 
Duke: I would say so Bob. While name/image/likeness will still be helpful for the players, yesterday was a big roadblock for the whole schools paying players argument. I have no idea where this thing is headed but without a doubt, I am sure players aren't happy with the ruling.  
@cfbbigxii asks: I think all games leading to CFP championship game should be played on campus. I'm torn but I think we should do away with bowls. Would be sad to not see a rose bowl game anymore but come on they aren't needed anymore, and campus games would be better. What say you? 
Duke: Call me old school but I am a sucker for college football traditions. It's part of the reason why I love this game and growing up, bowls games were a huge deal. You are talking about the playoff, and I agree, if the playoff expands then the first round should be a home game for the higher seeds. However, I do like the format of getting to play in these historic bowl games for the semifinals. To help balance that I am in favor of getting rid of neutral site games during the regular season. While yes, schools get paid money to do it, I feel like the local business and fans aren't a fan of it unless you live close by.  
@ColeConverseIA asks: With Justice Brett Kavanagh writing the SCOTUS concurring opinion in a 9-0 ruling that NCAA amateurism rules violate federal antitrust laws, what will the NCAA look like now? 
Duke: Cole, I am pulling a first here in the mailbag. I am going to call up the HCS legal expert himself, Matthew Postins. I am not sure if we pay Matthew by the hour here or what but when he answers this question, I am sure he has got his hair slicked back wearing a 1,000-dollar suit.  
Postins: I am, by no means, a legal expert. But I'll give it a shot.  
The unanimous ruling on Monday was a narrow decision. Justice Neil Gorsuch wrote the majority opinion. The decision no longer bars colleges from providing student-athletes with education-related benefits. To simplify it, if a recruit shows up at school and doesn't have a laptop, the school can now give him one.  
The concurrent opinion you're asking about, written by Justice Brett Cavanaugh, is much broader and really has nothing to do with Monday's decision in specific. But, down the line, it could mean something. Here's the relevant bit: 
"The NCAA and its member colleges maintain important traditions that have become part of the fabric of America … but those traditions alone cannot justify the NCAA's decision to build a massive money-raising enterprise on the backs of student athletes who are not fairly compensated. Nowhere else in America can businesses get away with agreeing not to pay their workers a fair market rate on the theory that their product is defined by not paying their workers a fair market rate. And under ordinary principles of antitrust law, it is not evident why college sports should be any different. The NCAA is not above the law." 
So, the question is, what will the NCAA look like now? 
In the short term, things won't change much because the kind of change we're talking about takes time. But in the long term, the NCAA is in big trouble. It gambled on the legal system bailing it out, and it doesn't look like it's inclined to help it out. NCAA President Mark Emmert said earlier this year he wanted rules related to Name, Image and Likeness (NIL) done by July 1. That's in 10 days. That's not happening. Meanwhile, states are passing the legislation and schools are jumping on the opportunity to help their student-athletes make money (because they know that what helps their athletes ultimately helps them, too).  
The NCAA has failed to meet the moment in every way. Instead of working with everyone to craft a system it can help manage and control, it's basically surrendered itself to fate.  
And fate isn't looking great. In five years, the NCAA will still be around, in my opinion. But it look dramatically different — and be far less powerful — than it is now. 
Now, back to Derek.  
@KyleGAdema asks: You can bring back any bowl for nostalgia reasons, which would it be? I'm thinking the Aloha Bowl on Christmas Day but could be enticed by the Bluebonnet Bowl. 
Duke: I don't remember the Aloha Bowl, but don't they already have the Hawaii Bowl on Christmas Eve? Isn't that the same thing? Also, I wasn't alive for the Bluebonnet Bowl, so I am not really sure about that one. If there is anything I remember that I thought was cool was the old Orange Bowl in Miami. Now they play at Hard Rock Stadium where the Dolphins play and every time, I see that stadium I just think of the old Orange Bowl games and back when Miami was dominant in college football. That felt like forever ago. Other than that, nothing really comes to mind. But hey, congrats on question of the week. This was a fun question to think about.  
Before I wrap up, I had a couple question regarding breakout players for each team. I am not ignoring you because I think it is a great idea to do a separate article on. So thank you guys for throwing the idea out and I will keep that one in my back pocket.