Big 12 News
Big 12 Basketball Recruiting Tracker: James Okonkwo Commits to WVU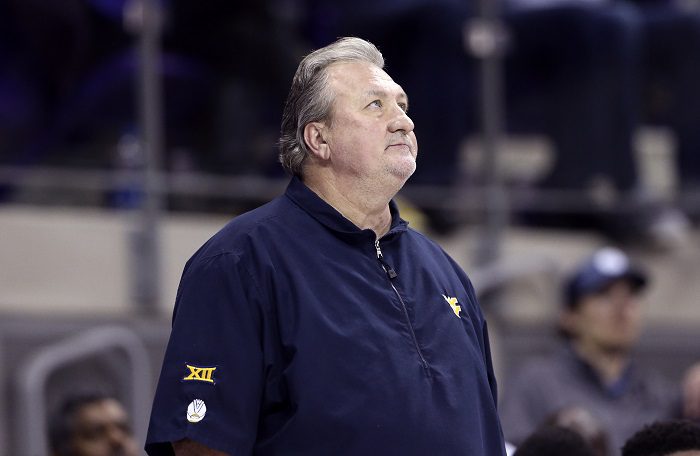 Big 12 Basketball Recruiting Tracker 2021: Check back often as we keep you up-to-date on Big 12 basketball recruiting news.
It's that time of year when high school basketball players will begin committing to their college basketball destinations. Here's the latest from around the Big 12.
June 24: Class of 2023 recruit James Okonkwo became the first player to commit to West Virginia's 2023 recruiting class, per a report from Mountaineer Maven.
Okonkwo, who is 6-foot-8, had offers from Rutgers and Montana State. His commitment is non-binding. The earliest he can sign with West Virginia for the 2023 Class is November of 2022. 
It's hard to say where Okonkwo would fit in two years down the line. But many of WVU's forwards have two or fewer years of eligibility remaining entering this season. 
June 22: Texas Tech reportedly made a couple of offers to players in the 2022 recruiting class — Dr. Phillips (FL) F Ernest Udeh Jr. and Dr. Phillips (FL) G Denzel Aberdeen.
Additionally, Kansas was one of a number of schools that offered 2023 Centennial (CA) G Jared McCain, per VerbalCommits.com.
June 16: Big 12 programs are starting make offers to players in the Classes of 2022, 2023 and 2024, with some of those offers coming in the last 24 hours. They include:
Oklahoma offered Sunrise Christian (KS) G Layden Blocker, a member of the 2023 recruiting class, per Blocker's Twitter feed;
Texas Tech made an offer to AZ Compass Prep (AZ) G/F Marquis Cook, who is part of the 2023 recruiting class, per VerbalCommits.com. Tech also offered Blue Valley (KS) F Aidan Shaw, part of the 2022 recruiting class, per Shaw's Twitter account; 
Kansas made a flurry of offers to 2023 West Linn (OR) G Jackson Shelstad (per his Twitter account), 2023 Bush (TX) F Tyler Smith (per Ani Umana of Roundball Roundup), and 2023 Kenwood Academy (IL) F Javonte Taylor (per Scott Burgess of @PrepHoopsIL);
Kansas State reportedly made two offers — 2024 (SSD) C John Bol (per Bol's Twitter feed) and 2023 Columbus Africentric (OH) G Dailyn Swain (per his Twitter feed);
And, Oklahoma State offered 2023 Camden (NJ) F Aaron Bradshaw (per Andrew Slater of Pro Insight Scouting). 
June 14: While everyone is playing in the transfer portal, TCU secured a commitment from a member of the 2022 recruiting class, as PJ Haggerty committed to the Horned Frogs, per Houston Superstars. 
The 6-foot-3 guard from Crosby, Texas, is the first commitment to the Horned Frogs for the 2022 recruiting cycle. The commitment is non-binding, and Haggerty cannot sign a letter-of-intent until the early signing period in November. 
The website 247Sports.com has Haggerty as a Top 150 recruit nationally, ranked No. 15 in the state of Texas. Arizona, Arizona State, Auburn and DePaul were among the schools that were pursuing him. 
TCU has worked this entire offseason to replenish its roster for the 2021-22 season as most of the program's players have submitted their names to the transfer portal. One former Horned Frog, Dylan Arnette, announced his transfer to Division II Western New Mexico on Monday. 
May 31: Several prep players announced they had received offers from Big 12 schools, highlighted by the Kansas Jayhawks offering IMG Academy guard A.J. Storr. 
Storr has offers from several other high-major programs, including Illinois and Arizona State. Storr is part of the 2022 recruiting class and cannot sign a letter-of-intent until November. He played last season at Chandler Prep in Chandler, Arizona. 
The Kansas City Star also reported that Kansas was preparing to host another 2022 offer, forward Zuby Ejiofor, who is considered a Top 60 player out of Garland, Texas. 
Other offers or commitments in the past few days include:
Gavin Perryman, a Dallas Jesuit product who averaged nearly 20 points per game last season, committed to playing for Texas next season. 
Dillon Mitchell, A 6-8, 180-pound wing from Spring Hill (Florida) Bishop McLaughlin Catholic, received an offer from Oklahoma. He's considered a rising three-star player in the 2022 Class. 
Quadir Copeland, a 6-foot-6 guard from Life Center Academy in New Jersey, received an offer from Oklahoma State (h/t Ari Rosenfeld of Elite High School Scouting). He's a Top 200 recruit in the 2022 Class. 
TCU dipped into the 2023 recruiting class and made an offer to Cathedral (IN) forward Xavier Brooks. Baylor is also interested in the 6-11 forward. 
May 26: The Oklahoma Sooners announced the signing of forward Akol Mawien, who finished the 2021 recruiting cycle as the No. 4 junior college recruit in the country. 
Mawien, who played the past two seasons for Navarro College in Corsicana, Texas, comes to the Sooners after averaging 12.5 points, 5.2 rebounds and 1.0 assists per game last season for the Bulldogs. The 6-foot-10 forward comes to a Sooners team that needs help inside, and the power forward should give that to them and first-year head coach Porter Moser. 
Mawien joins four transfers in Ethan Chargois (forward from SMU), Jordan Goldwire (guard from Duke), and Tanner and Jacob Groves (forwards from Eastern Washington).
May 26: Kansas signee Sydney Curry announced on Wednesday that he was re-opening his recruitment and disengaging from his commitment to the Jayhawks. 
Curry, who played for John A. Logan Community College last season, was one of the earliest commitments to the Jayhawks' 2021 recruiting class. Without Curry, the Jayhawks still have the No. 8 class in the country, per 247Sports.com. The Jayhawks also have a robust transfer class led by former Iowa State guard Jalen Coleman-Lands. 
May 5: 247Sports Finalizes its 2021 Top 100: The Big 12 had incoming freshman in the 2021 recruiting class ranked in 247Sports.com's Final Top 100 of this recruiting cycle.
The Top Big 12 signee is forward Kendall Brown out of Sunrise Christian in Wichita, Kansas. He'll join the defending national champion Bears this fall.
The rest of the incoming Big 12 players in the Top 100 include:
Forward Jaylon Tyson out of Pope John Paul II High School in Plano, Texas (No. 32, Texas);
Guard Langston Love of Montverde (FL) Academy (No. 34, Baylor);
Guard Tyrese Hunter of St. Catherine's in Racine, Wisconsin (No. 36, Iowa State);
Forward Jeremy Sochan of Orange Academy in Germany (No. 46, Baylor);
Forward Zach Clemence of Sunrise Christian in Wichita, Kansas (No. 66, Kansas);
Forward KJ Adams of Westlake High School in Austin, Texas (No. 78, Kansas);
Guard CJ Noland of Waxahachie, Texas (No. 86, Oklahoma);
Guard Bobby Pettiford of Durham, N.C. (No. 87, Kansas);
May 4: Texas working on 2023 Class: Texas head coach Chris Beard and his staff are already working on the Longhorns' 2023 recruiting class, and Stockrisers.com reported on Tuesday that the Longhorns made an offer to 5-star forward Tyler Smith.
The 6-foot-9 forward from Fort Bend Bush High School in Richmond, Texas, is the No. 15 recruit in the 2023 class, according to 247Sports.com. Smith already has seven scholarship offers, including from Texas' Big 12 rival, Baylor.
---
April 21: OSU offers 2023 guard Wesley Yates III: The Oklahoma State Cowboys continue to work on their 2023 recruiting class, as guard Wesley Yates III tweeted on Wednesday that he had received an offer from the Cowboys.
Yates, a 6-foot-4 guard from Beaumont United High School in Beaumont, Texas, doesn't yet have a recruiting rating at 247Sports.com. But the Cowboys aren't the only high major program that has offered him a scholarship. Big 12 rival TCU, along with Big Ten champion Illinois, have extended the rising junior an offer.
Also on the offer list, per 247sports.com, is IUPUI, Lamar, and Tulsa.
---
April 20 – Iowa State lands Eli King: First-year head coach T.J. Otzelberger kept working to put together his 2022 recruiting class, securing a commitment from a Top 100 player in Eli King.
King, a 6-foot-3 guard who is No. 73 in the nation according to 247Sports.com's recruiting rankings, told the outlet that he was committing to Iowa State.
King is a four-star player out of Caledonia, Minnesota. He, along with Ames, Iowa, guard Tamin Lipsey, give the Cyclones, for now, the No. 4 recruiting class in the 2022 cycle, per 247Sports.com.
---
April 20: Texas Tech offers Bryson Warren: Texas Tech is moving forward to start securing recruits for its 2023 Class, as the Red Raiders reportedly offered a scholarship to guard Bryson Warren.
Warren is a 6-foot-2 guard out of North Little Rock, Arkansas, and Tech is not the only high-major school in pursuit of the future high school junior. As reported by 247Sports.com's Travis Barnham in November, Warren has offers from, among others, Arkansas, Auburn, Georgetown, Oklahoma State, Seton Hall and Vanderbilt.
Warren is the nation's No. 32 recruit in that class per 247Sports.com.
---
April 19: Texas in pursuit of nation's No. 2 recruit: Texas head coach Chris Beard is wasting no time working on the program's 2023 class, as he's reportedly offered a scholarship to Kwame Evans Jr.
Russ Wood of Rivals.com reported the offer, and his info came from Dwayne Wise, the Team Durant Director of Recruiting (yes, THAT Durant, as in former Longhorns forward Kevin Durant).
The 6-foot-8, 185-pound forward from Baltimore, Maryland, is not only the No. 2 overall recruit at Rivals.com, but also the No. 5 overall recruit at 247Sports.com. Both consider him a five-star recruit.
The offers are already pouring in for Evans, who has offers from Big 12 rival Kansas, along with Auburn, DePaul, George Washington, Georgetown, Maryland, Virginia Tech, Xavier, and Kentucky.
---
April 19: Jayhawks make two offers: Kansas made offers to a pair of recruits on Monday, as Tarris Reed Jr. and Marquis Cook announced the offers via their Twitter accounts.
Reed is the more immediate offer, as he is part of the Class of 2022.
Reed, a 6-foot-10 power forward from Chaminade High School in St. Louis, Missouri, is a four-star player ranked in the Top 100 in the nation by 247Sports.
Kansas isn't the only school in pursuit. Reed has 14 offers, with 247Sports.com gauging Michigan State as the warmest offers Reed has. Kansas' Big 12 rival, Kansas State, has also made an offer.
Cook, 6-foot-5, is a Class of 2023 player out of Jefferson, Oregon. Rivals.com ranks him as the No. 7 overall player in the 2023 class, which means Kansas will have plenty of competition to bring him to Lawrence, especially with Pac-12 schools. Rivals notes that Arizona has offered Cook and that former NBA guard — and Arizona product — Jason Terry is leading his recruitment.
April 16: Bobby Pettiford Signing Official At KU: The Kansas Jayhawks continue to get their 2021 recruiting class signed, as 6-foot-1 guard Bobby Pettiford signed his letter-of-intent with the Jayhawks.
Pettiford is a two-time all-state selection in North Carolina and played for South Granville High School, where he averaged 19.8 points, 6.4 assists, 4.7 rebounds and 2.3 steals per game this season. Pettiford originally signed with Louisville in November, but rescinded his NLI with the Cardinals and re-opened his recruitment in March. He committed to the Jayhawks earlier this spring.
Kansas now has a seven-player class for 2021-22, with a mix of incoming freshmen and transfers. Pettiford, KJ Adams, Kyle Cuffe Jr., and Zach Clemence are the incoming freshmen. Cam Martin, Sydney Curry, and Joseph Yesufu, and are coming to the program as transfers. The Jayhawks lost five players to the transfer portal. In addition, junior Ochai Agbaji has declared for the NBA Draft, but has retained his eligibility so he could return.
---
April 16 – Tech secures commitment from Ethan Duncan: The Texas Tech Red Raiders appear to have the commitment of 6-foot Lubbock Trinity Christian guard Ethan Duncan, who announced his commitment on Instagram.
 

 

View this post on Instagram

 
Duncan is considered a shooting guard, but is not ranked per Rivals.com.
Of course, the Duncan name is familiar to Tech fans. Ethan's father, Todd, played two years for the Red Raiders and remains the program's leading 3-point shooter by percentage. Lubbock Avalanche-Journal columnist Alexis Cubit did a great piece on the father and son in December.
Ethan Duncan became the second Lubbock Trinity Christian player to score 2,000 points in his career earlier this season. He is now the program's all-time leading scorer.
The commitment is non-binding until Duncan signs his letter-of-intent.
---
April 16 – OSU Makes Offer to Class of 2023 Guard: Yes, the offers happen that early these days. Ja'Kobe Walter, a 6-foot-5 guard from McKinney High School in McKinney, Texas, posted to Twitter that he had received an offer from Oklahoma State head coach Mike Boynton Jr.
Walter will be a junior next year and 247Sports.com already ranks him as a four-star player and the No. 16 recruit in the 2023 national class. He's also the No. 1 rated recruit in Texas for 2023.
But the Cowboys aren't the only program that has made him an offer. Walter has offers from Alabama, Baylor, Memphis, Oklahoma, SMU, TCU, and Texas A&M.
---
April 15 – Cuffe, Yesufu sign with Kansas: The Jayhawks had two more players sign with the program, including guard Kyle Cuffe Jr., who committed to the Jayhawks in December of 2020.
Cuffe, a 6-foot-2 guard, reclassified for the 2021 recruiting class and is from Toms River, New Jersey.
Cuffe played at Blair Academy, but COVID-19 protocols limited him to just two games last season, where he averaged 25.0 points per game. In 2019-20, his junior year, he averaged 16.0 points, 5.0 rebounds, 3.0 assists and 2.0 steals per game.
Former Drake guard Joseph Yesufu also signed with the Jayhawks. The 6-footer averaged 12.8 points per game last season for the Bulldogs.
---
April 15 – Allen officially signs with Texas Tech: KJ Allen of East Los Angeles Community College officially signed with Texas Tech, making him the first signee of the Mark Adams era.
The 6-foot-6 forward comes to Tech with three years of eligibility left. Allen averaged 18.5 points, 9.3 rebounds, 1.8 assists and 1.8 steals per game as a freshman for ELACC, which was featured in the Netflix show 'Last Chance U – Basketball.' Allen was originally committed to USC before changing his commitment to Texas Tech. Allen is ranked as the No. 10 juco recruit in the country.
---
April 14 – Alston Mason signs with Oklahoma: Overland Park, Kansas, guard Alston Mason became the first prep player to sign for new Oklahoma head coach Porter Moser on Wednesday.
Mason, a product of Blue Valley Northwest High School, is a three-start recruit, according to 247Sports.com. As a senior, Alston averaged averaged 22.4 points, 4.7 assists and 2.0 steals while shooting 44 percent from 3-point range.
This isn't the first time Moser has pulled a player from this high school. Loyola-Chicago products Ben Richardson and Clayton Custer went to Blue Valley Northwest.
Moser inherited two players left over from former head coach Lon Kruger's 2021 recruiting class — guards Bijan Cortes and CJ Noland.
---
April 14 – Cyclones Nab 2022 Commitment from Ames native: Tamin Lipsey, a 6-foot-1 guard from Ames High School, announced on Wednesday that he was committed to the Cyclones for its 2022 recruiting class.
This is a significant get for Cyclones head coach T.J. Otzelberger, who has been on the job for less than a month. Per 247Sports.com, Lipsey was the No. 1 recruit in the state of Iowa and the nation's No. 24-ranked point guard.
For the most part, Otzelberger has spent his first month trying to stock his roster with transfers, thanks to seven different Iowa State players submitting their names to the transfer portal.
Right now, Iowa State has just one prep player signed for the 2021 Class, which is Racine, Wisconsin guard Tyrese Hunter, a national Top 40 player. He re-affirmed his commitment to Iowa State last week.
---
April 14 – Sydney Curry Signs with Jayhawks: Sydney Curry, a 6-foot-8 forward from John A. Logan College in Carterville, Illinois, signed his national letter-of-intent with Kansas on Wednesday, fulfilling the commitment he made to the Jayhawks in November.
Curry averaged 13.1 points and 8.2 rebounds per game on 68.8 percent shooting, and is the third prep or juco player to sign with the Jayhawks in the 2021 recruiting cycle. Forward KJ Adams (Westlake HS, Austin, Texas) and F Zach Clemence (Sunrise Christian, Wichita Kansas), signed with the Jayhawks during the early signing period.
Curry is 247Sports.com's No. 8 juco recruit, while Adams and Clemence are rated in the nation's Top 75.
Per 247Sports.com, the Jayhawks have one other prep commitment — Bobby Pettiford of Creedmoor, North Carolina, who is a Top 90 player nationally. But his signing was not announced on Wednesday.
---
April 14 – Edwards Signs with Kansas State: Maximus Edwards officially signed with Kansas State on Wednesday, the first day prep recruits could officially sign during the traditional signing period.
Edwards, a 6-foot-5 forward from Our Saviour Lutheran School (OSL) in the Bronx, New York, comes to K-State averaging 19.9 points per game last season.
Edwards is the second prep player to sign with the Wildcats for the 2021 Class. Logan Landers, a 6-foot-10 forward out of Cedarburg, Wisconsin, signed with the Wildcats during the early signing period in November.
Head coach Bruce Weber has been hard at work trying to fill the remaining holes on his roster with transfers. As of April 14, Little Rock guard Markquis Nowell and Missouri guard Mark Smith had signed with the Wildcats for next season.
---
April 14 – Doumbia signs with TCU: Souleymane Doumbia officially signed a national letter-of-intent with TCU on Wednesday, as he transfers from Navarro College in Corsicana, Texas, to join the Horned Frogs next season.
Doumbia, a 6-foot-11 forward, played just one season for Navarro, averaging 10.4 points and 6.9 rebounds per game during his freshman season. He would have three years of eligibility left at TCU.
One of his best games of last season was a 32-point, 12-rebound performance against Lee College.
At one time this season 247Sports.com ranked Doumbia as its No. 1 junior college recruit. On signing day, he was No. 2.
"We're very fortunate to have a player of Souley's ability," said TCU head coach Jamie Dixon in a release. "He has a great deal of energy and a high motor. Souley is a prototypical big for today's game with his versatility and the way he can run the floor. He'll be an impactful player from day one."
The Horned Frogs need the energy inside, as Kevin Samuel is their only solid inside player set to return.
---
April 14 – Tyson Officially Signs with Texas: Jaylon Tyson signed with the Texas Longhorns on Wednesday, making official what he had announced via Twitter a few days prior.
Tyson, a 6-foot-6 forward from Pope John Paul II High School in Plano, Texas, had committed to Texas Tech. But, when former Red Raiders head coach Chris Beard bolted for Texas, Tyson soon changed his commitment to the Longhorns.
Tyson is a Top 40 national recruit according to 247Sports.com.
Tyson is the first Longhorns prep commitment since Beard took over the program a couple of weeks ago. But he's not the only talent he's brought to Texas.
Yesterday, Utah guard Timmy Allen announced that he would transfer to the Longhorns. Beard has also lured Kentucky transfer guard Devin Askew to the program in the last week.
Also, last year's leading scorer for Texas, Andrew Jones, announced he would return for another season at Texas. Plus, senior Jase Febres announced that he would use his additional year of eligibility and return to the Longhorns.
April 14 is the first day that prep recruits can officially sign national letters-of-intent. The deadline to sign for the 2021-22 school year is Aug. 1.