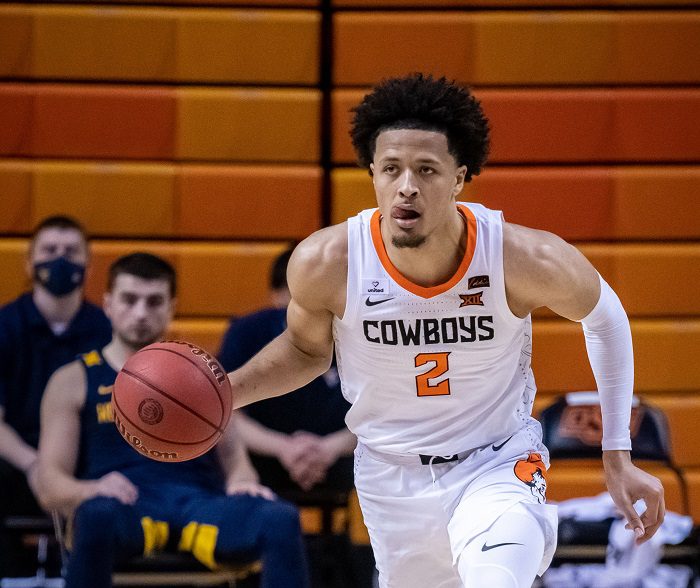 After Tuesday night's NBA Draft lottery saw the Detroit Pistons win the coveted first overall selection, I saw a lot of the same reactions across the Twittersphere. It was mostly Oklahoma State and NBA fans collectively feeling sorry for Cade Cunningham, who ended up with possibly the worst situation that could have happened to him.
Detroit had the second-best odds of obtaining the No. 1 pick behind the Houston Rockets, and ahead of teams such as the Orlando Magic, Cleveland Cavaliers, Oklahoma City Thunder and Minnesota Timberwolves, all of which would have made a better fit for Cunningham.
They ultimately did end up jumping Houston for first, effectively making Cunningham a Piston in the eyes of the league, the fans and even Cade himself, who after the lottery results told Detroit he would only schedule a pre-draft meeting with them.
All of this is upsetting to me because one; I'm a Thunder fan who really wanted Cunningham, and two; should Detroit make the obvious choice of drafting the former Oklahoma State star, he would end up with one of the more poorly run organizations in the entire NBA.
The Pistons are not typically known for their development of their draft picks. The way they are viewed around the basketball world is the organization where careers go to die. In fact, Detroit's last ten first-round picks never averaged more than 15 points per game while with the team.
| | | |
| --- | --- | --- |
| Year Drafted | Player | PPG w/Detroit |
| 2020 | Killian Hayes | 6.8 |
| 2019 | Sekou Doumbouya | 5.6 |
| 2017 | Luke Kennard | 9.8 |
| 2016 | Henry Ellenson | 3.8 |
| 2015 | Stanley Johnson | 7.1 |
| 2013 | Kentavious Caldwell-Pope | 11.7 |
| 2012 | Andre Drummond | 14.4 |
| 2011 | Brandon Knight | 13.0 |
| 2010 | Greg Monroe | 14.3 |
| 2009 | Austin Daye | 5.8 |
As you can see, not a single Pistons' first-round draft pick from the last ten drafts went on to achieve elite, star-player level status in the league while with the team. Most of these guys are/were solid second options at best and benchwarmers at worst. 
Sure, you could argue that Andre Drummond was Detroit's star player for a couple years, but is that really a sign of a well put-together roster if your best player averages 14.4 points per game? It's also not like all of these players were late round unknowns who weren't proven yet. Eight out of the ten names listed above were taken in the top 15, with six of those taken in the top 10, meaning that they were heavily sought after prospects. Alas, they ended up in Detroit where they either saw their careers fade into obscurity or they were dealt to another team shortly after.
I fear that if and when the Detroit Pistons draft Cade Cunningham on July 29, he could join the list of Detroit draftees that didn't pan out due to the organization's poor management of its players, ultimately stamping Cade with the dreaded "bust" label.
The reactions of those on social media after the lottery results were announced echo my exact thoughts, with most everyone outside of Detroit agreeing that Cunningham drew the short straw.
Who knows, maybe I'll look back on this article in five or so years with egg on my face after Cunningham lights up the league like he lit up college basketball. Time will only tell, but I will remain cautiously optimistic.