Oklahoma Sooners
Phil Steele Predicts Oklahoma Sooners to Win National Championship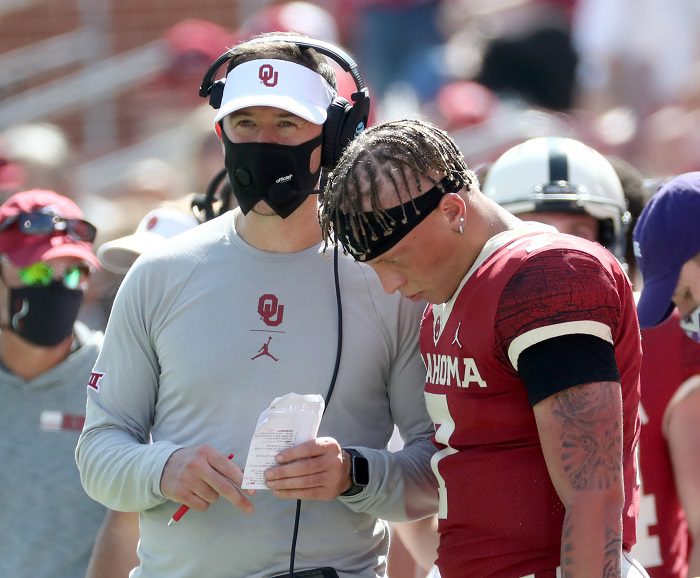 It's been an offseason of hype around the Oklahoma Sooners. Sure, that might be par for the course, but it feels like things have been taken to the next level this year thanks to a defense that can finally hold its own after years of being carried by the offense.
And one of the most-respected college football voices, Phil Steele, is predicting the Oklahoma Sooners to win the 2022 National Championship.
In his preseason magazine (which you can buy here), Steele predicts:
While the 4 playoff teams all lost a lot of star players to the NFL Draft including their QB, Oklahoma actually lost just 4 DC's and return their star QB in Spencer Rattler. You know the Sooners will have an explosive offense under Lincoln Riley (especially with a veteran QB). They also have the best defense that Riley has fielded in his five years with all three units ranking in my Top 10. The schedule is very manageable with the toughest tests away from home being Texas and Oklahoma State. I know Riley is 0-3 in the playoffs but this time he has a complete team and finally breaks through, giving Oklahoma their first national title since 2000.
The Sooners have dominated the Big 12, winning six-straight conference championships, but have yet to win a game in the College Football Playoff. Steele makes a strong case for the Sooners to take the next step this season, but that also means the pressure has never been greater on Lincoln Riley to make that happen.
Oh, and some other teams in the Big 12, like the Iowa State Cyclones, might have something to say about all of this.