Big 12 News
A Busy Week Wraps Up for Former, Future Kansas State Athletes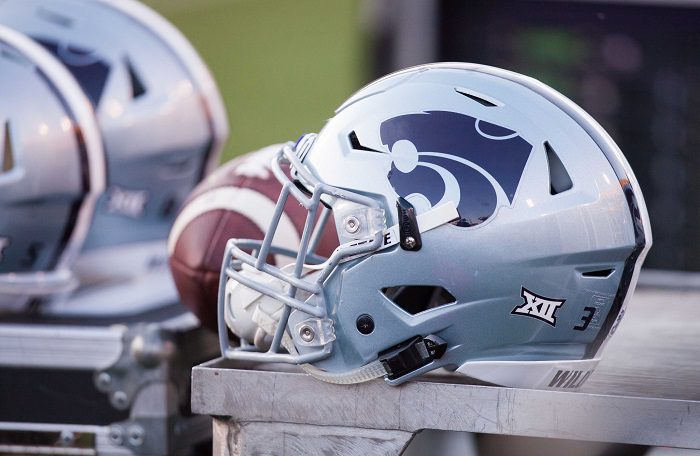 Summertime is usually a quiet time for K-State sports, but there were quite a few K-Staters in the news last week. Here's a lookback at an usually busy week for several Wildcats.
The 2012 Wildcat football team
Chris Harper made waves on Twitter last week when he said that he thinks the 2012 Wildcat football team would have won the national title had K-State beaten Baylor in the second to last regular-season game of that season. I am not so sure that I agree with him. First of all, it is kind of a moot point since not only did K-State lose to Baylor, they lost by four touchdowns, 52-24. It is not as if the game was close or had a controversial finish or anything like that. It was a whooping, plain and simple.
Just for the sake of argument, let's say K-State had won that game and ended up playing Notre Dame for the national championship. I do not think it would have been an easy game by any means. Granted, Notre Dame won some close games that season, needing overtime to beat Pitt and Stanford, but they beat four ranked teams, and two of them were in the top 10. There was only one common opponent between K-State and Notre Dame: Oklahoma. K-State beat OU 24-19, and Notre Dame beat them a month later 30-13. Notre Dame handled Oklahoma a lot easier than K-State did.
Also, K-State had a chance to redeem themselves in the Fiesta Bowl against number four Oregon but lost 35-17 in another game that was never close. It is a stretch to say the 2012 Wildcats would have won the national championship had they beaten Baylor, which they did not come close to doing anyway. They were further away from winning the title than we want to remember. I loved that team, but I am just trying to keep it real.
K-State football recruit shines in Kansas Shrine Bowl
Gaven Haselhorst, a three-star defensive line recruit from Hays and a K-State commit, had three sacks and five tackles for the West in their 14-0 victory over the East in the Kansas Shrine Bowl. According to Troy Black, the West team's defensive coordinator (via the Wichita Eagle)…"OK, that dude is just a freak athlete. He's a different cat. He's got a motor and he's super explosive." That's high praise for Haselhorst.
I watched a few highlights from the game and it looks like this kid can play. The plan is for him to transition to play linebacker at K-State. It should be fun watching him in a Wildcat uniform.
K-State basketball alumni are back in The Basketball Tournament
This year's winner-take-all tournament for a million dollars consists of 64 teams and will once again include the Purple & Black, a team of mostly K-State basketball alumni, and some others. The Purple & Black is 3-4 all-time in this tournament. Alumni-of-note playing this year include Curtis Kelly, Cartier Diarra, DJ Johnson, Justin Edwards, Kamau Stokes, Thomas Gipson, and Martavious Irving.
The Purple & Black are seeded number seven and will play the 10 seed Omaha Blue Crew (Creighton alumni) in the Wichita region on July 16 at 3:00 PM central time. These games are usually fun to watch. This year's team once again includes two of my favorite Wildcat basketball alums, Curtis Kelly and Thomas Gipson. The team is coached by another K-State basketball alum, Jordan Henriquez-Roberts. Here is hoping they can advance a little bit further this year than they have in the past.
K-State hammer thrower finishes fourth at Olympic trials
Lawson, Missouri native and K-State senior Janee' Kassanavoid finished in fourth place competing in the hammer throw finals at the Olympic trials on Saturday. Unfortunately, only the top three finishers qualify for the Olympics. Kassanavoid threw 73.45 meters. Third place finisher Gwendolyn Berry threw 73.50 meters to qualify just ahead of Kassanavoid. .05 meters equates to just under two inches.
The hammer throw medal ceremony caused quite a bit of controversy, as Berry turned her back on the national anthem in protest. Had Kassanavoid threw the hammer two inches further, or Berry two inches shorter, she would have finished in third place and qualified for the Olympics, and the national anthem protest would likely have never been a story. Sports is a game of inches in so many ways. In this case, the phrase is literally what happened and it is what kept Kassanavoid out of the Olympics. Congratulations to Janee' on her fourth-place finish and representing K-State in fine fashion.
Selton Miguel playing for Angola in the Olympic qualifying tournament
Sophomore basketball player Selton Miguel is competing for his home country of Angola in the Olympic qualifying tournament in Lithuania starting on June 29th. The thing that always sticks in my mind about Angola is that Angola is the first team that The Dream Team played against in the 1992 Olympics. I believe Marv Albert said before tipoff that the game was possibly the biggest mismatch of the Olympics. Alas, The U.S. won 116–48. This version of the Angolan national team is quite a bit better than the 1992 version and even has an NBA player on the roster in Bruno Fernando of the Atlanta Hawks, who will not be playing in this tournament because the Hawks are in the NBA finals. Angola is looking to return to the Olympics for the first time since 2008. Best of luck to Selton Miguel and Angola.