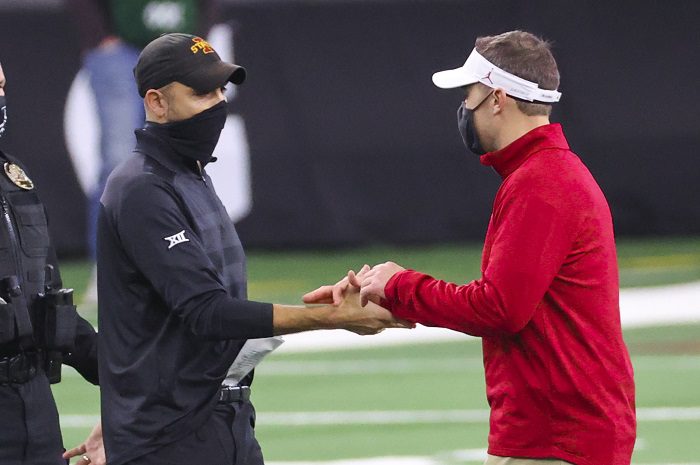 In case you don't know, I do a weekly Big 12 football mailbag right here at Heartland College Sports. Each week, I take Twitter questions and do my best to answer them. This week, I got an interesting question from an Iowa State fan asking if he should go to Waco or Morgantown for a game.  
That question got me to thinking, why not go to all the Big 12 venues? It sounds a lot easier said than done due to the travel cost but we can always use our imagination or thinking fuel otherwise known as alcohol in my book. So here we are, we have ten Big 12 teams and ten stadiums to travel to. The only rule I gave myself is that I can only go to each football stadium once. 
September 11th: Iowa at Iowa State
How about a little Cy-Hawk to kick off the road trip? One of the best rivalries in all of college football is in the state of Iowa in this matchup should be a good one. Hopefully, the result is an Iowa State win finally. Also, I would imagine that Busch Light would flood the tailgates in the parking lot.  
September 18th: Baylor at Kansas
While I don't look forward to watching Kansas football, I must go to Lawrence some time. So why not do it when conference play kicks off? This is the first Big 12 game of the season so I thought it would be wise to get this trip over quickly.  
September 25th: Texas Tech at Texas
I am going to head down to Austin to eat some BBQ and watch Steve Sarkisian coach his first Big 12 game. This new look Texas team will be tested early with Texas Tech and their new quarterback in Tyler Shough. It will be interesting to see how both teams look here and this game always seems close no matter the record.  
October 2nd: Oklahoma at Kansas State
Can the Wildcats pull off another stunner against the Sooners? Kansas State has beaten Oklahoma two years in a row and will look to make it three in a row in the first weekend of October. The Little Apple will be buzzing for this one and so would I.  
October 9th: TCU at Texas Tech
Not only does the Sonny Cumbie factor make this game interesting, but this game comes at an interesting time for Texas Tech. This will be the Red Raiders third conference game of the year after playing in Austin and Morgantown. So if Tech goes 0-2 to start the Big 12 slate, this be a key game in deciding where this season goes for them. As for TCU, this should be a nice road test to see where they stand as well. Plus, I can get some Eva Mae's BBQ nearby, which is delicious if you haven't had it before.  
October 16th: BYU at Baylor
What is this? A non-conference games near the middle of the season? What conference are we in? The SEC? I am kidding because the SEC wouldn't schedule any non-conference games midseason unless it was some bad FCS team. With that said, this game interests me and should be a fun one on the Brazos and go check out the SicEm365 tailgate.  
October 30th: Iowa State at West Virginia
Halloween weekend in Morgantown should be a fun one. Iowa State comes to town and I am sure this place will be rocking when the Cyclones arrive. Morgantown is a tough place to play but I sure, hope this is a night game because it just adds to the importance of this matchup. Can someone pass me a pepperoni roll and a little shine? 
November 6th: Baylor at TCU
Not a bad way to kick off the month of November with a little old fashioned hate between these two schools. These two campuses are about 85 miles apart but the hate stretches much further than that. There have been some classic games played between these two programs over the last decade and I am hoping for another good one in Fort Worth this year. After the game, I would highly recommend checking out Heim BBQ.
November 20th: Iowa State at Oklahoma
This may be the conference matchup of the year in the Big 12. These two teams will be the heavy favorites to get to Arlington two weeks from this date, but this matchup could play a huge factor, not only for conference rights, but creating a clear path to the College Football Playoff. I have no clue where College Game Day will be but they should book Norman, Oklahoma right now on this date.  
November 27th: Oklahoma at Oklahoma State
Oklahoma should be right at the top of the Big 12 title race and I will be interested to see where this Oklahoma State team is at. This one could also play a factor in terms of a Big 12 title spot if the Sooners fall to Iowa State the week prior, depending on where the Cowboys stand at this point. I mean come on, Bedlam? I am not missing out on that and this will be a great way to end my regular season road trip.  
December 4th: Big 12 Championship Game
I had to throw this bonus trip in. All roads lead to this one game right here in the first Saturday in December. A conference title is on the line and so will playoff hopes. There is a ton at stake so this is a can't-miss game for college football fans and afterwards, you cap the night off at Texas Live for drinks.