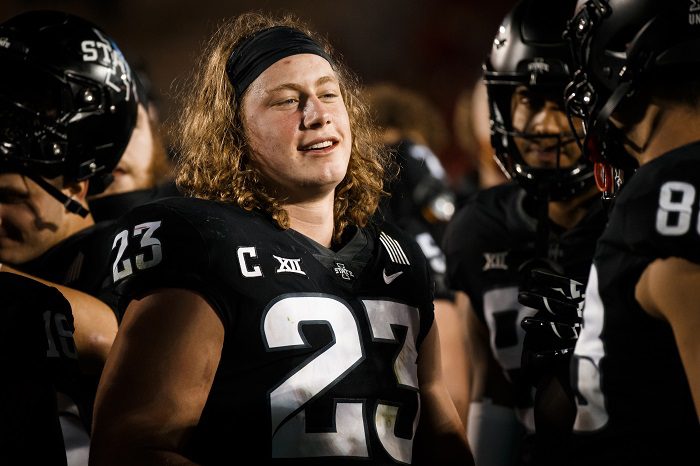 The hype has never been greater in Ames, Iowa. The Iowa State football program reached unprecedented heights last season making the Big 12 Championship Game. Head coach Matt Campbell signed another extension, turned down at least one NFL offer and brings back the bulk of his 2020 team for another run this season. But like every team, there are questions, and there needs to be a few breaks along the way to get to where they want to go. We've already looked at the Iowa State offense heading into 2021. Here are the three defining things for the Iowa State defense.
1. Who Steps Up on the Defensive Line?
This may be the biggest question mark on the entire team heading into 2021, especially given its been a strong suit for most of Matt Campbell's tenure. JaQuan Bailey left for the NFL. Will McDonald is expected to replace Bailey, and he already has the single-season sack record at Iowa State, but he has yet to start a game. Plus, without JaQuan Bailey, can he handle the double teams and still put up big numbers? Meantime, Enyi Uwazurike is a three-year starter who has been an Honorable Mention All-Big 12 selection, and should get more press this fall.
The defensive tackle slot is even more unknown with Josh Bailey and Latrell Bankston transferring. Isaiah Lee saw action in 10 games last season, while the staff is high on redshirt freshman J.R. Singleton. This will be the spot to watch and will determine how effective Jon Heacock's defense will be this fall.
2. Filling One Cornerback Spot
We know Anthony Johnson has one of the corner spots locked down. In fact, he may end the season as the best cornerback in the Big 12. It's the other spot that is up in the air. Datrone Young and Tayvonn Kyle will battle it out, with Young the favorite as his playing time increased as the 2020 season went along, while Kyle's decreased. Whoever is the leader at the moment won't inspire an enormous amount of confidence and with Johnson on the other side, there will be a lot of action coming towards whoever gets this starting job. Keep an eye on Jaquan Amos and Michal Antoine, who also might get looks at the position.
3. Keep the Linebackers Healthy
There isn't anything negative to say about this linebackers at Iowa State. In fact, it's one of the best starting units in college football, led by Big 12 Defensive Player of the Year Mike Rose and veterans O'Rien Vance and Jake Hummel next to him. The back ups are Dae'Shawn Davis, Gerry Vaughn and Aric Horne, who all got experience last season, but if the defensive line proves to be a work in progress, especially early in the season, if Iowa State loses one of its starters, it's not clear how big the gap would be to one of the back ups.