Kansas Jayhawks
Three Things That Will Define the Kansas Jayhawks Defense in 2021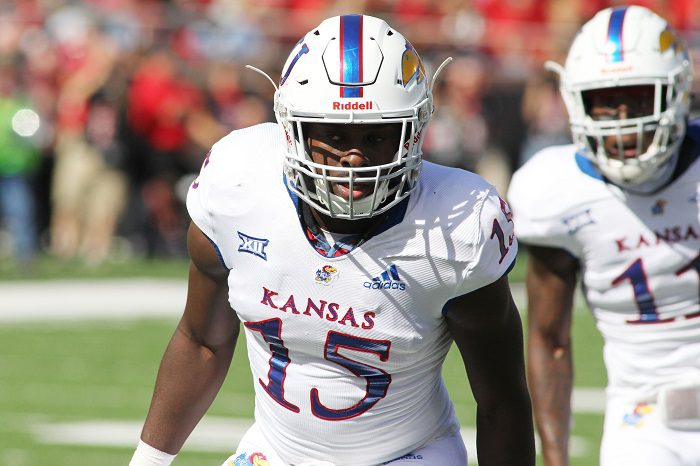 The Kansas Jayhawks lost every game last year. Head coach Les Miles was fired for allegations of impropriety against women during his time at LSU. His boss, Jeff Long was fired for, well, hiring Miles, basically. In came a new athletic director in Travis Goff and a new head coach in Lance Leipold. We've already looked at the challenges for the Kansas Jayhawks offense this year, but what does Kansas have to do on defense to start making things right in 2021? We break it down here.
1. The Defensive Scheme
The Jayhawks will have a new defensive scheme under head coach Lance Leipold and his defensive coordinator, Brian Borland. The Jayhawks appear to be moving from a 3-4 to a 4-3, and this is the scheme used by Leipold and his staff at both Buffalo and UW-Whitewater, and Borland was at both stops.
KUathletics.com broke down what Borland brings to the table earlier this spring. A scheme change typically means growing pains, and Kansas has had plenty of that over the years. Looking in preview magazines won't help you, either. Most were published before the coaching change. Athlon's, for instance, has the Jayhawks running a 3-4. Now, that doesn't mean that returning players like Caleb Sampson, who were ends in the 3-4 scheme, and Sam Burton, who was a tackle in the 3-4 scheme, don't have a place in Borland's new scheme. But their roles could certainly be adjusted.
One thing appears to be encouraging. Borland is coming of a season in which his Buffalo defense was No. 1 in the Mid-American Conference, giving up 360.4 yards per game. Of course, the Bulls didn't play a full season like the Big 12.
2. Bye Bye, Karon
Remember those preview magazines? Well, most have Karon Prunty returning as a cornerback for Kansas. In May, after the hiring of Leipold, Prunty put his name in the transfer portal. He was named to 247Sports.com's true freshman All-America Team in 2020 and broke up 10 passes, tied for best among freshmen. He also had an interception.
That's a big loss for a Jayhawks defense that could have used a projected All-Big 12 First-Teamer in 2021. Now the Jayhawks have a secondary heavy with experience at safety — Kenny Logan Jr. and Ricky Thomas — and light on starting experience at cornerback. You're hoping that Duece Mayberry and Jacobee Bryant make significant progress at cornerback.
The Jayhawks also lost a returning starter at defensive end in Marcus Harris, and a defensive tackle in Da'Jon Terry. But losing Prunty is the big hit. The Jayhawks don't really have a player that can replace him, or for that matter meet his talent. How the Jayhawks adjust for that will determine a lot about the back line of their defense in 2021.
3. In Kyron We (Have To) Trust
At least Kyron Johnson returned for another season. He's using the extra year that COVID-19 is affording all players and that's a good thing for the Jayhawks. He was an All-Big 12 honorable mention last year, and he along with Gavin Potter give the Jayhawks some of the most senior starters at linebacker in the Big 12. Johnson is the leading returning tackler among linebackers with 42. He also had three sacks to lead returning players. Now, he was an outside linebacker in a 3-4 scheme last year. So, in a 4-3, he has some adjusting to do. But, if he's as talented as he appears, he'll make an impact regardless of the scheme.
You can find Matthew Postins on Twitter @PostinsPostcard.
**Want to win a $20 gift card? Go sign up here and join our conversation! The best poster each week wins a gift card to your favorite establishment!**