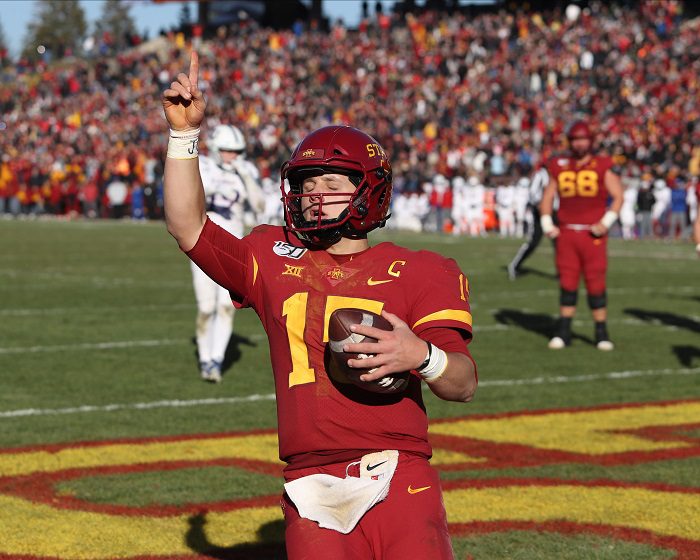 Ladies and gentlemen, the Iowa State Cyclones… have arrived! They have, haven't they? Iowa State returns 19 of 22 starters going into 2021. After having the best season in school history in 2020, going 9-3 in a COVID-shortened season, they capped it off with a win over Oregon in the Fiesta Bowl. Naturally, that means ISU is a favorite to compete in a second-straight Big 12 Championship game, right? On the surface, it looks like Iowa State is a sure thing to get back to Jerry World. Headed into the September 4th kickoff against UNI, Vegas has Iowa State's win total set at 9.5 wins. To get back to the title game Iowa State almost certainly needs to go 10-2 in the regular season. Let's dive into a few thoughts that will keep you guessing on whether to hammer the over or the under at your local sportsbook.
Breecey, Baby
Iowa State returns the 2020 Big 12 Offensive Player of the Year (Breece Hall), Defensive Player of the Year (Mike Rose), Coach of the Year (Matt Campbell), Offensive Newcomer of the Year (Xavier Hutchinson), and Co-Defensive Freshman of the year (Isheem Young). Along with all of that hardware, they had 9 guys make the All Big 12 First-Team. Out of those nine guys, eight return. The Cyclones are bringing back some serious fire power going into 2021.
Schedule
Taking a look at the Cyclones schedule, there's a legitimate chance ISU is 8-0 heading into their November 6th matchup with Texas. To hit the over at that point, the Clones just need to win 2 of their last 4 games. For that to happen, Matt Campbell would have to do accomplish one of the few things he has left on his checklist- beat Iowa. Since taking over in 2016, Campbell is 0-4 against the Hawkeyes. On two separate occasions, Campbell has nearly dethroned Ferentz. In 2017, ISU lost a three overtime heartbreaker in Ames. Then, in 2019, they were a muffed punt away from having a chance to drive down the field to take down the Hawks. However, with all of the players returning to this squad and Jack Trice being back at full capacity on September 11th, this could finally be the year Campbell beats Iowa. In that 8 game stretch to start the year, ISU has fairly cupcake schedule playing the likes of UNLV, KU, and Baylor. K-State certainly struggled last year, and ISU shut them out 45-0, but I'll never call them a cupcake.
With all of the positive things going for the Cyclones, winning 10 games is still a very tall task, especially in a Power 5 conference. In 2020, four of Iowa State's eight regular season wins came by less than a touchdown. That includes a game where Iowa State had 4 turnovers, 3 of which came in the 1st half, and had to have a heroic 2nd half come back to beat a Baylor team that went 2-7. They were also a missed kick at the end of the game against Texas from potentially not playing in the Big 12 Championship game. What's the point of all this? In 2020, Iowa State had all of the lucky bounces go their way. In a year where 10-2 is the expectation, you need to clean up those mistakes that caused you to skate by in those games. With that said, Iowa State certainly got stronger and stronger as the year went on. If you watch the tape you'll see that.
Take the Over 9.5 wins?
So should you hammer the over on the Clones 9.5 wins? Yes. Even with Iowa State having a lot of close games in 2020, they bring back too much talent and experience. They also have about as favorable of a schedule that you can ask for in the Big 12. Brock Purdy had arguably his worst year as the starter in Ames last season, yet he was still 1st Team All Big 12. This year, Purdy and Hall are Heisman hopefuls, the nation's leader in sacks coming back in Will McDonald IV, and the best TE room in the country, expect the Cyclones to be a top 10 team again at the end of the year. Happy betting everyone!